Stephen King's net worth has received substantial boost already...the writer's youngest son is a writer too... wife has acted in films such as Knightriders...are still being adopted by movies and TV shows...
American author Stephen King requires no introduction.
His work has become a backdrop for several movies and TV shows for several decades. Even if someone hasn't read his books, they are probably aware of generation-defining films such as Carrie, The Shining and The Green Mile based on his books.
Excitingly, a TV show titled The Stand- based on his book of the same name is in filming as of 2019.
Astounding Net Worth
Stephen's net worth is $400 million. His earnings are courtesy of his books adapted into movies.
When the movie version of his 1986 novel, It was released in 2017, it became an instant hit grossing $700 million worldwide. As a result, the writer received $10 million as part of his share.
Moreover, the sequel to the same movie in 2019 has earned $322 million globally. Thus, Stephen is sure to pocket a colossal figure due to the success of the film.
Furthermore, there's still more cash coming up his bank account as the movie Doctor Sleep, based on his book The Shining is scheduled for release in 2019. 
Major Book Writer :- Chuck Palahniuk, Gay Partner That None Know About | 56 Y.Old's Mystery
Interestingly, the author isn't the person who flaunts his wealth and uses it for lavish purposes. Although he is among the wealthiest horror author today, he still resides in his original home at Bangor, Maine.
Moreover, he is involved in humanitarian causes through a private non-profit organization titled The Stephen and Tabitha King Foundation-founded by the author and his wife, Tabitha King. The pair also donated $1.25 million to the New England Historic Genealogical Society in 2019.
Family & Wife
The 72-year-old writer is married to his wife Tabitha since 2nd January 1971. The two first met one another at Fogler Library at the University of Maine.
Both of them was a student in the same institution and shared the love for books which turned into a lifelong companionship. His wife is also a writer and has acted in films such as Knightriders.
Acted In A Movie Based On Best Selling Book:- Hero Fiennes Tiffin Girlfriend, Gay, Parents
The couple share three children altogether; a daughter and two sons. Their daughter Naomi Rachel was born in 1972, and his eldest son Joseph Hillstrom was born two years later. Joseph has followed on his father's footsteps; he the author of books, namely Locke & Key and NOS4A2. As of 2019, he is set come up with to his line of horror DC comics.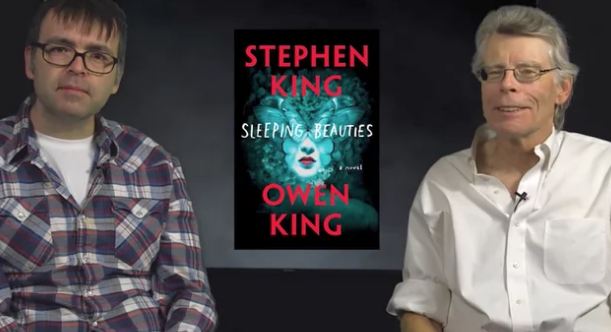 Stephen King and son Owen Phillip after the release of their book Sleeping Beauties (Photo: ew.com)
Similarly, the writer's youngest son Owen Phillip (born on 1979) is a writer too. Well, he even co-wrote the novel Sleeping Beauties with him.