Entertainment
Sterling K. Brown Is Not The Man Of Secrets; Flaunts His Family Life With Wife And Talks On How He Delivered His Baby
In the crowd of the celebrities who like hiding their relations and having concealed knots and breakups, an actor stands aside of them all and flaunts his family relationship.
We are talking about the prosecutor Christopher Darden of 'The People v. O. J. Simpson: American Crime Story' and Susan Kelechi Watson's TV husband of 'This is US.'
If it is Sterling K. Brown what you are thinking of right now, then you can make a stand for it. Yes, he is Sterling, who is a happily married man and loves sharing his pleasant family life with his fans.
The Members Who Makes Sterling's Family A Complete One:
Sterling K. Brown met his wife Ryan Michelle Bathe as a student at Standford University, where they shared a typical college dorm. Their meeting frequency raised up with the nearby living situation, and they further got chances to know each other more closely when they starred in a university play together.
With all the things favoring them, they started growing the love for each other and started their dating schedules. But their relation wasn't as simple as that, as they went through multiple breakups and makeups.
They even had a three-year long period when they didn't talk to each other, and the dispute finally sorted out after Ryan moved to Los Angeles. Sterling reopened for Ryan and maintained a long distance relationship with her, which later changed to a beautiful marital relation in June 2007.
The couple came a long way together, but with the arrival of the baby boy in 2011, their journey became swifter and happier. The boy is now six years old, and they call him by the name Andrew K. Brown.
Well, the couple became the happiest to be blessed with another son in 2015 and named him Amare K. Brown.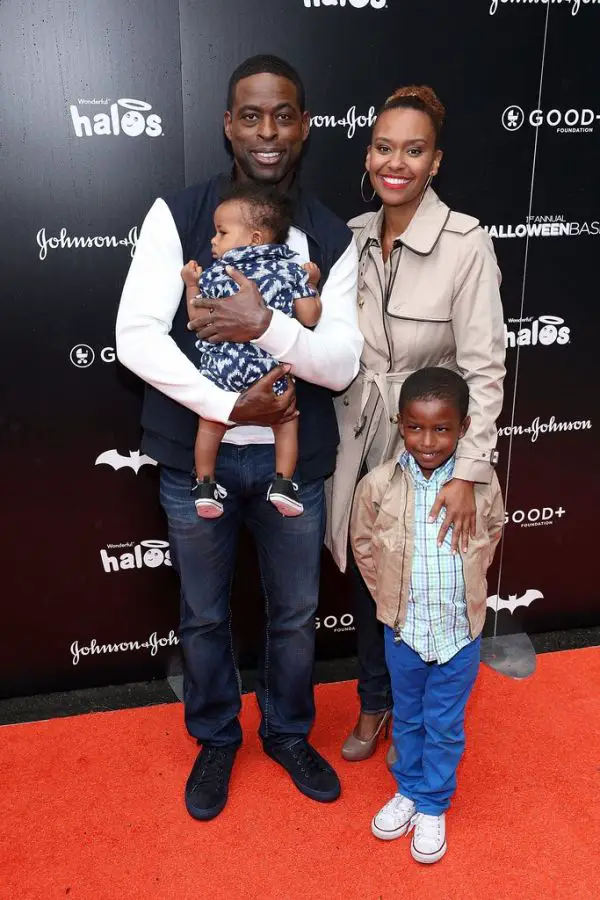 Caption: Sterling with his family at GOOD+ Foundation's 1st Annual Halloween Bash on October 30, 2016.
Photo Credit: Getty Images
Sterling, additionally, has a weird experience in obstetrics field, which he shared in a TV show, Live with Kelly on November 17, 2016. The actor, indeed, assisted his wife in delivering his elder son Andrew, and he was making all the funny expressions in the show to flaunt that moment the same way. He told:
"She comes crawling out of the bathroom after a while and she's like 'I think I'm crowning."
 Then he added:
"I'm asleep kinda, I'm like, 'Sweetheart, you can't be crowning. It's your first baby. Just try to relax.' I'm mansplaining what's happening to her body."
They then tried themselves to let the baby out in the world with a little aid of a midwife, who was on the phone that moment.
Caption: Sterling sharing his life experience on Live with Kelly (Published on Nov 17, 2016).
Sterling, who is a great actor, showed all his acting skills in the TV show to explain the delivery period and later, everybody was praising for him, not for helping to deliver the child but for his way of presentation.
Sterling has played in many TV series and films, but he is best known for TV shows like This is Us and The People v. O. J. Simpson: American Crime Story. Moreover, he has also won Primetime Emmy, Critics' Choice Television and NAACP Image Awards for those series.
Caption: Sterling K Brown talks on his NAACP Image Award win for 'This Is Us' (Published on Feb 13, 2017)
This favorite actor of many, with his role in several TV series and films, has accumulated a net worth of $4 million.