failed to get inspired to get married in her real-life...where they portrayed husband and wife, and they... prefer not revealing much about her family but...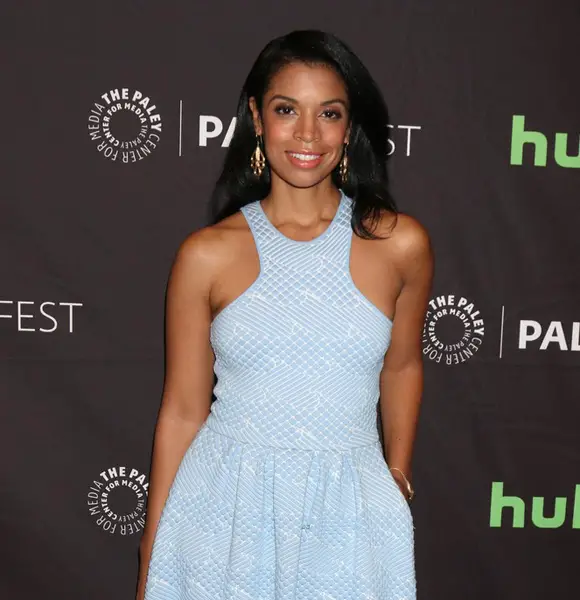 While the actors of a similar age were busy with their married life, an actress seemed to be enjoying her time with a virtual husband. Certainly, it wasn't the case of her maturity, nor any bio-factor that stopped her from getting a husband. So, what was the reason behind?
Well, this onscreen married actress was none other than Susan Kelechi Watson whom fans probably know by another name; Beth Pearson. Beth is the name she got from an American TV series This Is Us where she was married to Randall, played by Sterling K. Brown.
Being on the show, Randall and Beth shared a serious romantic relation but Susan, unfortunately, failed to get inspired to get married in her real life. However, she eventually managed to surprise everyone, find out why.
TV-Husband All That Susan Needs?
The actress had already passed enough ages of her life to start living a married life, but she wasn't dating with any of the men still.
Susan was, actually, not new to being a wife, and had garnered enough experience of it with Sterling. But it's something that people saw in the TV series where they portrayed husband and wife, and they did obviously have their lives beside the TV.
Sterling was a married man who found his better half in Ryan Michelle Bathe in June 2007. They were fellow actors to each other and are were passing a happy married life. The relationship between this couple was more than 15 years old as they started seeing each other since 2002. They later got engaged after four years of their long dating.
See Also:- ABC's Jim Avila Keeping Old Age Love Alive! Married For Years, Family Rock Solid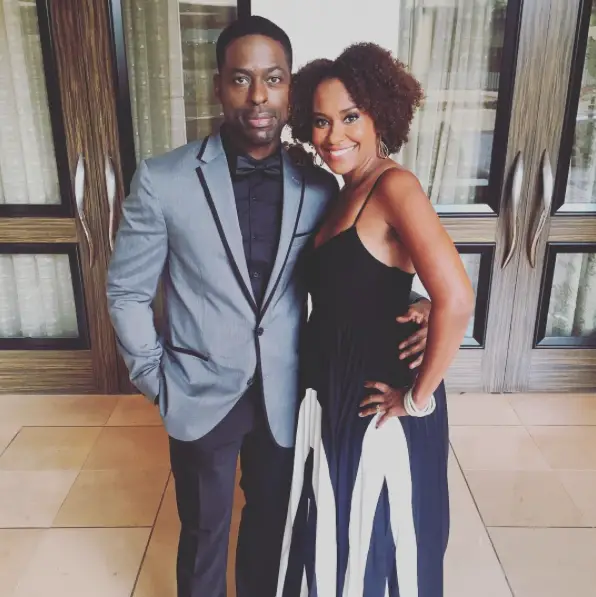 Sterling shares a perfect pose with his wife, Ryan  (Photo: Essence.com)
Despite being married, Sterling confessed his love for Susan and that too to his wife. He said in an interview,
"I tell my wife, 'Ryan, I have to tell you that I love Susan. And it's not a bad thing, and you don't have to worry, but I need to let you know that I love this woman. She's such a big giant heart of a human being. She's so Brooklyn. She's so New York—she's got the accent and everything—but underneath that exterior, she's just as warm a soul as you will ever come in contact with."
Susan, on the other hand, stood contrary to her TV-husband.
The actress, with the height of 5ft 4 ¾ (164.5 cm), was not willing to get married any sooner and didn't disclose any of her plans for a wedding. She seemed to be busy, enjoying her on-going career and mostly passed her time with Sterling, enjoying her TV life.
Susan and Sterling were the cutest TV couple. Further, they were also parents to three daughters in the show: two biological children Tess and Annie, and an adopted daughter, Deja. 
Susan and her onscreen husband often appeared in several events and party together. She even flaunted one of her party picture with her TV-husband on Instagram.
You May Find Interesting:- Beautiful Samantha Jade's Dating Rumors Sparkling With Her Onscreen Boyfriend!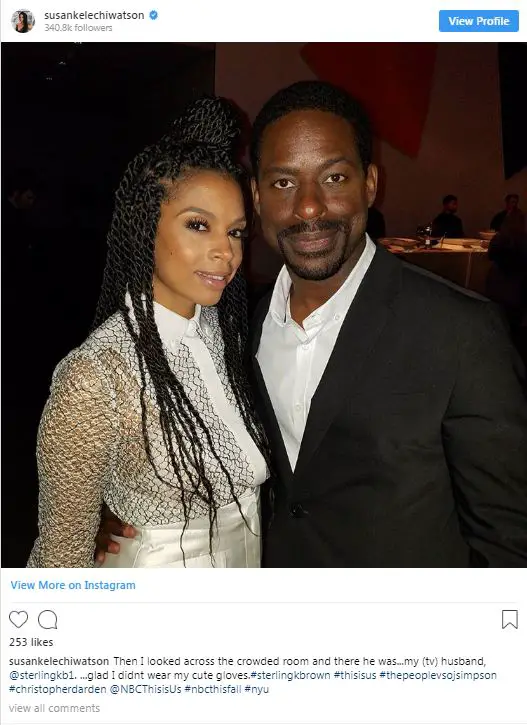 Susan with onscreen husband Sterling K. Brown on 18 May 2016 (Photo: Susan Kelechi Watson's Instagram)
This Is Us was a uniquely presented drama series which compiled a lot of fan following from its very first episode. It gained popularity with its every episodes and became one of the most-watched TV series.
The series also cast the actor who claimed one of the awards in Emmys 2016. The actor was awarded the best in a category "Supporting Actor in a Limited Series or Movie," and the actor was none other than Susan's TV-husband who got the award for his role in the American Crime Story: The People v. O.J. Simpson. Susan, without any delay, congratulated him for his achievement.
More From This Site:- American Music Awards 2018 | Winners & Nominees List You Can't Miss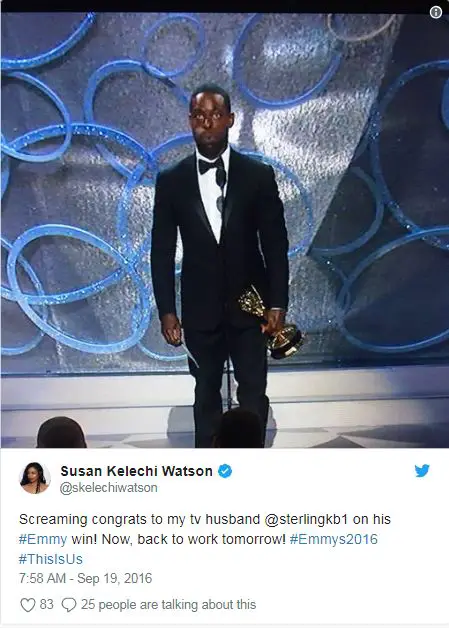 Susan congratulates onscreen husband Sterling for winning Best Supporting Actor in Emmy 2016 (Photo: Susan Kelechi Watson's Twitter)
The on-screen couple shared great chemistry and enjoyed performing with each other. In an interview with Entertainment Tonight, Susan spoke about her comfortability while acting with Sterling.
"I just trust him and I believe that he trusts me as well," she explained. "We get into the scene and we're just in it. I don't even really know how to explain it. We just both understand the circumstances of it and we're both in loving relationships. So I think we understand the context of that and be in that. We're growing to understand our characters more and more, and at the base level of this couple is trust and love." ??????
A lot of happenings in the lives of Susan and Sterling on and off-screen was evident to fans, but Susan didn't reveal much about her relationship outside the series.
Engagement To Actor Fiance
In recent years, it turned out that the actress - age 37 - was secretly dating actor, Jaime Lincoln Smith. Interestingly, not a single news outlet got a hint about their love life taking shape even though she had hinted about it indirectly.
Moreover, she had made an appearance at the 2019 Tribeca Film Festival for the screening of the movie, The Apollo. During the event, the guy sharing the red carpet with her was none other than her fiance Jaime. It seemed that she was dating in plain sight and everyone failed to take notice afterall.
Only on 7th September 2019, she disclosed the exciting news about her engagement news. Through her Instagram handle, she cited,
Forever,
"They'll say its love
And they'll know its love
For when they call its name
it will answer to love
Without hesitation" 
Along with this short and beautiful poem, she was seen donning a massive diamond sparkler engagement ring. The jewelry piece her fiance had offered was a bright baby blue shade that featured smaller white diamonds in a classic round shape.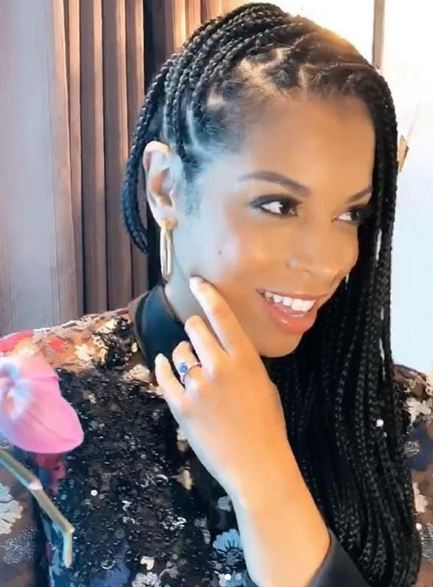 Susan Kelechi shows off her engagement ring to her fans on 7th September 2019 (Photo: Susan Kelechi's Instagram)
So, with an engagement already off the task list, her well-wishers are more than excited to join the pair on their wedding.
Susan's Family Background:
Just like her birthday, Susan prefers not revealing much about her family. But still shares that she belongs to a Jamaican family and that her family has always been supportive of her acting career. She spent her major time in America where she got graduated from the School of Fine Arts at Howard University.
Susan mentioned that she didn't have money to pay her education fees and got the amount from actress Phylicia Rashad and Denzel Washington which helped her finish her education.
Don't Miss:- Who is Eivin Kilcher Mother? Including Bio With Age, Education, Net Worth
She got the training to be a dancer but later started acting in Television shows. And these days, we see her as Beth in the NBC TV series, This Is Us. Her parents also take an interest in her show as Susan stated she had to promise her mother that her character Beth was not going to die in the third season.
However, she has also performed in other Broadway and TV series including A Naked Girl on the Appian Way, A Raisin in the Sun, Third Watch, Private Practice, Louie, and more.