Entertainment
Voice Actor Steve Blum Wife, Says He'd Take A Bullet For Her - Literally!
Arguably the biggest name in the history of voice-over acting, the world-renowned Steve Blum's deep-raspy voice is just as distinguishable as it is pervasive. Active since 1992, the voice actor from Santa Monica has the one of the most illustrious - if not the illustrious - catalog in the voice-over acting scene.
Of all the characters to which he has lent his voice, none come close - regarding popularity - to the legendary Spike Spiegel from Cowboy Bebop. But how many of his fans are aware that his wife-to-be had voiced his character's love interest, Julia in the stated classic amine?
Steve's recent admission will make the fans wondered why it had taken them so long to be together. Read along to learn more including his net worth from all his "voices," net worth as well as family life!
Voice Actor Would Take Bullet For Wife; A Family Man Through & Through
First premiered in 1998, did not only Cowboy Bebop set up a bar for the voice behind Wolverine (X-Men) but also marked the beginning of a tedious - but fruitful at the end - relationship with co-star & now wife-to-be, Mary Elizabeth McGlynn.
Comedian-Cum-Voice Actor:- Cedric the Entertainer: Off Limelight, Family Man With Wife & Kids
Mary, voice director as well as the voice of Julia, is a part of the crew whom Steve considers a family & doesn't mind putting his life on the line for them. Speaking on his relationship with his team now - 20 years since it first aired - in April 2018, he claimed:-
"Yeah — we ARE that family. We see each other at cons once in a while, rarely get to work together, but I'd take a bullet for any one of them. Mary Elizabeth (voice director and voice of Julia) became my fiancée last year. We've been friends for 20 years. And my earlier comment had nothing to do with that!"
The Santa Monica native, age 58, then followed up referencing the 15-year-old gap that he & his fiance had to endure because of their respective marriages. At the time when the two first began working on Cowboy Bebop, Mary was with voice actor Daran Norris (1995 - 2012).
Likewise, Steve enjoyed a fruitful marriage with his then-wife, with whom he shares three kids. Jeremey, the oldest of the three, is keen on following his father footsteps, it seems.
Following their divorce from their respective spouses, they began seeing each other in romantic life, and as they say, the rest is history.
Another 58-year-old Celeb:- Proud Father Timothy Hutton Age 58 Busy History; Wife, Son - You Name It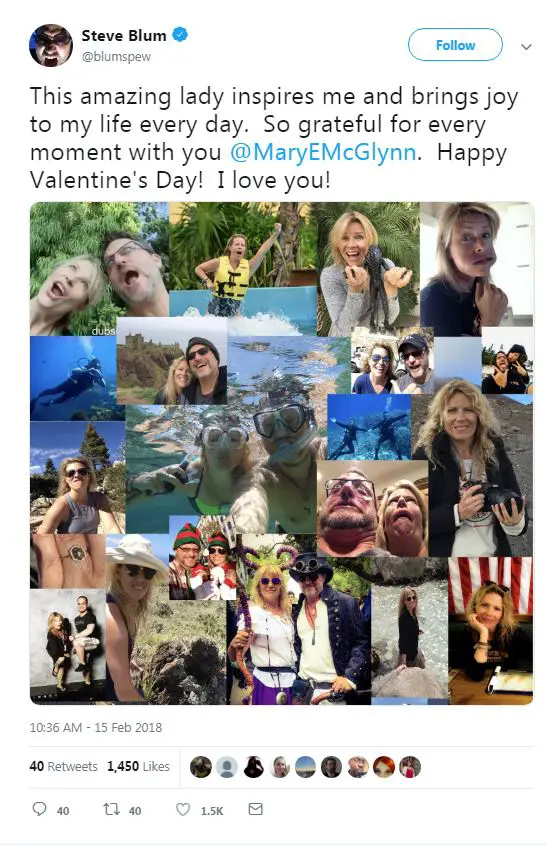 Steve Blum pens a heartwarming message to his future wife (Photo:- Steve Blum's Twitter)
Whether it's taking pride in his kids' achievement or speaking against sexual harassment faced by his wife-to-be on Twitter, the voice behind Orochimaru(Naruto) will do just about anything to maintain his family's honor.
Behind Steve Blum's Net Worth; A Look Back At All His Voices
Steve's devotion to his family comes second to his art.
Explore The Unknown:- Is Justin Roiland Of The Different Voices Dating Anyone? A Covert Affair With Girlfriend?
He has lent his signature voice to numerous characters - be it anime, video games or films - including Green Goblin (Spectacular Spiderman), Heatblast (Ben 10), Grunt (Mass Effect), Tank Dempsey (Call of Duty), Tank Dempsey (Call of Duty), Quentin Thomas (The Incredible True Story), Starscream (Tank Dempsey" (Call of Duty), Tank Dempsey (Call of Duty), Akira, Todou Kyoushirou (Code Geass) Kadota Kyouhei (Durarara) and Onizuka Eikichi (Great Teacher Onizuka) just to name a few.
A Guinness Book Record holder for being the most prolific actor in video games, the 58-year-old voice actor has amassed $4.8 million net worth as a result.