Entertainment
Cedric the Entertainer: Off Limelight, Family Man With Wife & Kids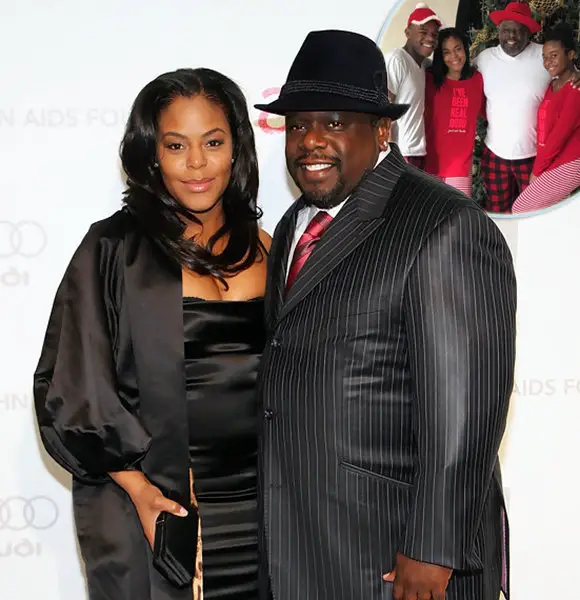 A comedian and a voice actor, with the stage name Cedric the Entertainer, has a family that he adores. Alongside a career with various credits to his name, Cedric relishes his family like a bird relishing its brood.
Besides his career, he has a wonderful married life as well. He has been married to his wife for more than two decades and has adorable kids. 
Want to know more about what his life upholds beyond the limelight? Here is an inside story of this man who gained fame and popularity through his voice.
Cedric, the Entertainer's Wife, And Kids
Cedric the Entertainer, whose real name is Cedric Antonio Kyles, is also an American actor who has garnered significant fame. The man has his career on the brim along with his close-knit family life.
There is such solid evidence about when and how Cedric met his wife. But he has been married to Lorna Wells, who has contributed to the costume and wardrobe department, according to her bio on IMDb, since September 3, 1999. Before getting married, Cedric and his wife were in a relationship, but he hasn't spilled the beans about his dating timeline with his wife, neither in any of his interviews nor on his social media.  
Explore: LaVan Davis Has a Wife? Who Is She?
However, he does share a few pictures with his wife on Instagram. 
Cedric and Lorna never miss any special day to spend their time together. The couple celebrates Valentine's day together while keeping the special day subtle. Cedric posted a picture of his wife kissing him on his cheek in front of a vendor on the street. He captioned the photo,
"Valentine's date night❤ï¸Â. #HiWife. We keepin it ? chillin at #Earle's"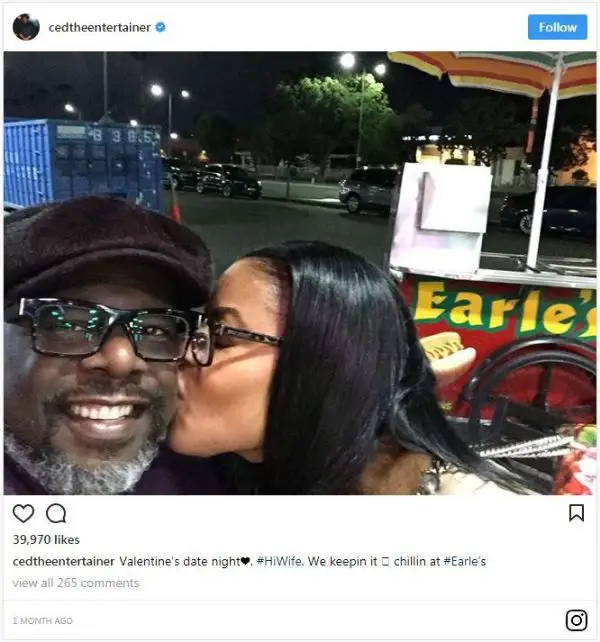 Cedric and his wife celebrate Valentine's Day. (Photo: Cedric the Entertainer's Instagram)
The couple has been going strong with their married life and has been cherishing their 22 years of conjugal life.
From their ever-growing relationship, Cedric and Lorna share four kids. The couple is blessed with three daughters; Tiara, age 32, lucky, age 18, and TinkyFlonz, whose information has not yet surfaced in the media. Also, their son Croix is now 22 years old. 
Cedric's firstborn, Tiara, is his daughter from his previous relationship. Cedric has not revealed her mother's identity.
Find Out: Mara Brock Akil and Her Husband Still Feel Like Newlyweds!
Meanwhile, Cedric loves his kids with no doubt, but he has given them an upbringing that will help them be competent enough for the world's challenges.
When Tiara was 18 and her friends were getting car keys for their graduation, she was looking for a summer job under the consolation of her father. Cedric wanted his daughter to find a job and face the real world outside the home. It seems like he and his spouse has done good parenting. 
With his family's support, Cedric has established his name in the industry. 
Cedric the Entertainer's Career
Cedric Kyles was born in Jefferson City, Missouri, on April 24, 1964, to Rosetta Kyles, a schoolteacher, and Kittrell Kyles, a Missouri Pacific Railroad employee. He has a younger sister, Sharita Kyles Wilson, a communications professor at Pepperdine University in Malibu, California.
After junior high, Cedric grew up in Caruthersville, Missouri, but relocated to Berkeley, Missouri, a northern suburb of St. Louis. He attended Berkeley High School and graduated with honors.
Like his sister, he also has a communication degree from Southeast Missouri State University.
Cedric began his acting career in 1995, auditioning for and landing his first part as The Cowardly Lion in the Apollo Theater Revival of The Wiz. Then, on The Steve Harvey Show, he played Steve Harvey's friend Cedric Jackie Robinson, which helped him advance his career. 
Barbershop, Barbershop 2: Back in Business, Ride, Serving Sara, Johnson Family Vacation, Intolerable Cruelty, Man of the House, Lemony Snicket's A Series of Unfortunate Events, Madagascar, Madagascar: Escape 2 Africa, Madagascar 3: Europe's Most Wanted, and Be Cool are among his first cinematic roles.
As of now, we can hear his voice as Bobby Proud in The Proud Family: Louder and Prouder.
According to Celebrity Net Worth, he has accumulated a net worth of $25 million with his hard work and dedication. 
Stay tuned to get more updates on Cedric the Entertainer.