Entertainment
Cedric the Entertainer: Off Limelight, Family Man With Wife & Kids
A comedian and a voice actor, with stage name Cedric the Entertainer, has a family that he adores. Alongside a career with various credits to his name, Cedric relishes his family just like a bird relishing its brood.
Want to know more about what his life upholds beyond the limelight? Here is an inside story of this man who gained fame and popularity through his voice.
Cedric the Entertainer's Wiki: Man With Family
Cedric the Entertainer, whose real name is Cedric Antonio Kyles, is also an American actor who has his garnered significant fame. The man has his career on the brim along with his close-knit family life.
He is married to Lorna Wells, who contributes to the costume and wardrobe department according to her bio on IMDb, since 3 September 1999. But meanwhile, the details on how they met and their relationship before marriage is still a mystery as he hasn't spilled the beans about his dating timeline with his wife, neither in any of his interviews nor on his social media.
However, he does share few pictures with her on his Instagram. The couple recently celebrated Valentine's day together while keeping the special day subtle. He posted a picture of his wife kiss him on his cheek in front of a vendor on the street. He captioned the picture as,
"Valentine's date night❤️. #HiWife. We keepin it ? chillin at #Earle's"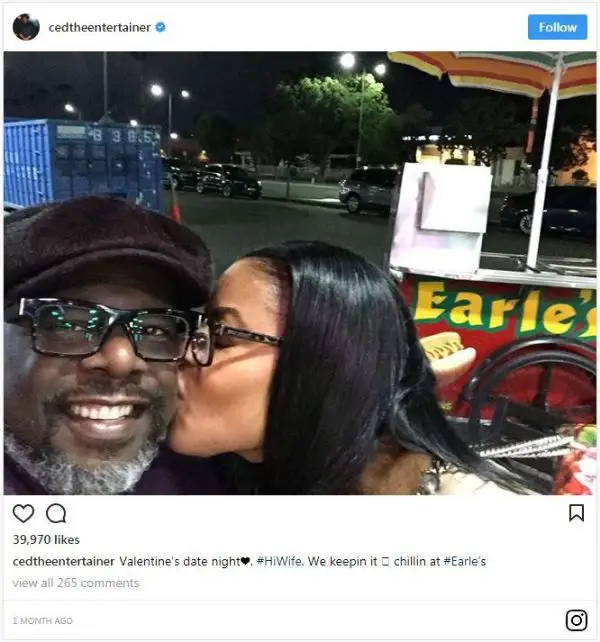 (Photo: Cedric the Entertainer's Instagram)
Well, the couple has been going strong with their marital relationship and has been cherishing their 18 years of conjugal life.
From their ever-growing relationship, Cedric, Lorna shares four kids. The couple is blessed with three daughters; Tiara who is now 28 years old, Lucky who is now 14 and TinkyFlonz whose information has not yet surfaced the media. Also, their son Croix is now 16 years old.
Cedric's firstborn, Tiara is from his previous relationship though, and her mother's identity is kept under wraps.
Meanwhile, Cedric loves his kids no doubt, but he has given them an upbringing that will help them be competent enough for the challenges that the world offers.
When Tiara was 18, and her friends were getting cars keys for their graduation, she was looking for a summer job under the consolation of her father. Cedric wanted his daughter to find a job and face the real world outside the home. Parenting done right, eh?