What rapper Xzibit is to the Americans, TV presenter/actor Sthembiso Khoza is to the South Africans. After all, he's the host of Mzanzi Ridez -- a South African version of its American predecessor, Pimp My Ride.
Besides the car customization and hip hop magazine show, Sthembiso gets best recognized for hosting Gold Diggerz. Initially, he gained traction from his work at Vuzu's V-Entertainment as a field reporter. Before that, he worked at TransAfrica Radio.
For two consecutive seasons (2013 and 2014) of Mzansi Magic/Mzansi Wethu dance competition show Bounce, he was the designated host/presenter.
Beyond hosting and presenting gigs, the famed TV personality is also an aspiring actor. Following his acting debut in 2012 via Mzansi Magic telenovela iNkaba, he went on to land numerous roles on films & TV series including 2018 blockbuster flick Baby Mamas.
Portraying the delinquent character Shaka Khoza in the speedy telenova The Queen, Sthembiso garnered immense fanfare. His martial arts background proved a great help for the role.
Bio - Age, Nationality & Height
Sthembiso was born on 1st July 1986 in KwaZulu-Natal. South Africa to Zulu parents. He inherited the passion for martial arts from his biological father, who was Goju-Kai Karate teacher by trade. At age 12, he obtained the black belt.
With Same Nationality:- Kenan Smith Wiki-Like-Bio, Girlfriend, Net Worth, Parents
His work with Goal Diggerz took him to parts unknown. During his globe-trotting career, he never once failed to represent his native land.
A holder of South African nationality, the actor/TV host - now age 32 - stands beyond the height of 5 feet and 9 inches (1.75 m) in height.
Brother & Family
Acting is something that runs in Sthembiso's bloodstream. While still in high school, he and his brother Abdul Khoza - a famous face in South Africa's film/TV industry - musical called "The Pulse Of Africa."
As they grew older, so did their career paths. While Sthembiso pursued a Degree in Sports Management at the University of Johannesburg, his brother immersed himself in acting and eventually won the sophomore season of the SABC1 reality competition Class Act in 2011.
Discover More South African Star:- Does Keo Motsepe Have A Girlfriend? Or Committed and Metaphorically Dating Dancing Career?
Along with his brother, The Queen actor shares unique bondage with the rest of the family including his sister who earned her degree in September of 2018.
Relationship Status: Wife Or Girlfriend?
Sthembiso is a proud father to two daughters: Ayanda and Lelo. Neither Ayanda's mother nor Lelo's mom is his wife though. It is likely that at one point, both of his baby mamas were his girlfriends.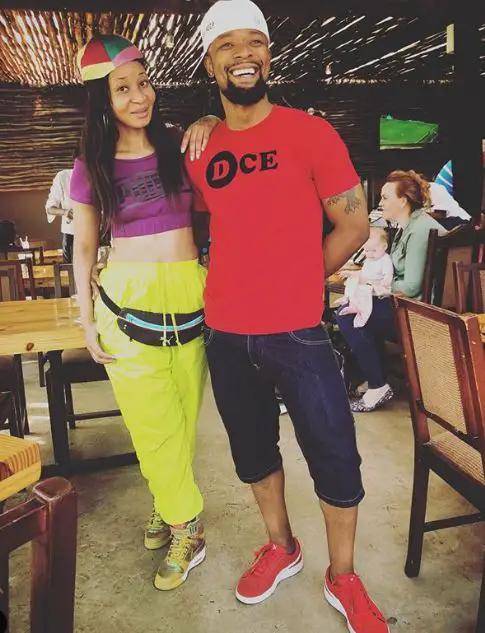 Sthembiso Khoza poses next to his wife-to-be Maddy for a photo circa Nov 2018 (Photo:- Sthembiso's Instagram)
The Mzanzi Ridez host now has a partner to call fiancee, who is close with his kids. What's more, he and his girlfriend turned wife-to-be Maddy are relationship goal personified. Case in point: when he got hospitalized in November of 2018, Maddy sat by his side during the whole hospital stay.
Sidelined To Bed:- Luke Perry Died, Hospitalized, Family
The news of his sudden illness came five months after one of his baby mamas dragged him to court for failing to pay maintenance (spousal support) fee.
In June 2018, National Prosecuting Authority South Gauteng spokeswoman Phindi Mjonondwane confirmed Sthembiso's status as a wanted man after he was unable to show up on the court.