Actor Stuart Townsend found considerable success with his leading appearance in cult classic movies like Queen Of The Damned and The League of Extraordinary Gentlemen. But in the long run, his acting career didn't take off, and he even lost the role of Aragorn in The Lord Of The Rings trilogy to actor Viggo Mortensen.
It turns out that, along with his showbiz career, things didn't turn out so well in his personal life too. So, let's take an in-depth look at the challenges the actor faced outside the realm of Hollywood.
Children, Argument With Wife, Arrest
Stuart is married to Agatha Araya, with whom he shares two sons and one of them named Desmond Townsend. His wife is originally from the country Costa Rica, and the two first started dating in 2013.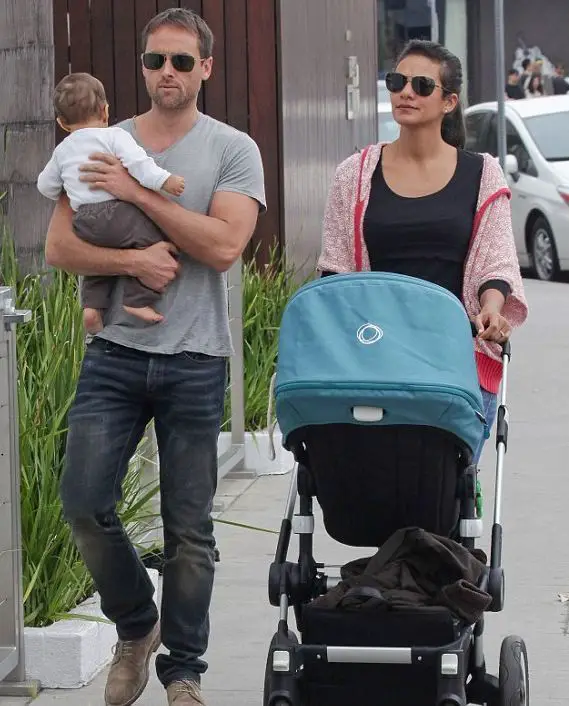 Stuart Townsend as seen with his wife and eldest son in 2014 (Photo: dailymail.co.uk)
Since he has chosen to keep a very low profile on his marriage, information on their wedding hasn't been disclosed yet. However, all thanks to the unfortunate events that took place, details about his crumbling marriage started to make headlines in 2019.
In September that year, the artist was arrested by the police authorities at his residence in Santa Monica, California, in charge of domestic violence. It turned out that the actor got into a heated argument with his wife due to which his neighbors called the police with the complaint of loud noises.
Charged With Domestic Violence :- Lud Foe Age, Net Worth, Parents, Girlfriend
As per the reports, the quarrel almost got physical as he grabbed his wife by the arm and refused to let go. As a result, he spent a few weeks in prison but was released by the end of October 2019 after the courted ordered to pay him the bail of $50 thousand.
As per the reports, he was facing charges for false imprisonment too. Thankfully, his wife refused to press any charges against him, but uncertainties remain on their relationship, and hopefully, they have set aside their differences instead of planning on a split.
Former Girlfriend
Although Stuart's present scenario is filled with controversies, he had a very favorable dating life in the past. He dated Hollywood A-list actress Charlize Theron for almost a decade.
Stuart first met her on the set of their movie Trapped and remained very committed to one another for years to come. Interestingly, Charlize had even thanked him in her Oscar acceptance speech in 2004.
However, both of them had chosen to stay away from being legally committed to one another. The former flame also took a vow to not marry until and unless the same-sex marriage was legalized in the USA.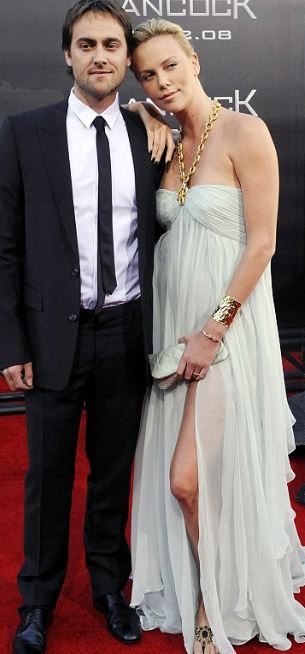 Stuart Townsend and girlfriend Charlize Theron attend the red carpet premiere of the movie Hancock in 2008 (Photo: dailymail.co.uk)
Despite the fact that they weren't legally married, the couple cited themselves as married on various occasions. As per Stuart with his interview with People magazine in 2007, he had said,
 "I didn't do a church wedding or anything, but we're married. We're husband and wife."
Also, both of them had exchanged commitment rings that became a clue to the collapse of their relationship later. On 22nd January 2010, his girlfriend was spotted without the ring during her presence on Hope for Haiti telethon that bought speculations about their split.
Spotted With Diamond Ring:- Is Gwen Stefani Engaged?
So on, the news turned out out to be accurate, and reportedly, it was Charlie who broke off with him.
Facts On Stuart Townsend
Stuart's birthdate is 15th December 1972, whereas his birthplace is Howth, County Dublin, Ireland.
He starred in three movies altogether with his ex-girlfriend Charlie Therzon including Trapped, Head In The Clouds, and Æon Flux.
The Irish born performer made money by boxing until he made his onscreen debut from the movie Trojan Eddie.
He stands 5 feet & 11 inches (1.8 meters) in terms of height.
Apart from acting, Stuart has lent his voice for several characters in the adult comedy skit show called Robot Chicken.