Entertainment
Stylish Young Tavi Gevinson, On Break-Up With College Boyfriend
Young, ambitious, talented, stylish, independent…are some of the words that can be used to describe the 20-years-old fashion phenom, Tavi Gevinson. Like everyone else, she lives her life pretty normal (not really), but when it comes to dealing with breakups, she has a unique way to deal with it. Let's find out how.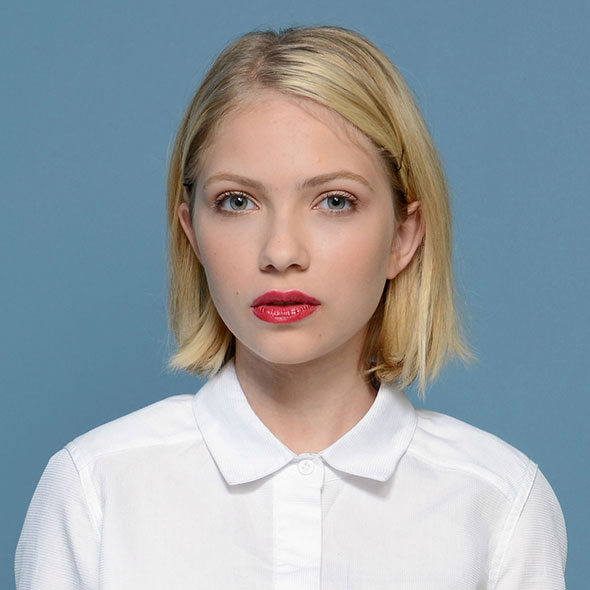 Quick Information
Divorce/Split

Not Yet

Lesbian

No

Body Measurements

35-24-35 in (89-61-89 cm)

Eye Color

Blue

Hair Color

Brunette

Hair

Short

Weight

N/A

Height/ How Tall? 5'1"
High School

Oak Park and River Forest High School

Career

2008-present

Net Worth

Not Disclosed

Dating/Affair

No

Ex-Boyfriend

Ezra Koenig

Date of Birth Apr 21, 1996
Relationship Status

Single (2019)

Children/Kids

Not Yet

Sister/s

Rivkah Gevinson, Miriam Gevinson

Mother

Berit Engen

Father

Steve Gevinson

Ethnicity/Race

Mixed

Religion

Jewish

Zodiac Sign

Taurus

Profession

Writer

Birth Place

Chicago, Illinois, United States

Nationality

American
What would you do in a heartbreak situation? Probably sit in the corner of your room, weeping, listening to some sad songs, going through the photo albums and reminiscing the old days, right? But it's a different case when she is dealing with breakups.
Here we are talking about young, ambitious, talented, stylish, independent  21-years-old fashion phenom, Tavi Gevinson. Like everyone else, she lives her life pretty normal (not really), but when it comes to dealing with breakups, she has a unique way to deal with it.  Let's find out more.
Boyfriend and Dating?
Tavi says she hates being heartbroken, and when she broke up with her boyfriend she had been dating while in college, she flew straight to New York and also sought help from her good friend Taylor Swift.
Instead of crying her lungs out and destroying her room (like in the movies), she rather listens to David Bowie and creates herself a "self-help wall," where she scribbles down her feelings.And in an interview with the nymag.com on August 10, 2014, she said,
"I flew straight to New York for a wedding, and then I visited Taylor Swift at her home in Rhode Island. I hate being heartbroken, but who better to discuss it with than Taylor Swift? I had some time in Oak Park to reclaim everything that had happened in my life thus far as my own. And actually, coming out of the breakup has kind of reignited my love for fashion because it's a way of asserting a new identity and becoming a new person and giving yourself space."
Being young and famous, it's a sure thing that people get interested in your personal life. Due to this very reason, she prefers keeping her personal life to herself. In an interview with Bitch Media Magazine back in 2013, she revealed how she likes to keep herself to herself. She also explained her feminist views and talked about her blog Style Rookie, which she started when she was only 11.
Tavi Gevinson's Professional Journey
What do 11-year-olds normally do? Go to school, be needy and demand unnecessary things, play video games all day, am I right? But knowing that Tavi started her blog only at the age of 11 would make you question, "What am I doing with my life?" Sitting in the front row, besides Anna Wintour and Karl Lagerfeld in fashion weeks, Tavi who is 20 as of now, has become a prominent figure in the fashion world. Named Times Magazine's 25 most Influential Teens of 2014, Tavi owns an online fashion magazine for teenage girls named Rookie.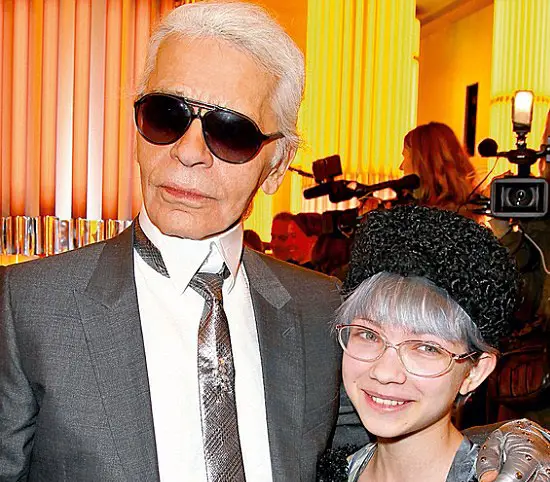 Caption: Tavi Gevinson with Karl Lagerfeld, a German fashion designer, artist, and photographer, in 2010.
Photo Credit: Daily Mail
Apart from Fashion Weeks and magazine, she has also starred in few films and TV series like Enough Said, Cadaver, Parenthood, The Simpsons, and Scream Queens. She has also appeared in the play "This Is Our Youth." In 2016, she portrayed the role of Mary Warren in The Crucible and Anya in The Cherry Orchard.
Nowadays along with the acting career stars add up to their net worth through various promotions through social networking sites, and the new addition to this league is Tavi Gevinson.
Tavi Gevinson Promotes Her Own House:
Tavi Gevison documented her new move to her new home at 35 story building, 300 Ashland, in Fort Greene through Instagram in March 2017.
Tavi shared a picture through Instagram on March 3, 2017, where she is standing amidst her belongings to move into her new house and is happily smiles for the capture.
Moreover, Tavi flaunted the lobby of her new house through Instagram on March 14, 2017, and used hashtags to specify the location of her new house too.
A bedroom in Tavi's building rents at $3500 including other additional amenities like a fitness center, 24-hour concierge service, and others.
The 300 Ashland's public representative of its management company confirmed Cut in March 2017 that they were partnering with Tavi to promote the new building.
"We are partnering with a few creative influencers who are great fits for our residential buildings. In a rental market crowded with perfectly staged model apartments, we wanted to show what it's really like to live in a Two Trees building."
Moreover, he added,
"Our influencers will continue to create the same great content while enjoying their new homes and neighborhoods, and will be hosting special experiences open to our residents. We think it's an exciting addition to our marketing efforts and a terrific amenity for tenants."
As per reports on March 16, 2017, Tavi acknowledged her partnership, but neither she revealed the terms of her deal nor reasoned for disclosing her address, via an email.
 "This is a new kind of partnership for both of us but I'm very excited to be teaming with Two Trees, and for all the projects being in this space will allow me to create,"
Tavi's successful career has showered her with a hefty net worth which she has not disclosed yet, but some sources claim her estimated net worth as $7 million.
Tavi's Short Bio:
Tavi Gevinson was born on April 21, 1996, in Chicago, Illinois. She attended Oak Park and River Forest High School and is currently attending New York University, after taking a year-long gap. Previously, she used to be a fashion blogger for Style Rookie, a blog she created at the age of 11.  She is the editor-in-chief of an online fashion magazine named Rookie that she founded in 2011.
Alike Tavi Gevinson celebrities with unique thoughts including Sara Blakely and Sarah Richarson have inspired many to follow their dreams!