Entertainment
Sue Perkins & Wife-Like Partner | Why Openly Gay Couple Won't Have Kids
Sue Perkins, the British broadcaster, shares romance with her wife-like figure...they have been together since the day they met in...during the...even though there is no sign of them getting married, they look forward to having children together but due to...the couple won't be able to have children due to......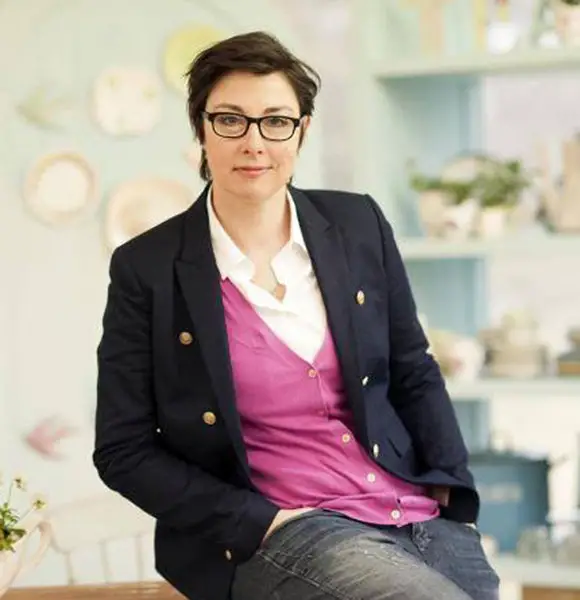 Sue Perkins, the British broadcaster, is one of the few television presenters who admits that she makes a living from "blabbering on random shows" that BBC presents her four.
While Sue has her hands full with sharing the screen with her professional partner, she also shares a blissful love life with her wife-like figure regarding her sexuality as lesbian as the 47th interesting thing about her.
Indeed, 2018's host of TV BAFTAs has her own way of acing when it comes to her both, professional and personal life! 
Five Years Dating With Wife-Like Partner; No Luck When It Comes To Children
The 48 years old comedian, Sue Perkins was walking her dog on Hampstead Heath when she first met Kate Williams. It was after then Sue was dating artist Kate only to deepen the relationship further. 
See Also: Deadpool Villen Ed Skrein's Relaxed Life With Son He Got From Girlfriend/ Partner; Family Insight
The duo moved on together into an 18th-century cottage in Cornwall and lived together. However, Sue's dating life with Kate came to end, which she told her friends. 
"I've just come out of the biggest relationship of my life, so I'm taking it easy at the moment and being a bit gentle with myself and yeah, that's sort of it."
Also the actress and writer, Sue moved on from Kate to Anna Richardson, a television presenter and currently shares a romance with her long-time girlfriend. They got together at a fancy dress party during Halloween in Devon. 
Talking about the night when they first met, Anna revealed that those moments were something that she would cherish for life and the right timing certainly brought them together. She said,
 "That night was one of the most extraordinary, memorable evenings where literally the planets aligned. Something was in the air that night, and that was the night we got together."
Moreover, she also added saying the pair has been together since they met and even share an utter understanding. She divulged adding, 
"There was an absolute understanding between us, and we've been together ever since. And it's been profound for me."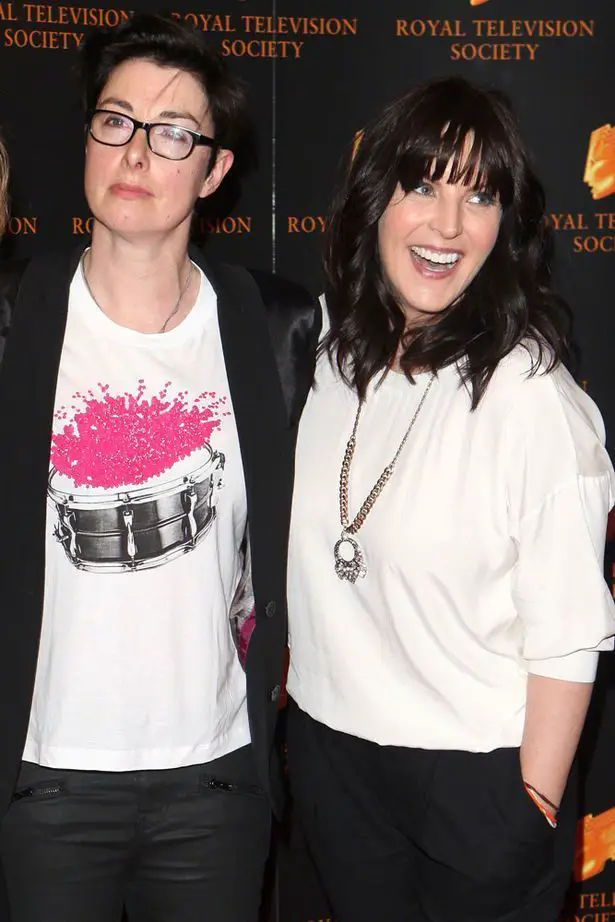 Sue Perkins with her girlfriend Anna Richardson. (Photo: mirror.co.uk)
In spite of knowing each other three years earlier, Sue began dating Anna back in 2013 after the TV presenter's 18 years of relationship with director Charles Martin ended. The duo had a deep-rooted intimacy which Anna put in her own words while talking to Diva magazine, 
"The sexual adjustment is easy, the emotional adjustment is something else, as you know, a relationship with a woman is far more imstense. This I have learnt. It's an emotional tsunami. We're just two middle-aged girls toshing about the flat" but admits Sue's fame, most recently from BBC hit show Bake Off, can be challenging."
And, Anna, who supported Sue in her father's tragic cancer death, has also talked about the children issue. For the one, who was discovered she was infertile while making 2008 Channel 4 show The Sex Education Show, Anna describes her choice of adoption to Loose Women:
"I am sad that as I am careering headlong into my fifties that I haven't had my babies. I can't speak for Sue but I am considering looking at adoption. " 
Sue is not lucky enough to bear her own child due to growth in her brain by the pituitary gland. Despite all, the couple has shown no signs of them tying the nuptial knot even after being together for almost five years. 
Don't Miss: Jonathan Swan Bio: Every Detail From Age & Birthday To Partner Betsy!
Professionally Married To Someone Else; Partner Feels "Cheating"
Well, one of the reasons why Sue is still not married might be her professional life!
Sue is professionally married to Mel Giedroyc and just getting a show together with her girlfriend, Anna would be "cheating" on Mel Giedroyc as per Anna. Anna told to the Press Association:  
"She's kind of professionally married to Mel, so I think she feels she'd be cheating if she did something with me."
Sue and Mel have been together partnering in shows since they first met while they were studying at Cambridge University. The pair first found success after they toured with the Footlights. 
Soon after they hosted daytime shows for Channel 4 which was named Light Lunch and Late Lunch.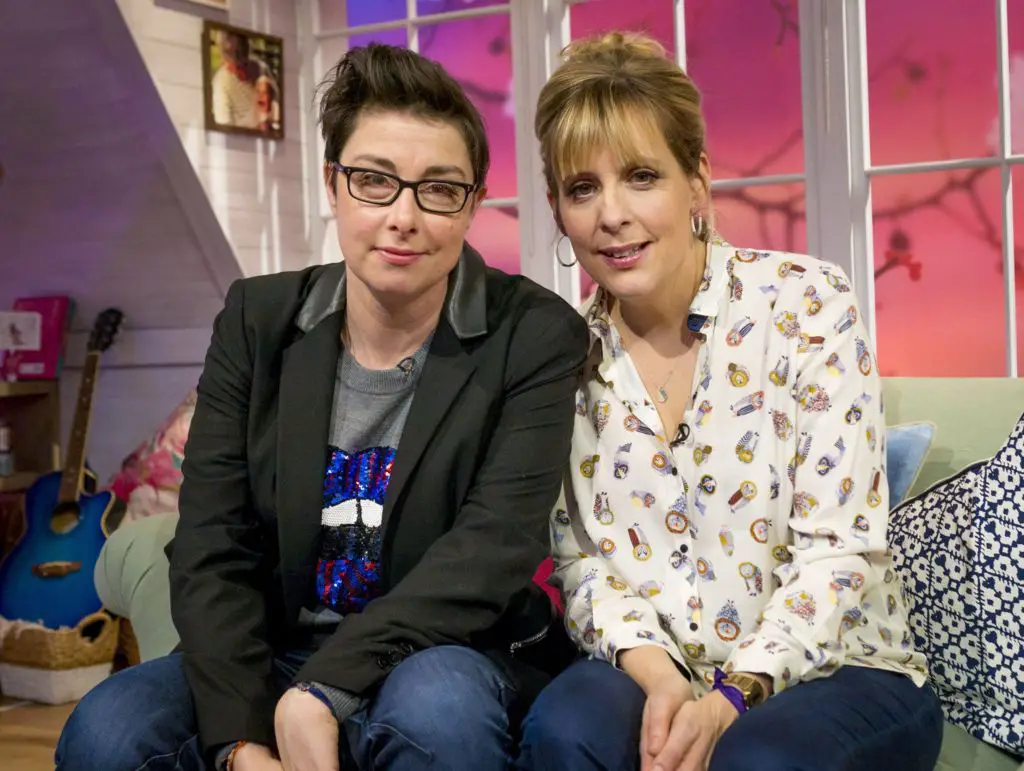 Sue Perkins with her television partner Mel Giedroyc. (Photo: metro.co.uk)
A few years later, they started appearing in ongoing historical food documentary series The Supersizers and even teamed up for other documentaries which led them to their height of success. Later Sue was even presented with her sitcom called Heading Out, in which she revealed the bitter truth about coming out in society. 
In the sitcom, she starred as a gay vet who was struggling to reveal her sexuality to her parents. However, the series did not make it past the first season.
You May Also Like:- Nick Vujicic Family Prospering With Wife Despite Hindrances! Limbless Preacher Personal Life
For Sue, her notable appearance is on The Great British Bake Off where she is known for spouting pastry innuendos. The show provided her fame and much acknowledge, but in 2016 she left the show after it moved to channel 4 due to loyalty to BBC.
Well, with her shows, Sue earns a massive amount of net worth of $6 million with an average rumored salary of £500,000.