Entertainment
Is Suraj Sharma Dating? Girlfriend Details, Gay, Family
Life of Pi star Suraj Sharma's start to his acting career is one for the books. Without any inclination to acting whatsoever, he went to the Life of Pi (2012) auditions tagging along with his younger brother. On his sibling's insistence, Suraj ended up giving the audition.
The incident led the novice actor's selection as one among the 3000 aspirants and eventually starred as the lead in the major Hollywood movie.
Since his enigmatic start to acting, he has gone on to perform in movies like Million Dollar Arm (2014), and Happy Death Day 2U (2019).
Is Suraj Sharma Dating Or Gay?
Suraj Sharma is not publicly dating anyone as of now. However, he had a significant relationship even before the start of his acting career. As a teenager, he fell in love with his Sardar Patel Vidyalaya classmate, Gyaytri Alma.
After dating for three years, Suraj decided to seal the deal with his girlfriend. Thus, he proposed on the occasion of Gyaytri's birthday on 7 October 2009. And, the teenagers became engaged.
Actress Of Indian Descent:- Naomi Scott Husband, Ethnicity, Parents, Height
However, their life as the engaged couple was not as smooth as their dating life. It so happened that Suraj landed the Life of Pi movie, and he had to skip his last year of high school to film the movie. The distance created a rift between the pair, which led to their break up in August 2010.
Interestingly in a 2015 interview, when asked about if he still kept with Gyaytri, Suraj laughed it off and denied any contact with her.
Family Info
Suraj is a Delhi boy born to economist mother Shailaja Sharma, and software engineer father, Gokul Churai.
Many might not know that his parents weren't thrilled when they found out that Suraj had to postpone his last year's high school education to film Life of Pi. However, they came around at the end.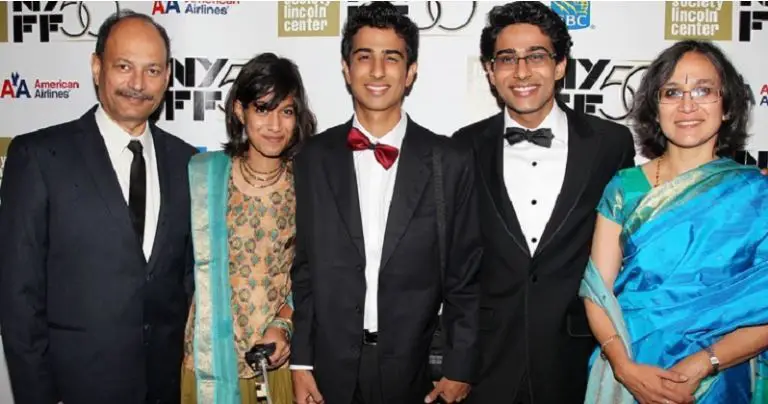 Suraj Sharma (second from left) poses with family at an event (Photo: telfie.in)
But, there was a catch to their approval. Well, Suraj's parents held a small ceremony to appoint the celebrated director, Ang Lee, as their son's guru. It meant that they were trusting Ang with their son and expected him to take Suraj under his wings.
Things worked out as Suraj was appreciated worldwide for his work.
Getting back to info on the actor's family, he is the eldest among there siblings; a younger brother called Shriharsh - an actor known for 2007 movie The Darjeeling Limited - and a sister named Dhruvatara.
Interesting Facts On Suraj Sharma Including Age, Net Worth
Suraj was born on 21 March 1993.

He possesses Indian nationality.

Taking about Suraj's ethnicity, he is a Malayali Indian.

He underwent major weight loss (gained and lost almost 18 kg) during the filming of Life of Pi.

Suraj stands at a height of 5 feet 7 inches (1.7 m).

He makes an average salary of $50,529 per year.