Naomi Scott is the breakout star of 2019. Her lead role as Jasmine in Disney's live-action remake of Aladdin won everyone's heart. However, she is not new to the showbiz.
The talented star's movies include Power Rangers, The 33 while her TV shows are Lemonade Mouth and Terra Nova.
On top of all, Naomi is set to star in the 2019 reboot of the classic, Charlie's Angels. With high profile projects in the pipeline, she is on her way to be at the A-list status of Hollywood.
Who Is Naomi's Husband?
It may come as a shock that the Disney girl everyone is talking about is taken. Yes, it is true, she is married to a soccer player, Jordan Spence since 7th June 2014.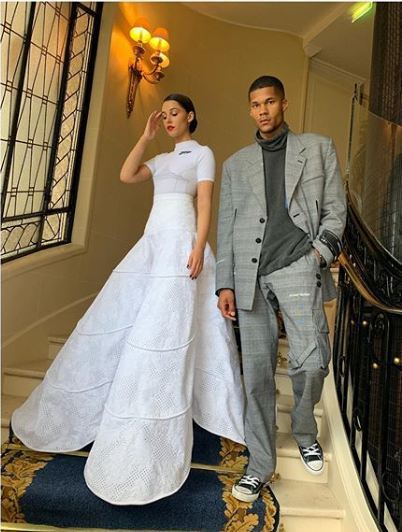 Naomi Scott strikes a pose with husband Jordan Spence on 9th May 2019 (Photo: Naomi Scott's Instagram)
Well, the love birds dated for four long years before tying the knot. Interestingly, Naomi and her man knew each other long before. She first met Jordan at the age of 16 in church, but they sure took their sweet time to start a dating relationship.
Breakout Star Of 2018:- Noah Centineo And His Dating Affair; Appreciated By Girlfriend?
The Power Rangers actress' boyfriend-turned-husband is also quite a star. He is a defender playing for Ipswich Town FC. Previously, he was part of West Ham United.
Naomi Scott Ethnicity And Parents
The Brit actor boasts a mixed ethnicity. While her father is English, her mother is from Uganda - belonging to a Gujarati Indian family. Thus, she has an English-Indian ethnicity.
Naomi is proud of her roots; she celebrates Indian culture and flaunts it via her social media. On 21st October 2016, she posted a beautiful picture posing in Indian ethnic jewelry.
Celeb With Same First Name:- 'Empire' Actress Naomi Campbell Bio Adds 'Dating' Tag After Nearly Having Husband Once
Talking about the Lemonade Mouth's parents, they work together in church as pastors. Thus, Naomi grew up singing in her parents' workplace; Bridge Church, Woodford in Redbridge, United Kingdom.
And, luckily, her talents got discovered in her parent's church. British pop singer Kelle Bryan happen to visit the place and heard Naomi. Since then, her life changed forever as Kelle signed her to her entertainment agency.
With determination, she released her EP Invisible Division in 2014 and Promises in 2017. Today, she earns a salary of $23187.92 per year and adds to her net worth.
Measurements
Naomi stands at a height of 5 feet 5¾ inches (1.67 m) and a weight of 56 kg.
There is no denying that she is blessed with both undeniable talent and body. Her measurements read, 33-26-35 inches.
Casting Controversy
While people fell in love with her portrayal of Jasmine in Disney in 2019. They weren't too thrilled when the cast announcement was made in 2018.
Well, the hate wasn't directed at Naomi, but at Disney, as the character, Jasmine belonged to Arabian ethnicity. Many alleged that by casting a girl of Indian descent, the women of color were interchangeable in Hollywood. Also, many criticized that a deserving Arabian girl missed out the chance of a lifetime by giving Naomi the part.
Don't Miss:- Johnny Iuzzini Not Married! Dating After Controversy – Why Not?
Even after the uproar, neither Disney nor Naomi made any comments. But, after the movie's release in May 2019, the issue became non-existent as Naomi's portrayal of Jasmine won everyone's heart.