Entertainment
Living Single Star T.C. Carson Married & Wife | Or Is He Gay?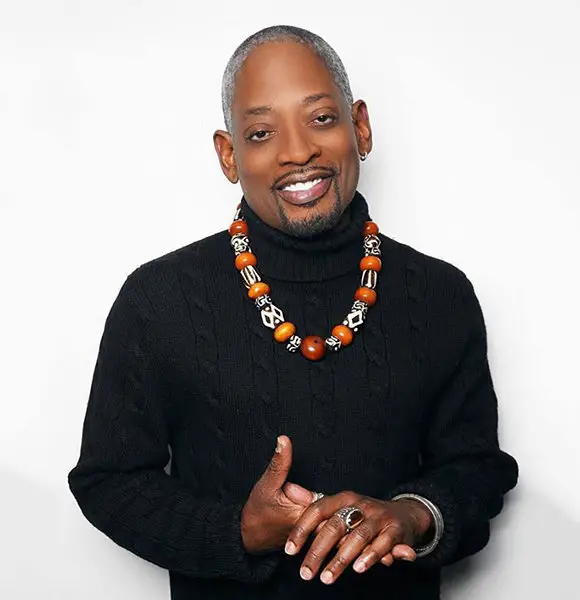 Quick Information
Net Worth

$3 million

Instagram

https://www.instagram.com/officialtccarson/?hl=en

Twitter

https://twitter.com/tccarson?lang=en

Facebook

https://www.facebook.com/OfficialTCCarson

Mother

Yes

Hair

Short

Height/ How Tall? 1.75 m
College

University of Illinois at Urbana-Champaign

Career

1989–present

Nominees

VGX Award for Best Performance by a Human Male

Date of Birth Nov 19, 1958
Gay

No

Divorce/Split

Not Yet

Relationship Status

Single (2021)

Children/Kids

Not Yet

Zodiac Sign

Scorpio

Birth Name

Terrence Connor Carson

Profession

Actor/Singer

Birth Place

Chicago, Illinois, United States

Nationality

American
In the five-year stint at the classic sitcom Fox Network Living Single (1993-1998), from the famous T.V. series makers of Big Bang Theory and Lucifer, American actor T.C. Carson played Kyle Barker. While the show was ascending the apex of becoming the most successful African-American sitcom, the Warner Brothers simultaneously brought up another superhit show, F.R.I.E.N.D.S., in 1994. T.C. Carson, playing the secondary protagonist, had to leave the show untimely. Well, it turns out it had got something to do with F.R.I.E.N.D.S.
T.C. Carson was sacked from the show Living Single
After around 22 years of Living Single ending, T.C. Carson finally spoke about the truth behind him leaving the blooming show prematurely (he disappeared from the 108th episode, the show ended in the 188th episode).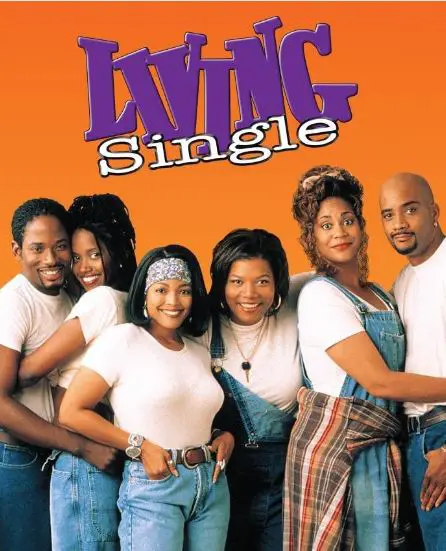 T.C alongside his Living Single co-stars feature on the sitcom's poster (Photo:- IMDB)
In an interview with Comedy Hype in 2020, when asked about him departing the show, he blatantly said, "I got fired." Articulating the reasons behind him being sacked, he didn't fail to point out the internalized racism. T.C was the spokesperson for the whole crew when it came to script quality, treating the artists on the set with the show's makers, which the makers took for an ego problem, rather than what it was, a genuine concern. He gushed,
"I was at home watching the final and I asked them because they sent me off in the episode... they were sending me off to London... and I said so are you getting ready to fire me, I just need to know so I can line up my stuff... and so I can be prepared.... they're like - no we never break up the group.... no we wouldn't do that..... watching the episode goes off.... not two minutes later my phone rings and it's my lawyer telling me that they're not gonna bring me back next year...... and it wasn't that I got fired, it was the way it was done."
He further added that the Warner Brothers underfed Living Single; however, the makers created F.R.I.E.N.D.S and gave it all.
"We were getting less than all the way around and then they created friends and gave them everything.... and both shows were warner brothers shows.... on warner brothers..... lots, yeah you know so to watch that, to be on our lot and to watch that was really kind of a slap in the face", T.C. Carson shared.
Video: T.C. Carson revealed about being fired from the show "Living Single" in March 2020.
Before this clarification, the fans suspected that the actor might have got some disease which led him to quit the show.
T.C. Carson's spouse
With a major hit character like Kyle Barker, T.C. Carson gathered immaculate attention in his personal life. With his relationship status being obscure, many speculated the actor of being a closeted gay. Adding to that, T.C.'s portrayal of gay sympathizer in rom-com Relax... It's Only Sex was so believable that the public has often equated him as a secluded gay. The spectrum of guesses doesn't limit to his sexuality but also his relationship with his co-actor from the Living Single, Erika Alexander. Although seen accompanying each other in various red-carpets events, the couple does not share romantic feelings. In fact, whenever addressing Erika, he never forgets to add the prefix "sister" by her name. Apart from the show, Erika and T.C. share a great friendship, and their birthday too, i.e., on November 19. 
Discover:- 'Kin' Star Myles Truitt Age 16 With Supportive Parents | Net Worth & Facts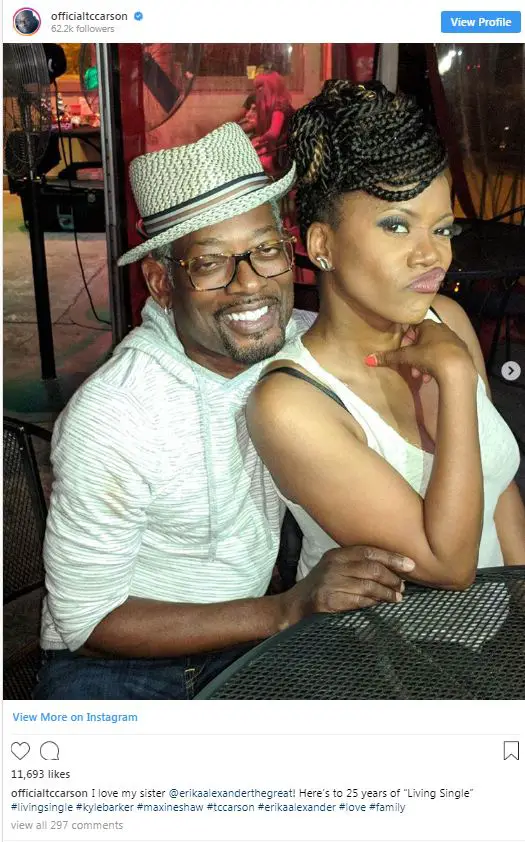 T.C. and Erika celebrates 25 Years of Living Single (Photo:- T.C. Carson's Instagram)
You May Like:- Coronation Street's Joe Duttine: Married to Wife Onscreen, But What About His Girlfriend in Reality?
What does T.C. Carson do now?
After being fired from the Living Single, T.C. did projects like Clifford The Big Red Dog(2000-2003), Star Wars: Clone Wars (2003-2005), Afro Samurai (2007), Star Wars: The Clone Wars (2008-2020), and a T.V. show called Last Call. The actor is now well known for his Music as well. It all began when he shifted to Atlanta, Georgia, from Los Angeles, California, in 2015 with the solitary intention of building a career in Music. In an interview with ILoveOSMusic, when asked why did he choose to move, he said, 
I wanted to do other things and in LA if...you're not doing film and television then you're not being recognized got it...and so they didn't really see the music...they didn't really see the theater all...they wanted was the film and television stuff and I really want to do something else and I came to Atlanta because Atlanta's energy is very creative.
He has a musical band called "T.C. Carson" with two other musicians for the keyboards and the bass. The man himself gives the vocal for the soothing classical blues and jazz sounds. However, music is not a new genre for him. Back in the 80s, it was with musical performances like The Wiz, Ain't Misbehavin', and Dreamgirls through which he kicked off his career.
Discover:- Natasha Staniszewski Age 39 Married & Husband | Personal Life To Salary
Well, with all of his hard work, his net worth stands somewhere around $3 Million. However, the almost 63 years old is unmarried and does not have any children to pass that wealth to. We assume that it might either go to his family, friends, or even charity when the time comes.