Entertainment
Openly Lesbian Tabatha Coffey & Beau Partner Forever - Unofficial Family
A born hairstylist, Tabatha Coffey must have styled and beautified thousands of women in their dates and possibly on weddings. With over 30 years of experience, Tabatha has shown her styling skills in the Bravo's series, Tabatha's Salon Takeover which was later renamed as Tabatha Takes Over. 
Dubbed "Most Addictive Reality Star" at the Logo's fourth annual NewNowNext Awards, there is a woman for whom Tabatha is addicted.
The lesbian relationship between the reality star and her partner has been going on for years, and even though the couple is yet to tie the marital knot legally, the two are unofficially a family.
Lesbian Relationship With Partner For Two Decades; "18 Years I Am Married"
A proud lesbian, Tabatha first mentioned of her lady love more than a decade ago. In an episode of Watch What Happens With Andy Cohen, Tabatha confirmed her long-term relationship but didn't reveal the name and any more details of her partner. 
You May Also Like:- Tracy Grimshaw Speculated Lesbian Reveals Partner Details!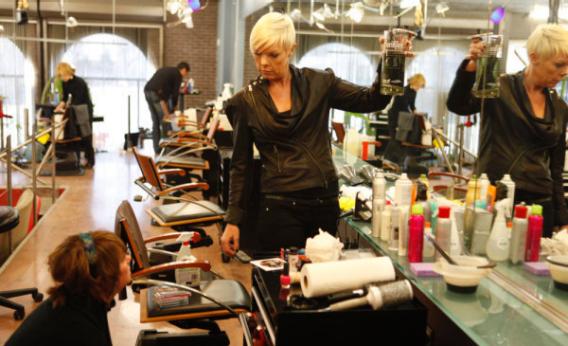 Tabatha in an episode of her show Tabatha Takes Over (Photo: Slate Magazine)
Later, in August 2008, the stylist went into detail about her love life while talking to lesbian website AfterEllen.com.
The Brisbane, Australia native confessed that she had been in a relationship for the last 10 years meaning the two partners must have been dating since 1998. But when asked about the couple's plans on getting married, Tabatha explained that marriage was an essential commitment whether with the same sex or the opposite.
She said in the interview,
"But then I think the choice comes down to if it's right for you, if it's the right circumstance, and to do it for the right reasons, because marriage shouldn't be taken lightly whether it's gay marriage or straight marriage."
While talking to Advocate in 2010, Tabatha mentioned that she along with her partner had got offers from males who wanted to donate sperm for the couple to have their children.
The Ridgewood, United States resident also stated that fans were eager to see their favorite lesbian celebrity become a parent. Tabatha further added that although the idea of becoming a parent sounded nice to her, she was not much interested in taking up the responsibility.
"Yeah, people thought it looked quite fabulous to see Tabatha walking around with a baby, so there are obviously people out there who want me barefoot and pregnant. Some men have even offered to donate sperm, which is lovely; however, it's not my thing."
Often considered as "too fabulous to be a lesbian," Tabatha doesn't consider her sexuality as her identity as thinks that she has no obligation to anyone other than her friends, family, and partner.
She even claims that her personal life should not be brought into her professional career and Tabatha was in no need to explain her lesbian sexuality. 
See Also:- Jonah Hill Brunette Girlfriend; Girl He's Dating Is Stylist - For Real!
Tabatha, who has never been married, has made her decision to not walk the aisle; a choice which her partner fully supports. Despite the couple's decision to remain unmarried, Tabatha wants gay marriage to be legalized for those who choose to get tied in the matrimonial knot.
However, Tabatha considers herself to be married to her partner even though the pair has not legally walked the aisle. She said in 2016 while talking about her plans for a wedding,
"I feel like I am married. It may not be legal in the eyes of the law but in my eyes and my heart and my commitment, 18 years I am married."
As of now, Tabatha who ages 49 and her partner have been together for nearly two decades and still going strong. The partners might have made up their minds against a wedding, but it may only be a matter of time before the pair decides to assume the responsibility of being parents.
Net Worth Of Salon Owner And Reality Star
Born in Australia, Tabatha's parents were the owners of a transsexual strip club in Queensland. She started doing hair at a young age styling hair for the strippers. She later moved to America where she began running a hair salon called Industrie Hair Gurus in Ridgewood, New Jersey.
Further, she also cuts hair in a West Hollywood salon called Warren-Tricoma during her spare time.
Tabatha, who is at the height of her career now, was already running a hair salon in Ridgewood, New Jersey, for more than seven years when she got a chance to participate in Bravo's reality show, Shear Genius.
Even though she finished six, Tabatha was chosen as the fan favorite which led to having her own show on Bravo TV called Tabatha's Salon Takeover. The show ran successfully for three seasons but was later re-branded for the fourth with a new name and theme.
Don't Miss:- Bachelor Star Brooke Blurton Swirls Romance Rumors, Dating New Boyfriend?
For the show titled Tabatha Takes Over, she traveled around the states to help small struggling businesses get a new start. Tabatha would take over the business for a few days during which she would try to renovate the business and hand over the keys to the owners after the renovation had been completed. 
From her career, Tabatha has garnered a net worth of $6 million but she has not collected her net worth solely from her shows and salon. In fact, she is also a notable author and has published a book called It's Not Really About the Hair.
Further, she has also worked as an editorial stylist and a writer for various magazines including Elle.com, Pop Sugar, and People Style Watch.