Entertainment
Bachelor Star Brooke Blurton Swirls Romance Rumors, Dating New Boyfriend?
Romanced Both Genders; Nick Wanted To Be Her Boyfriend But Dating Failed?...Claimed that an ex-boyfriend became judgemental and insecure when...It has been reported that Brooke is dating...Her parents had already separated when...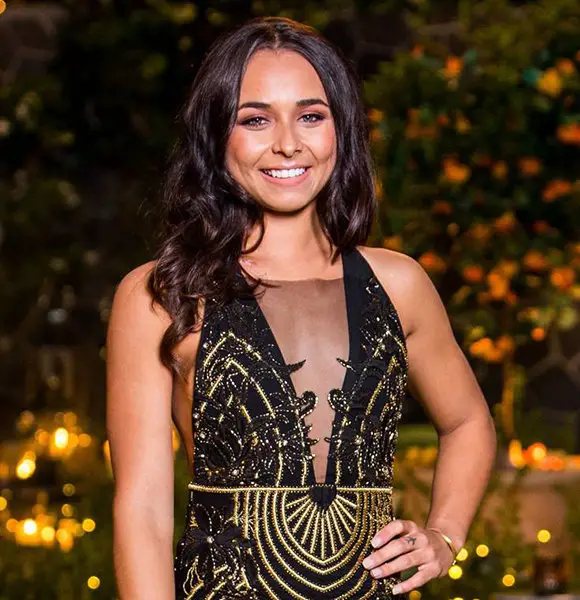 Reality star Brooke Blurton made headlines when she walked out of the 2018 season of The Bachelor rejecting Nick Cummins, the attraction of the show. When Nick confessed that Brooke had always been the one for him, many assumed that the two might reunite thus resuming their dating affair. 
But new discoveries show that Nick might not be the one for Brooke as she is supposedly dating another hunk. Learn about all the romances Brooke has been involved along with her latest beau and the details of her parents and family.
Romanced Both Genders; Nick Wanted To Be Her Boyfriend But Dating Failed?
Brooke can definitely justify her pansexuality as she has been involved in dating people from both genders.
Before she became a reality star, Brooke had already romanced two girlfriends. She even claimed that when an ex-boyfriend found out about Brooke being involved with two women in the past, he became judgemental and insecure of his girlfriend.
Talking to OK!, Brooke mentioned that she was previously in an affair with a man for three years. 
See Also:- Is Hope Hicks Married? Or Still Having An Affair With Boyfriend? Here's Answer
Further, the Bachelor star was also in a dating relationship with 2017 The Bachelorette contestant, Blake Colman. The romance lasted for a short period as Brooke revealed the affair between the two didn't work out. 
"We used to see each other but it didn't really work out. I don't like to judge, but I got an eerie feeling from him."
After Brooke joined the Bachelor in 2018, she developed a close bond with another female participant, Jamie-Lee. The close friendship between the two started dating rumors as Jamie also happens to be an openly lesbian. However, Brooke denied the gossips saying that the pair was no more than just good friends.
While talking to WHO, Brooke said,
"Most of the girls will say you get close to girls in the house and obviously, just because we have a tendency of being with girls, people will obviously put us in that category of liking one another. Jamie-Lee and I are definitely just friends. I feel glad I actually had her there in the house."
Soon after the end of the Bachelor, Brooke got linked to Nick Cummins.
In late-September rumors circulated that Nick, who is much taller in height than Brooke, had broken up with the show's winner, who was supposedly Brittany Hockley and started dating Brooke. Radio host, Kyle Sandilands even stated Nick's confession that he always loved Brooke from the start of the show.
More From The Bachelor:- The Bachelor's Erica Rose & Husband Blessed With First Baby 'Daughter', Family Of Four!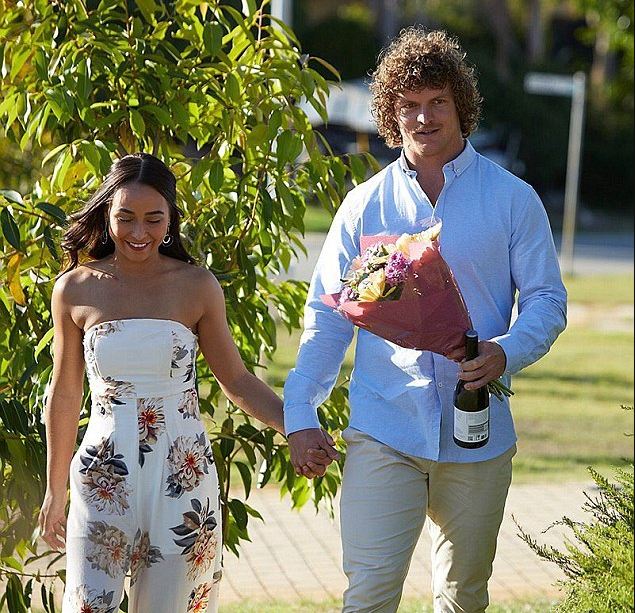 Brooke Blurton and Nick Cummins in the Bachelor (Photo: TheBachelorau's Instagram)
However, in the finale, Nick chose neither of the finalists (Brittany Hockley and Sophie Tieman) but instead decided to pick Brooke, who had earlier left the show rejecting him. After the finale, a close confidante of Nick mentioned,
"Nick's a genuine guy and he didn't want to hurt any of the girls, most of all Brooke. When he realised she was the one he had true feelings for, he ended things with the other two and finally confessed to Brooke how he really felt – took him long enough!"
Rumors began arising that the lovebirds had finally started dating after the end of the show. However, new gossips rose which proved the affair between Brooke and Nick obsolete. 
Gossips With New Boyfriend On The Rise
Recently, it has been reported that Brooke is dating a plumber named Sam Sloan. The rumors initially started after the pair spotted getting intimate at the Holey Moley miniature golf course in Sydney on 9 October 2018. A source told to Daily Mail Australia,
"They looked really close, like a couple. If she's with him, she's definitely upgraded from Nick!"
Further, Sam also shared footage of the pair's supposed date on Instagram in which Brooke could be seen swinging her golf club.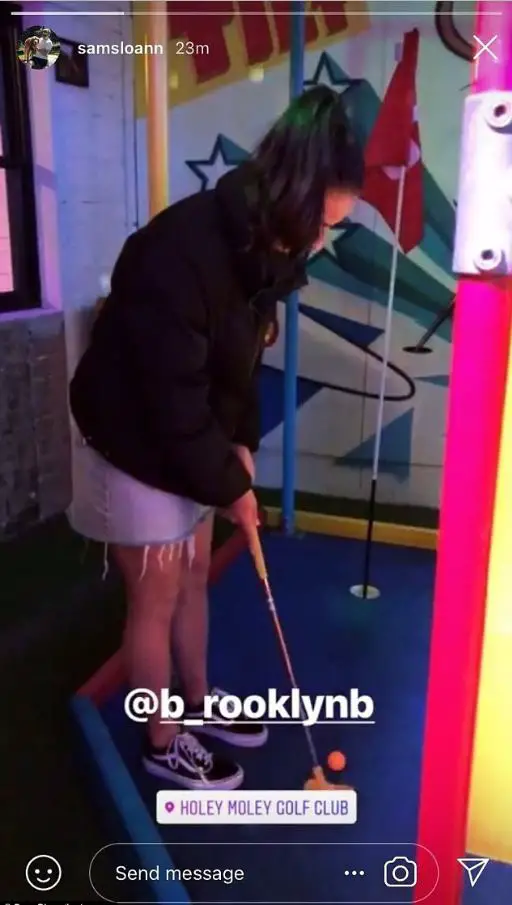 Sam shares the picture of the couple's supposed date (Photo: Sam Sloan's Instagram)
Daily Mail Australia tried to contact Brooke for comment, who is currently unavailable. If the two are indeed dating, though fans might be excited about the couple; there's one man who's heartbroken, Nick Cummins.
Parents' Details And Family 
Brooke, who ages 23 and celebrated her birthday every year on 1st January, had a traumatic childhood after she lost her mother at a young age of 11. Her parents had already separated when Brooke's mother committed suicide. Brooke, who was under the custody of her mother, was then raised by her grandma until she passed away a month of her daughter's death. 
You May Also Like:- Maya Jama Traumatic Parents Memory! Hate On Ethnicity & Boyfriend Reconnection
Brooke's custody was then transferred to her father, who she admits was not very supportive. Additionally, she also had to face a lot of alcohol and drug violence during her childhood. Talking about her family, Brooke has a brother named Troy who even appeared as a guest on the Bachelor and a schizophrenic older sister.