Tacko Fall is the perfect example of a player with outstanding athletism and game... also prolific in studies, as he maintained a 4.0 GPA throughout his high school study even after involving himself in...inexperience playing in the big stage led him to be undrafted in the 2018-19 season of the...saw better education for him and also a possibility to play in the...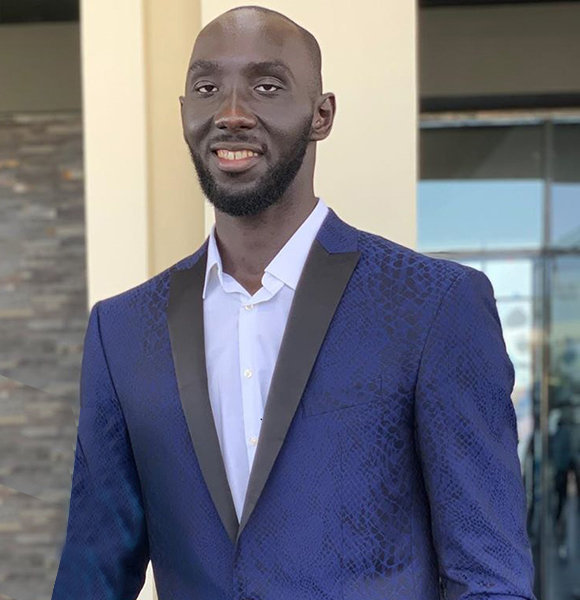 Basketball player Tacko Fall has marked his presence In NBA with outstanding athletism. The Senegal-born youngster is proving to be one of the fascinating assets in the NBA's big picture.
That's not all; the center is also prolific in studies; he maintained a 4.0 GPA throughout his high school education even after being involved in basketball. In 2015, he shocked everyone when he preferred being like Steve Jobs rather than LeBron Janes.
NBA Stats
Talking about his performances, Tacko Fall's stats are more than impressive. In 115 games for his college Central Florida, Tacko scored a total of 110 points with a rebound ratio of 7.7.

Tacko Fall's college season stats (Photo: nba.com)
Despite being a rookie, he marked incredible feat. However, he is yet to feature in a game for the Boston Celtics in the big league and prooved his outstanding defensive prospect.
Contract And Salary
Bursting into the NBA on back of a terrific season for his college team at the University of Central Florida, Tacko Fall stole the limelight when Boston Celtics picked him on a one-year contract in July 2019.
His inexperience playing in the big stage led him to be undrafted in the 2018-19 season of the NBA. But, the promising lad bounced back with impressive performance for his college basketball team.
Celtic's Main Man:- Marcus Smart NBA, Contract, Net Worth, Girlfriend
Leading the charts of blocked shots with 280, the big center signed an exhibit 10 contract which does not guarantee him a specific spot But, the deal can be converted into a two-way contract in upcoming days.
Interestingly, the contract will see him earn a bonus salary from the range of $5K to $50K, which is very meaningful for his growing stature and net worth as a player.
Bio: Parents, Height
The Seven footer, Tacko Fall was born on 10 December 1995 in Dakar, Senegal. He grew up in limited opportunities and everyday struggle for a living, so much so that his mother had a difficult time to feed the children and also fulfill their needs.
But, his father - who drove cabs in the United States -  saw better education and a possibility to carve a career. So, he convinced Tacko's mother, Marianne, to send their son to the United States.
Carrying the dream of his parents and family, the Dakar native moved to America at the age of sixteen.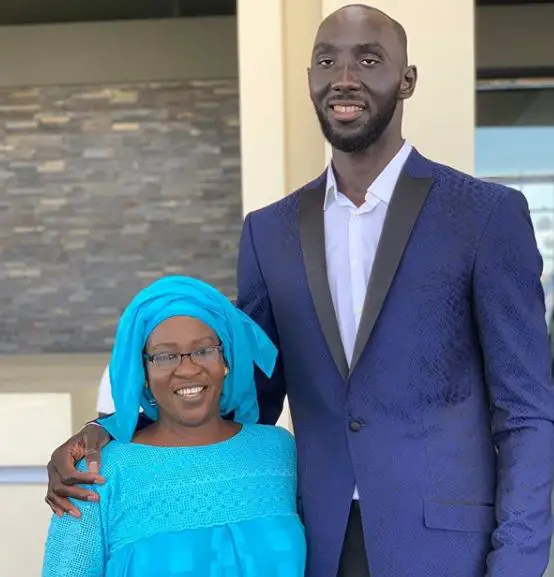 Tacko Fall with mother Marianne on his hometown of Senegal in August 2019 (Photo: Tacko Fall's Instagram)
He joined Liberty Christian Preparatory School in Tavares, Florida before moving to the University of Florida to start his college. There his unusual height of 7 feet 6 inches (2.31m) and weight 131kgs amassed eyes of all.
You Don't Wanna Miss:- Tyrod Taylor Married, Wife, Family, Net Worth
On a blink of an eye, he was spotted as a basketball prospect and was chosen for his college team. In 115 games played for the team, Tacko scored 10.1 points per game with 7.7 rebounds and 2.4 blocks per game.
Following an impressive college outing, he was signed by Boston Celtics to play in the Summer League in 2019.
Dating Girlfriend?
Tacko Fall has had a change of fortune when it comes to playing in the NBA. However, he is out of luck in terms of dating a girlfriend. The Boston Celtics native is focused on playing in the NBA right now. Probably, that's why he has not had the opportunity to indulge in a relationship.
However, the conditions may change once the rookie cements his spot in the Celtics roster.