Entertainment
Tamela Mann Living The Dream Together With Children; Remarried Husband – Why?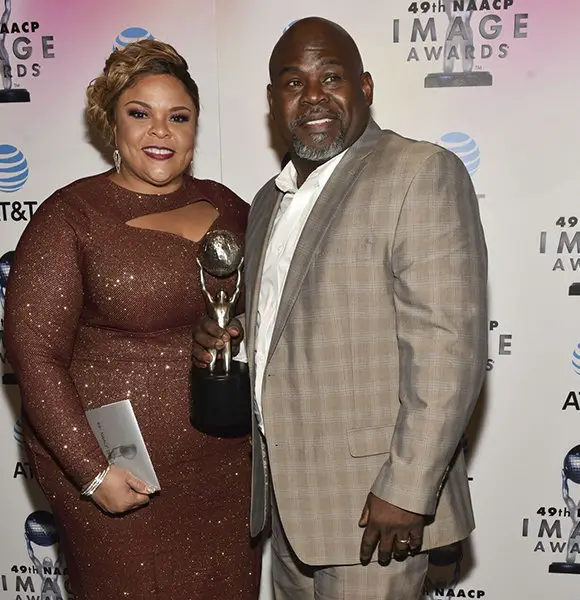 American gospel singer and actress, Tamela Mann, through her remarkable acting displays and Grammy award-winning songs, has safeguarded her position amongst one of the greatest in the music industry.
The multi-talented musician is recognized for achieving several accomplishments throughout her career. But one achievement stands out head and shoulder above others. Her long-term marriage with comedian husband has been able to restore many people's faith in love and commitment.
Further, with children and grandchildren of her own, Tamela is living the dream with her family.
Married to each other before fame and fortune arrived at their doorsteps, the Texas native and her husband have also renewed their wedding vows with the passing of time. However, there was something different when the duo exchanged their vows for the second time.
"Great Full To Do LIFE WITH" Husband; Perfect Family Sharing Children 
Behind a successful professional career, usually lies a settled and prosperous personal life.
The tale couldn't be more authentic than in the case of Tamela Mann. Starting as friends, the Take Me To Your King singer fell in love with her current husband, David Mann, and they soon got married to each other on 9 June 1988. The couple has been together ever since.
See Also: Michael Chernow Recipe To Happily Married Life, Family With Model Wife 
Tamela and her husband, who have been married for three decades, show no sign of any decline in their affection for one another despite the longevity of their marriage. The couple also completed their 30th wedding and engagement anniversary in 2018.
On the auspicious occasion of their 30th anniversary to their engagement, David posted a heartfelt message to the love of his life in his Instagram account on 24 April 2018.
"30 years ago today you said yes and made me the happiest man on earth I can't put into words how much I Love you, Tam, I'm great full to do LIFE WITH YOU. HAPPY ANNIVERSARY MY LOVE."
While David comes from a comedy background and his wife possesses some serious acting talents, the couple has still worked together on several television sitcoms. The Meet The Browns star duo, has also performed together in an award-winning gospel group, Kirk Franklin and The Family.
Tamela Mann along with her husband, David. (Photo: davidandtamela's Instagram)
Singer of the song The Masterplan, Tamela alongside her several Grammy awards has six more awards in the form of her children. With two sons and four daughters, the actress and her partner are blessed to have six children in their family namely Daniel, David Jr., Tamera, Faith, Joy, and Tia.
Don't Miss: Della Reese Dead At 86! After All The Health Issue The Singer Parts Away
Tamela is living her dream together with her husband, children and now, even her grandchildren. Standing at the peak of her career, Tamela is set to launch a memoir about her relationship with David entitled Us Against The World: Our Secrets to Love, Marriage, and Family on 13 November 2018. 
Remarried Husband After Massive Weight Loss
After pulling off some unusual roles in her onscreen career, the Sparkle actress implemented a unique and surprising move in her personal life as well when she decided to remarry her husband of 25 years on 20 April 2013. The couple renewed their wedding vows to one another on the occasion of their 25th wedding anniversary.
Talking about her decision to remarry her long-term husband in an interview given to the US weekly in 2013, Tamela mentioned the reasons behind the unusual event and details regarding the ceremony,
"When we got married 25 years ago, we didn't have enough money for a wedding. We wanted a fairytale wedding, so we picked an enchanted forest theme and hosted everyone at the Joule Hotel because it had the feel we were trying to create — old-world romantic, beautiful, chic and lush — and a place everyone would love. Our grandbabies were dressed as little princes and princesses."
However, there was one surprise at the wedding, and it has continued ever since. Tamela has been involved in a massive weight loss coming to the later stages of her career. At 52 years of age, this actor/singer seems to be fitter than ever. And there is a reason behind her weight loss as well.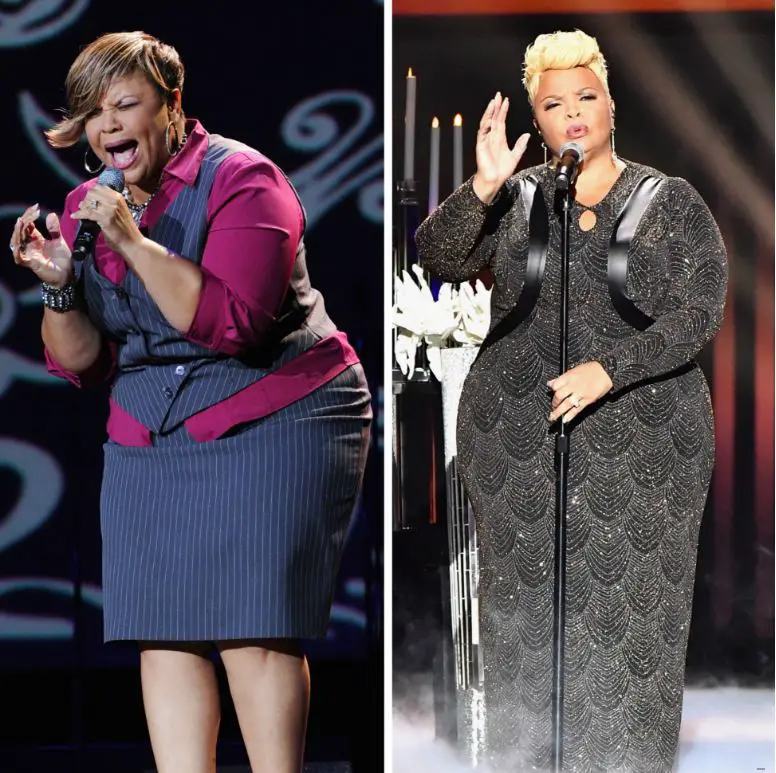 Tamela Mann body transformation from 2010(left) to 2017. (Photo: lifeandstylemag.com)
Similar: Hannah Gadsby Partner Talks Beside Stand Up & Weight Loss | All Revealed
Talking to blackdoctor.org in 2017, Tamela revealed she got involved in the weight loss campaign after her husband got diagnosed with Type 2 Diabetes. She further explained her motivation behind the weight loss and the details regarding it,
"One of the main struggles [of breaking into the industry] was my weight! I've always been good enough to be heard but not seen. I've lost over 140 pounds, I used to be a 30/32 and now I'm at an 18/20. I don't have issues with diabetes or hypertension, but I don't want it to happen."
Hence, with a healthy lifestyle, Tamella along with her husband continue to enjoy their married life and the beautiful family. With her net worth accumulating to around $3million, the singer-actress has new career ventures to pursue and thus remains ever so motivated to build her legacy towards greatness.