Taryn Asher is a four times Emmy award-winning journalist...She is known for working at FOX 2 WJBK...Taryn is a happily married woman to her husband
Taryn Asher is a four times Emmy award-winning journalist. She is known for working at FOX 2 WJBK and anchoring the show entitled The Edge.
Well, the veteran anchor is Michigan's darling news reporter. No wonder, she was awarded multiple awards from Michigan Association of Broadcasters and Associated Press.
Taryn Asher Wiki-Like-Bio
Taryn was born on 14th June 1975. She grew up in a stable household where her parents set an example of togetherness. It was their nurturing that led the FOX 2 anchor to excel academically and get into Michigan State University in 1993.
Well, she studied Journalism and Political Science at the university. While still at school, Taryn started her career at WLNS in 1996. Post completing her education, the news anchor continued working at the organization.
Explore:- Claire Saffitz Bio, Husband, Family, Age
It was in 2000; she left WLNS to work at WJRT ABC. Taryn kept on enhancing her anchoring skills while at her second job. After spending seven years of her life at the prestigious network, she joined the organization, FOX 2 WJBK.
Today, she continues to work at FOX2 and win the audiences' hearts. Courtesy of her job, Taryn earns an average salary of $49,867 per year.
Family Life With Husband
Taryn is a happily married woman with her husband, Jason Carr. The pair continue to share life since they tied the wedding knots in 2007.
The news anchor and her husband have a lot in common. Well, Jason - height 5 feet 10 inches ( 1.7 m) - is a TV personality and a Michigan State University alum like his wife.
Add to that; he is a recipient of 13 Michigan Emmy Awards, four Michigan Association of Broadcasters and four Michigan Associated Press Awards.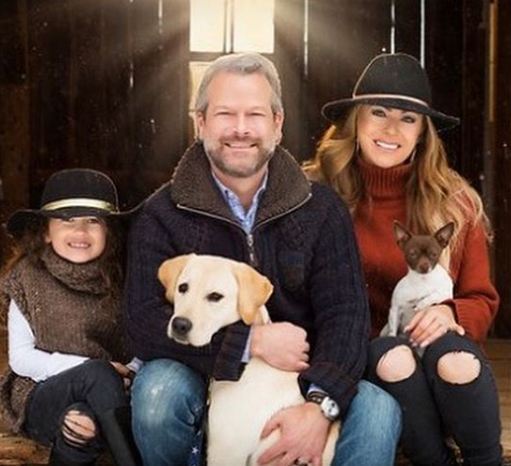 Taryn Asher poses with husband Jason Carr, daughter Gia and dogs, Violet and Charli Tickles on 25th December 2018 (Photo: Taryn Asher's Instagram)
The talented married duo became the happiest people when they became parents to a baby girl, Gia on 26th February 2011. Besides, the former WJRT anchor's family consist of two furry children; Violet, and Charli Tickles.
Health Issues
2017 was a scary year for Taryn. While on vacation, she went to the hospital complaining about food positioning. The news anchor thought the issue got solved and went back to enjoying her trip. However, she woke up with a fever the next day and ended up going to the hospital a second time.
The second trip to the hospital turned out to be a significant health scare as doctors found she was bleeding internally due to a ruptured cyst. After treating, they sent her home.
But, her trips to the doctor were far from over; she woke up with a swollen arm and had to go to the hospital a third time. She got the diagnosis of inflammation of the tissue around the heart.
Thankfully, she got the treatment on time as the health scare could have been fatal, and the news anchor returned shortly to work after recovery.
Being a public person, she put out a post on 14th July 2017, to aware people, especially women, to visit the doctor as soon as the symptoms appear on Facebook. Well, she has always been keen to promote healthy living. On 2nd January 2013, she tweeted sharing a link to her weight loss blog.