Entertainment
Teresa Giudice's Relationship With Husband Now, Children & Facts
Teresa Giudice is a reality TV star known for her appearances in the TV show The Real Housewives of New Jersey...was married to her longtime husband Joe Giudice till...in no hurry to get a divorce from him...was spotted with her ex-boyfriend...has four children with Joe...has had plastic surgery...her age as of now...the height of 5 feet 8 inches (1.73 meters)...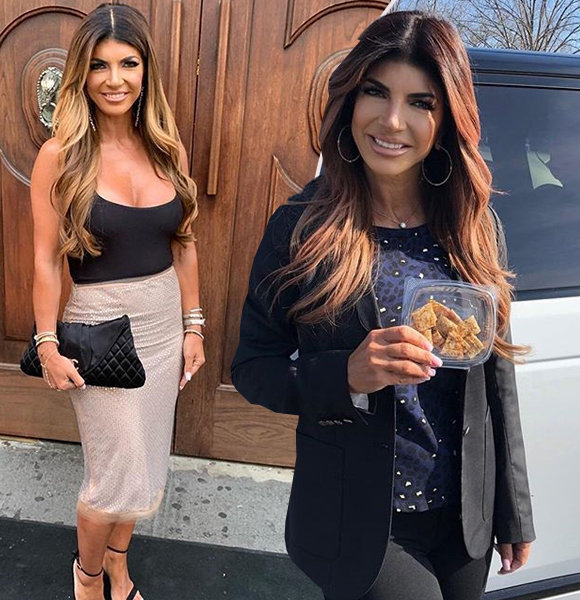 Television star Teresa Giudice rose to fame after her appearance in the popular TV show, The Real Housewives of New Jersey (2009-2020). She also appeared as a contestant in the TV series, The Apprentice, in 2012. 
In addition to her appearances in reality TV shows, she also has two acting credits. 
She appeared in the 1997 movie, Donnie Brasco, where she was an uncredited actress. Similarly, she also played the character of Housewife #2 in the TV series Mercy in 2009. 
Teresa's Personal Life: Husband & Children 
Teresa was in a relationship with Joe Giudice from 1999. The now-estranged couple married on the 23rd of October 1999. 
During their marriage, the pair went on to have four kids: daughters, Gia Giudice (born on the 8th of January 2001), Gabriella Giudice (born on the 4th of October 2004), Milania Giudice (born on the 2nd of February 2006), and Audriana Giudice (born on the 14th of September 2009).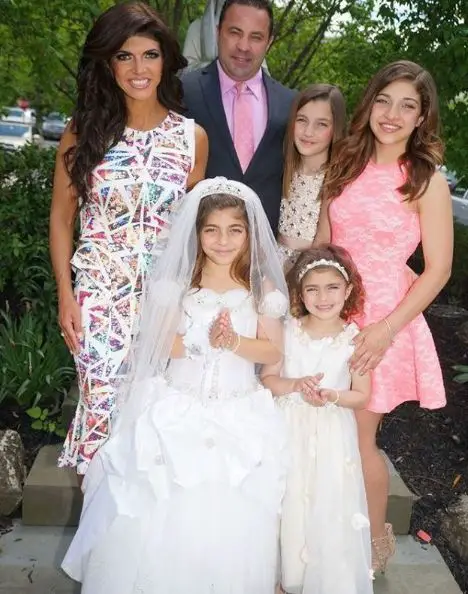 Teresa Giudice with ex-husband Joe Giudice and daughters Gia, Gabriella, Milania, and Audriana (Photo: Joe Giudice's Instagram)
Teresa now lives with her kids and is the primary provider for them.
Separation & Divorce
Teresa and Joe confirmed their separation on the 17th of December 2019, ending their almost 20-year marriage. The ex-pair decided to split and lead separate lives.
However, despite the split, Teresa has not filed for divorce. She is in no hurry to file for a divorce; however, their relationship is over for good, according to E! News. 
The news site also went on to say that Teresa's main focus was on her kids and on becoming the best parent she could to them. She wanted to keep things as stable as possible during the separation and didn't feel the need to strain the kids with the news of a divorce. 
Another RHONJ Star:- What Is Margaret Josephs Net Worth? Her Bio Adds Kids & Loving Husband
Despite the rumors that the distance between them was the reason for their separation, Joe was deported to Italy after spending five months in an ICE detention facility in mid-2019, it wasn't the case. 
Joe stated that distance wasn't the reason for their separation on an Instagram post dated 11th January 2019. He also pledged to remain friends with Teresa and raise their kids the right way. 
Spotting with Ex-Boyfriend Amid Separation
Right when Teresa's separation was making the headlines, she was spotted with her ex-boyfriend, Anthony Delorenzo. This occurred right after they announced their separation. 
However, on the 23rd of December 2019, a source close to Teresa spoke to Hollywood Life and confirmed that Teresa and Anthony were not dating. They were just friends and were spending some time together as such. 
Another Reality TV star:- Is Lauren Goodger Dating Now? Her Boyfriend History
The source also said that Teresa was in no hurry to get into the dating game so soon after her separation with her ex-husband.
Interesting Facts About Teresa Giudice: Age, Height & Surgery
Teresa was born on the 18th of May 1972 in Paterson, New Jersey, the United States.
Her maternal name is Teresa Gorga.
The reality TV star's parents are Giacinta Gorga (father) and Antonia Gorga (mother). She has a younger brother named Giuseppe "Joey" Gorga. 
Teresa stands at the height of 5 feet 8 inches (1.73 meters). 
Teresa studied Fashion Marketing and Management at Berkeley College in New Jersey. 
Apart from her career in acting, she is also an entrepreneur. She owns her own company named Milania Hare Care, a jewelry brand, and a fashion line. 
She is also an author; she has written three cookbooks that have reached the New York Times Best Selling list. 
Teresa and her ex-partner Joe have both gone to prison; Teresa completed her sentence of 15 months before Joe was sent to prison for his sentence of 41 months. 
Teresa has had a few surgeries on her body; she has breast implants and fillers on her lips.