Entertainment
What Terrell Owens Thinks Of 3 Day Wife Is Not Good; Where's He Now?
Inactive since 2010, former NFL receiver-turned-actor Terell Owens has had a horrendous post-career existence. Financial troubles aside, the father of four children's - possibly five - marital life also seems to be in shambles.
Unsurprisingly though, his marriage to most recent wife lasted mere three days. Following their separation, both engaged in a war of words, categorized as "not good."
Now single, Terell is jumping back into the dating pool as he makes a move on an NBA player's ex-girlfriend. Also, is he interested in resurrecting his career? Read along to find more!
Not So Nice Words For Wife; Accused Of Being A Deadbeat Father By Children's Mother
The former San Francisco 49ers star receiver's marriage to his wife, Rachel Snider became a subject of curiosity after the latter attempted suicide following their split.
Celebrity With Same Name:- Actor Terrell Carter's Boyfriend Revealed Gay Side, Unwanted Start To Dating Men Publicly
Married on 23rd January 2014 at a secret wedding ceremony in a California courthouse, Terell and his wife had separated just three days after. Upon filing divorce, Rachel commented:-
"I really valued his love and friendship for five years. Out of the love in my heart, I tried to help him. We had a secret relationship for five years, and I married him for love. I felt in love and now I feel betrayed and heartbroken."
Following the finalization of their divorce in December 2015, the University of Tennessee Alum too didn't hold back while sharing thoughts on his failed marriage. Speaking to TMZ, he claimed:-
"Not to be mean or negative but I'm honestly glad it's over with. I learned my lesson and my life is in a much happier place."
Terell, however, didn't comment on the financial aspect of their divorce. Back in February of 2014, while still estranged, his then-wife Rachel had accused him of marrying her for her "good credit."
Despite bagging $80 million during his time as a professional athlete, the former Philadelphia Eagles player has had a torrid time keeping his finances straight. According to him, a plethora of bad investments led to child support woes, which got played out publicly in an episode of Dr. Phil.
Out Of Contract NFL Athlete:- Ryan Nassib, NFL Quarterback Stats, Salary & New Contract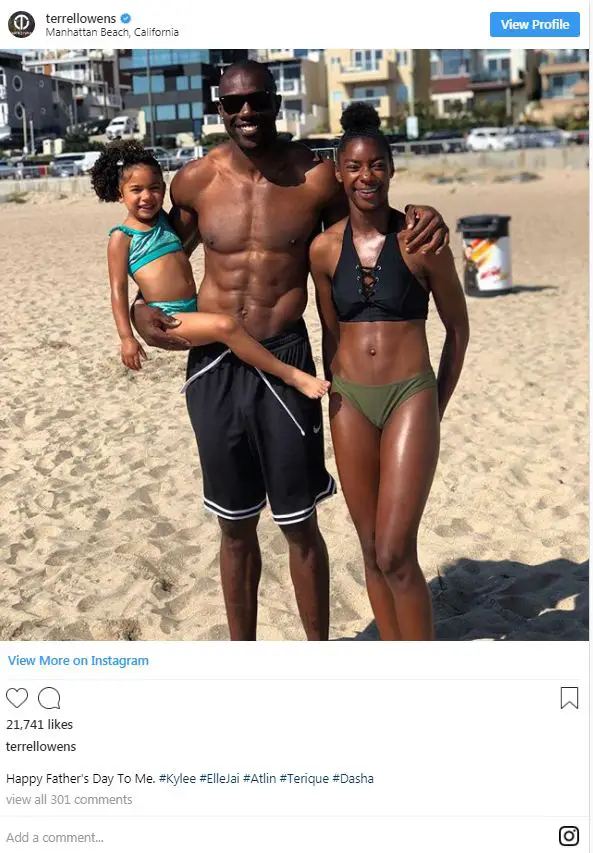 Terrell celebrates Father's Day (Photo:- Terrell Owen's Instagram)
A father of five children - namely: Kylee, Elle Jai, Atlin, Terique & Dasa - Terell, age 45, is having a hard time keeping up with the child support demands of his five baby mothers as a result.
Dating Woes - Terell Shoots His Shot At NBA Star's Girlfriend; What Is He Doing Now?
Even going through a nasty divorce & in the midst of child support drama, the former Dallas Cowboys receiver hasn't learned his lesson, it seems.
His target, you ask? Iggy Azalea, ex-girlfriend of NBA athlete Nick Young. When asked to share his thoughts on the former burning the latter's designer, the Alabama native made a swift move by saying:-
"She single? She can burn 'em up... I'll just buy some more!"
The Aussie rapper, who's allegedly dating NFL rookie DeAndre Hopkins at present, has yet to react to comment on Terell's statement.
Discover New:- Who Is Gigi Gorgeous Girlfriend? The One Whose Net Worth Is Billions
With his dating life going nowhere, the 45-year-old seems dedicated to resurrecting his career. After hosting the Pro Football Hall of Fame induction ceremony in August 2018, he trained alongside the Canadian Football League outfit Saskatchewan Roughriders.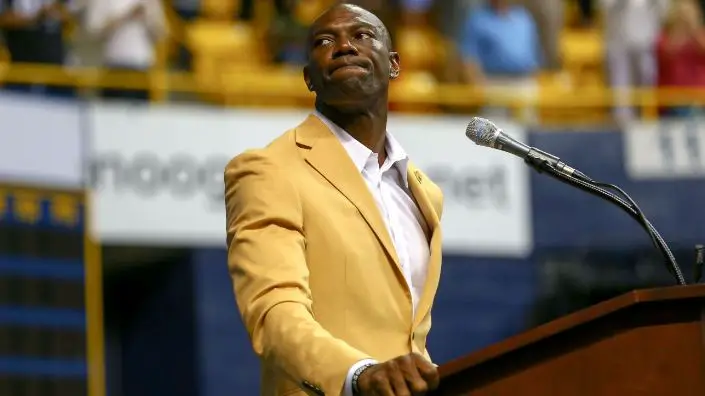 Terell Owens hosting the Pro Football Hall of Fame induction ceremony (Photo:- abc7news.com)
After the workout session, Terell professed his desire to make a return following a lengthy sabbatical.