Entertainment
What Terrell Owens Thinks Of 3 Day Wife Is Not Good; Where's He Now?
Terell Owens, a former NFL receiver turned actor who has been inactive since 2010, has had a dreadful post-career life. Aside from financial difficulties, the father of four - maybe five - children's marriage situation appears to be in ruins.
His marriage to his most recent wife, though, lasted only three days. Following their split, they engaged in a verbal battle that was deemed "not good."
Terell is back in the dating pool now that he is single, making a pass on an NBA player's ex-girlfriend. Is he also interested in reviving his career? Continue reading to learn more!
Not So Nice Words For Wife; Accused Of Being A Deadbeat Father By Children's Mother
The marriage of the former San Francisco 49ers wide receiver and his wife, Rachel Snider, became a topic of discussion after the latter attempted suicide following their divorce.
Celebrity With Same Name:- Actor Terrell Carter's Boyfriend Revealed Gay Side, Unwanted Start To Dating Men Publicly
Terell and his wife were married on January 23, 2014, in a covert wedding ceremony in a California courtroom, but they divorced three days later. Rachel's reaction to filing for divorce was as follows:
"I really valued his love and friendship for five years. Out of the love in my heart, I tried to help him. We had a secret relationship for five years, and I married him for love.  I felt in love and now I feel betrayed and heartbroken."
After their divorce was finalized in December 2015, the University of Tennessee alum didn't hold back in voicing his feelings about his failed marriage. In an interview with TMZ, he stated:
"Not to be mean or negative but I'm honestly glad it's over with. I learned my lesson and my life is in a much happier place."
Terell, on the other hand, remained silent about the financial aspects of their split. While they were still separated in February 2014, his then-wife Rachel accused him of marrying her for her "excellent credit."
Despite earning $80 million throughout his professional athletic career, the former Philadelphia Eagles star has struggled to keep his finances in order. According to him, a slew of disastrous investments led to child support issues, which were made public in a Dr. Phil program.
Out Of Contract NFL Athlete:- Ryan Nassib, NFL Quarterback Stats, Salary & New Contract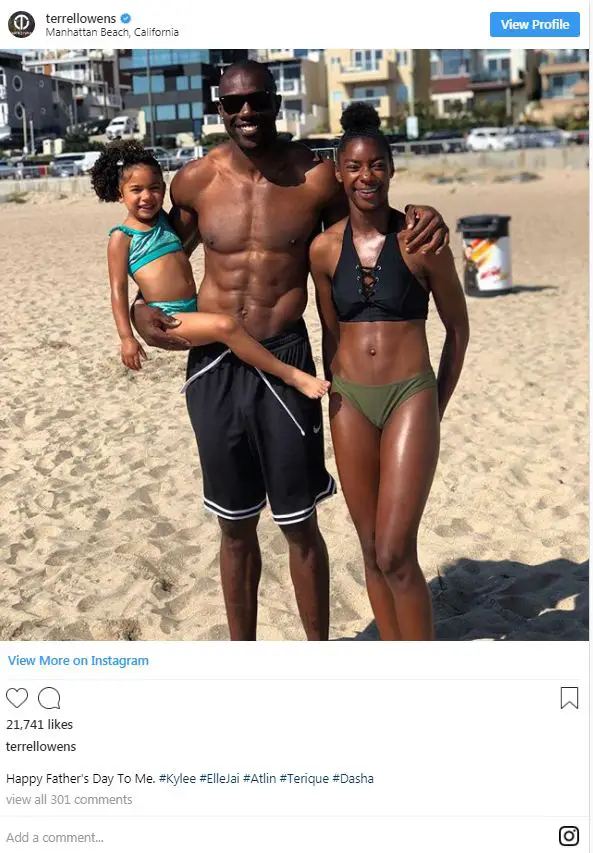 Terrell celebrates Father's Day (Photo:- Terrell Owen's Instagram)
Terell, age 48, is a father of five children: Kylee, Elle Jai, Atlin, Terique, and Dasa. As a result, he is having difficulty keeping up with the child support obligations of his five baby moms.
Dating Woes - Terell Shoots His Shot At NBA Star's Girlfriend; What Is He Doing Now?
Even after going through a tumultuous divorce and dealing with child support issues, it appears that the former Dallas Cowboys receiver hasn't learned his lesson.
What is his intended aim, you could wonder? Iggy Azalea, NBA player Nick Young's ex-girlfriend. When asked about the former's decision to burn the latter's designer, the Alabama native responded quickly, saying:-
 "She single? She can burn 'em up... I'll just buy some more!"
The Australian rapper, who is now said to be dating NFL rookie DeAndre Hopkins, has yet to respond to Terell's comments.
Discover New:- Who Is Gigi Gorgeous Girlfriend? The One Whose Net Worth Is Billions
With his personal life in shambles, the 48-year-old appears to be focused on reviving his career. He trained with the Saskatchewan Roughriders of the Canadian Football League after hosting the Pro Football Hall of Fame induction ceremony in August 2018.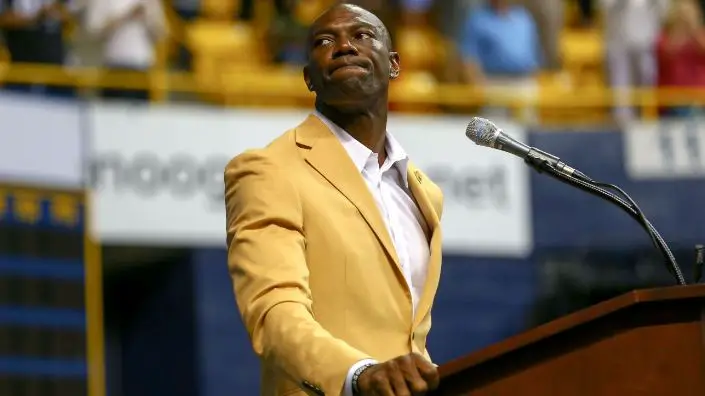 Terell Owens hosting the Pro Football Hall of Fame induction ceremony (Photo:- abc7news.com)
Terell expressed his willingness to rejoin the team after a long hiatus after the practice. With a net worth of $500 thousand, he has been living quite a comfortable life. 
Stay tuned for more updates on Terell Owens.