Entertainment
Will War Machine Ever Get Married Given These Terrible Dating Record?
Mixed martial artist-cum-pornographic actor War Machine, real name Jonathan Paul Koppenhaver, is serving a life sentence after a judge found him guilty of heinous crimes against his then-girlfriend & pornstar, Christy Mack.
Since his sentencing in June 2017, the Simi Valley California native has professed regrets at his actions towards his ex and claims to be a reformed man, all thanks to God and his wife-to-be.
Considering how he won't be a free man until he reaches the age of 71, is the option of getting married still on the table for War Machine?
Pen Pal Is Wife-To-Be; Might Get Married Pretty Soon
The story of convicted criminals finding love in their pen pals is nothing new. As history shows, the anticipation of conjugal visits is all too enticing for the involved parties.
Discover:- Jenicka Lopez Age 21 Weight Loss Talks | Net Worth, Height & More
Unfortunately for the former UFC fighter, age 37, he won't be getting any with his wife-to-be Ashley Farrington because of the Nevada state laws that prohibit any form of conjugal visits.
Back in July 2018, War Machine popped the question to his then-pen pal Ashley - almost a year after the sentencing - by reciting a poem which drew a parallel between them and the biblical characters, Adam & Eve.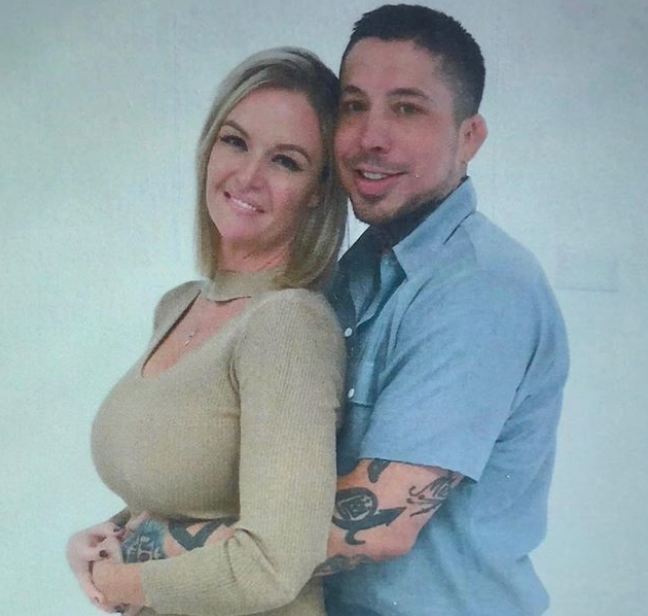 War Machine embraces his wife-to-be, Ashley Farrington during one of the prison visits (Photo:- War Machine's Instagram)
As per the sources close to Ashley's family, the engaged duo - who kindled romance via letters in the summer of 2018 & later, prison visits - might get married shortly at a prison wedding ceremony.
Not only has he found a wife in the mom of one but also seems to have found his redemption. Ever since he got introduced to his fiancee, War Machine - who has an estimated net worth of $100 thousand - faith in God has increased in tenfold.
By his admission, if it weren't for God and his wife-to-be, he wouldn't have survived the remorse he faced following the life in prison conviction.
Apologizes To Ex-Girlfriend; Tumultuous Dating History
Shortly after his engagement to Ashley, War Machine - who boasts a respectable chest size - gave an interview professing shame and regrets on his violent past.
Fellow UFC Athlete:- UFC's Josh Barnett Is Dating! Has A Girlfriend From MMA You Don't Want To Mess With
And since transforming into a reformed Chrisitan while in prison, he has apologized and begged for forgiveness with the victim of his vicious assault & ex-girlfriend, Christy Mack.
In August 2014, Christy was at the receiving end of War Machine's brutal attack after the latter broke into her Las Vegas apartment and proceeded to assault and rape her.
[Image to be updated: /uploads/celebrity/war-machine-dating-christy-mack-f.JPG]
A collage highlighting the injury suffered by War Machine's girlfriend in the August 2014 assault (Photo:- independent.co.uk)
The incident left the beloved pornstar with several knife wounds, a broken nose, several teeth knocked out, and 18 broken bones. Christy's male friend, Corey Tomas, who had accompanied her at the time, fled the scene upon the attack.
Violence Against Woman:- Ivan Moody Wife-Like Partner Hint Net Worth During Divorce, It's Massive
Before the assault which eventually led to his imprisonment, War Machine - who possesses the height and weight of 5 foot & 11 inches (180 cm) and 77 kgs respectively - & his ex-girlfriend enjoyed an abundant dating life that saw the pair star opposite of each other in numerous adult movies & featured on the cover of Hustler Magazine as well.