Entertainment
Theresa Caputo Marriage & Divorce Details, Dating Status, Now
Claiming to be able to talk to the dead, popular self-professed spirit medium Theresa Caputo is mostly known through her series Long Island Medium. A series where Theresa has showcased her " mystical abilities " for almost a decade now.
Theresa has conducted her spiritual readings on both believers and skeptics alike. While some claim her to be real, there are a few who say she is fake.
Whatever the case may be, as of 2019, Theresa is a well-known celebrity with the show and one of New York Times bestselling author for her book There's More To Life Than This and You Can't Make This Stuff Up related to the afterlife.
About Theresa's Marriage
Anyone who has tuned in to one of her episodes knows that she was married to Larry Caputo.
Theresa Caputo got married to her husband Larry Caputo on 16 September 1989. The pair welcomed two kids together, a son named Larry Caputo Jr (Born:1993) and a daughter Victoria Caputo (Born: 27 September 1994).
Theresa and Larry were united for more than 28 years before calling it quit in 2017. The duo's divorce was finalized on 18 December 2018, ending their relationship permanently.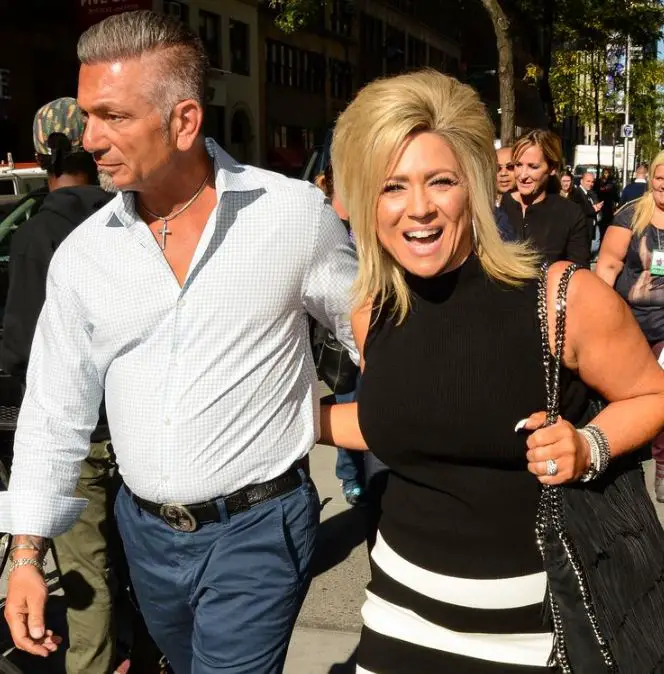 Theresa Caputo with ex-husband Larry Caputo in 2014 (Photo: goodhousekeeping.com)
As for the cause of their split, Larry stated that the pair didn't get to spend as much time together as they liked to. Theresa also spoke about ongoing tension in their house.
About Their Divorce:-Theresa Caputo Ending Marriage In Divorce While Husband Dating Another!
The two had marital issues they couldn't solve, which pushed them to end their marriage.
Dating Status In 2019?
Since her split with her husband, Theresa also has been open about her dating status.
Theresa also stated that she is ready to try her luck and dive into the dating pool again, but she is yet to be seen with a romantic partner.
Larry, however, has already moved on with his personal life. As reports claim, her husband was seen with Connie Talley Stauddy in June of 2018.
Net Worth & Now
As a reality star and popular psychic, Theresa is sure to have amassed a fortune through her endeavor. To the exact numbers of her earnings, Theresa Caputo is the holder of a total of $ 3 million in net worth.
Take A Look :- Jeopardy's Ken Jennings Net Worth, Married, What Is He Doing Now?
Now, the reality star is set to achieve greater heights through a tour in 2020. Theresa is scheduled for an appearance on 14 June 2020 at the Kodak Center in Rochester.
Facts About Theresa
Theresa was born on 10 July 1966 in Hicksville, New York.
Her birth name is Theresa R. Brigandi.
Theresa has long claimed that she can communicate with the deceased, an ability she had since her early childhood.
When she was younger, Theresa claimed she could even see and hear things others couldn't, but shut down those abilities as she grew older because it frightened her.