Tiffany "Monie" Cashette earned celebrity status in 2014 when she first began appearing on the beloved Lifetime series Little Women: Atlanta.
After hitting big as an internationally recognized reality star, the Houston Texas-native dabbled in numerous endeavors including voice acting. True to her last name, she was able to cash in on her fame by launching an aptly-titled t-shirt line MonieRose and a production company called Little Woman, Big Business.
Recognizing her influence among the masses, Luster Skin Care hired her as its ambassador.
Bio Unfolds Age, Birthday & Height
When she arrived on Earth, her biological parents probably didn't foresee a life in the limelight for Tiffany.
Born in the year 1982 with a rare form of Dwarfism called NPR 2, the Lifetime star probably faced discrimination - and perhaps, still does - because of her four feet and 6 inches (1.4m) height.
Another Little Woman In Our Vault:- Jasmine Arteaga Sorge Age 33, With 2 Baby Boys & Husband (A Bio)
A Scorpio by the birth sign, she celebrates her birthday on 26th October every year. Other famous individuals, who share birthdays with 36-year-old Tiffany include comedian Seth McFarlane and former Presidential candidate Hillary Clinton.
Wiki, Family & Ethnicity
Hailing from Houston Texas, Tiffany is a Southern at heart, who deserves a Wikipedia profile of her own. A devout follower of Christianity, her faith got put to the test when the 19-year-old self suffered a family tragedy.
Her mother Felicia Andrea Wardsworth succumbed to Scleroderma. In the years since Felicia's passing, the Little Women: Atlanta sensation continued to support scleroderma non-profits in her mom's remembrance.
Wiki You May Dig:- Tonya Reneé Banks Age 53, Mother To Grown Daughter Needs Tall Husband
Because of her family background, Tiffany reportedly recognizes as belonging to African-American ethnicity.
Career Talks - Net Worth Now
Before her career as a reality star, Tiffany held a job of a medical claims examiner. And, by the time she debuted Little Women: Atlanta, she was already friends with castmates Sam and Tanya.
Not only was she the tallest cast member on the series but, also one of the most successful. All thanks to her savvy business acumen, she made quite a fortune. Per several reports, her net worth now sits at a healthy seven-figure margin.
Following her exit from the Lifetime series in April 2019, experts began projecting a decline in Tiffany's respectable net worth.
With Husbands: Wedding To Custody War
The news of Tiffany leaving Little Women: Atlanta came on the heels of the custody battle loss over her teenage son Derrick Beckton Jr. Admittedly, she was leaving Atlanta for Houston to be near her only child. Houston, Texas, is her ex-husband's place of residence.
Equally Nasty Custody Duel:- Jon Gosselin & Girlfriend Getting Married Soon Amid Children Custody Battle
The medical claims examiner-turned-reality star married her first beau Derick Beckton Sr. when she was 19. At the time of her second marriage to truck driver/actor Morlin Ragland, she had touched her mid-30s.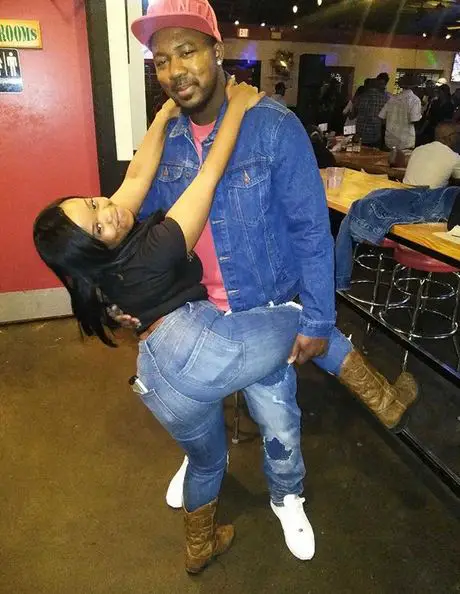 Tiffany Cashette latches onto her husband Morlin's neck for a photo circa April 2019 (Photo:- Tiffany Cashette's Instagram)
Tiffany wedding with husband Morlin was a grand affair and even got chronicled on Little Women: Atlanta. Barely a year into their marriage, the married duo's relationship hit the murky waters as cheating rumors grew rampant.
The allegations, however, didn't derail the union.