Tiffany Coyne is most popular for her presence on the...Enjoying a happy married life, Tiffany is married to singer husband...are not too time-oriented, Tiffany revealed another gorgeous...the beautiful model is parents to...Just at the age of three, the spokesmodel developed a real liking for...veteran model makes a fair sum through her efforts...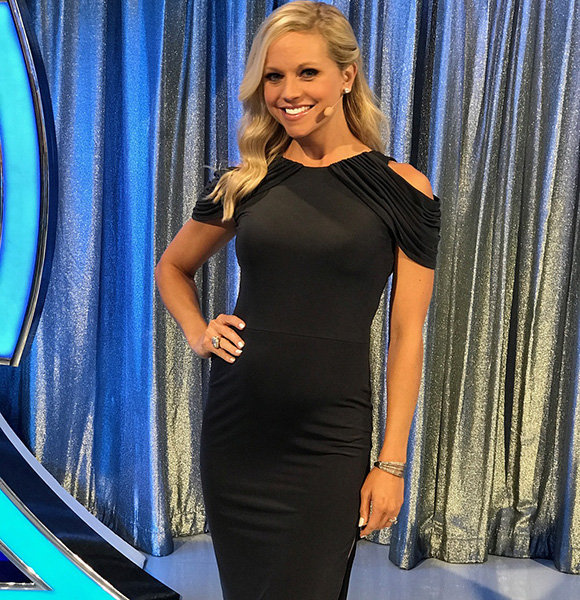 An energetic and sensational model in every way, Tiffany Coyne is most famous for her presence on the CBS television game show Let's Make a Deal.
From working as an entertainer initially, Tiffany has risen to the challenge over the years.
She is mainly involved in successful franchises including modeling work for United Airlines, Chase Bank. Aside from modeling for business infrastructures, she has also made guest appearances on other games shows like The Bold and the Beautiful and The Price is Right.
Married Life With Husband
Enjoying a happy married life, Tiffany is married to Emmy nominated singer husband, Chris Coyne. The two first met while both of them were performing on a cruise ship. Together for over a decade, the happy duo's wedding took place on 27 March 2006.
Quite Relatable:- After Being Married For Many Years Dermot O'Leary Ready To Have Kids; Wife Is Holding Him Back
Seven years into the marriage, Tiffany and her husband announced the pregnancy news of their first child in January 2013. After eight months of the pregnancy news, the model and her husband welcomed a baby girl named Scarlett Rose Coyne on 1 August 2013.
Tiffany and her husband enjoyed being parents so much that they decided to increase their brood. In 2018, Tiffany revealed her baby bump at MPSE awards. Soon after on 25th February 2018, Tiffany gave birth to son Carter Liam Coyne.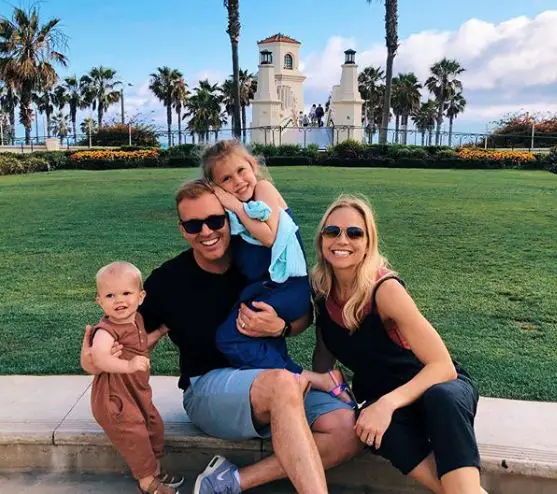 Tiffany Coyne with husband Chris Coyne and kids Scarlett Rose Coyne and Carter Liam Coyne on June 2019 (Photo: Tiffany Coyne's Instagram)
To date, the beautiful model and her husband Chris are parents to two kids.
Tiffany's Bio: Net Worth & Salary
Born on 6 May 1982, Tiffany is the daughter of father Bruce Burningham and mother, Kim Burningham. Also part of the family is her sisters Ashley Pippin and Skyla Bishop.
37-year-old Tiffany Coyne grew up in Layton, Utah. Her love for the modeling career came later; initially, she was a big fan of dancing.
Just at the age of three, she developed a real liking for dancing. By the time she graduated high school, she had already begun dancing for the Utah Jazz. Completing two seasons there, she went on to perform on cruise ships roaming around parts of Northern Europe.
Soon after touring around on seas, Tiffany went on to work on several of Las Vegas show's including Sirens of TI and Donn Arden's Jubilee.
Interestingly enough, she made her first TV debut in the spring of 2010 on Let's Make a Deal. Since then, the model has made waves in the industry as a beautiful and elegant performer.
As of 2019, Tiffany's popularity and work have reached new heights. Her work as a model for her game shows is soon to reach a thousand episodes. However, details about her net worth and salary remain unknown.
Also Interesting:- Lucy Zelic Boyfriend, Children, Family, Salary
On average the game show models are estimated to earn an amount between $39,824 and $62,501. While an exact number is unknown, there is little doubt that the veteran model makes a fair sum through her efforts.
Taking about her physical features, she has body measurements of 35-24-35-inches and stands at the 5 feet 9 inch (1.73 m).