Entertainment
Is Tom Payne A Gay Man? Has Past Dating Affairs Or Current Relationships With Girlfriend To Fence The Rumors?
You must have the cool yet extremely tactical "Jesus" from Walking Dead real life known as Tom Payne. After people loved this guy in the series, he appeared in the series's regular recurring role since season seven.
With that charming personality and hunky attitude, Payne has won the heart of many. But does he have a girlfriend? Or is he a gay man? Well! Maybe, maybe not. We will be digging the fact in our story today.
Is Tom Payne Gay In Real Life As Well?; Hints Jesus Might Be Gay
Tom Payne revealed the new plot in his role as Paul "Jesus" Rovia in the hit AMC series "Walking Dead." Payne was asked at Los Angeles International Airport whether the character would be a significant part of the series moving forward.
Walking Dead Co-Star:- Steven Ogg's Personal Life: Man With Obscure Married Life, Gay Rumors
He replied:- 
"I don't think so. They haven't done that with any other characters really,'  
He continued:-
"He wasn't closeted. It just hadn't been mentioned on the show,"
Payne further explained how the character would be working out. He said:-
"There's no difference between a gay person and a heterosexual person at the end of the day,"
Payne told Jesus is gay in the comic books. He divulged:-
"'You don't go into a scene going ''Oh, wow, I've gotta really think I'm a gay person now.'' There's no difference really,"
The statement was about his character in his series, but people assumed him to be gay in real life too. And the rumors gained further hype as he's one of the open advocates for gay rights.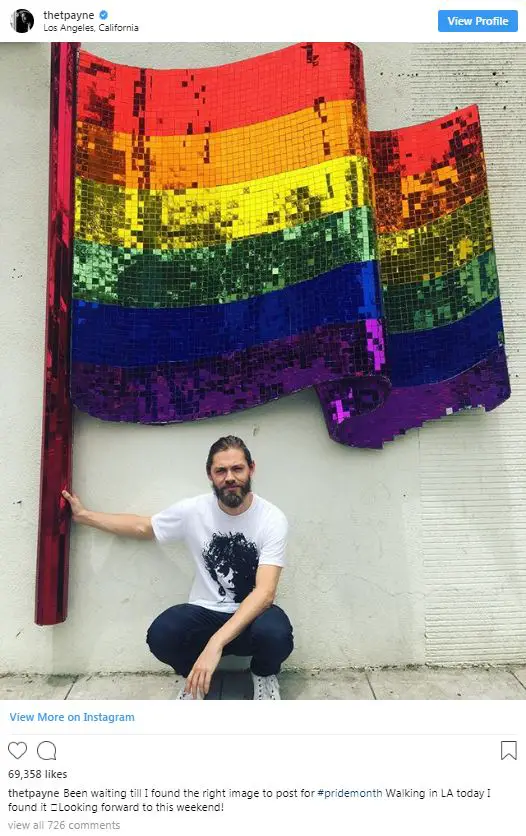 Tom acknowledging pride month (Photo:- Tom Payne's Instagram)
In a TMV interview, he has also confirmed that his character will be coming out as gay, but in actuality, he is not.
Planning On Getting Married To Model Girlfriend/ Wife Prospect After Years Of Dating?
Tom Payne has been in a relationship with Swedish model and singer Jennifer Akerman. That can also be evident to the fact that he is not gay.
Read Also:- Who Is Dr. Disrespect? A Twitch Star On Rise; Age, Wife, Cheating Scandal
Further, we can also say that he is just making out with a girl just to give a pause to a gay rumor.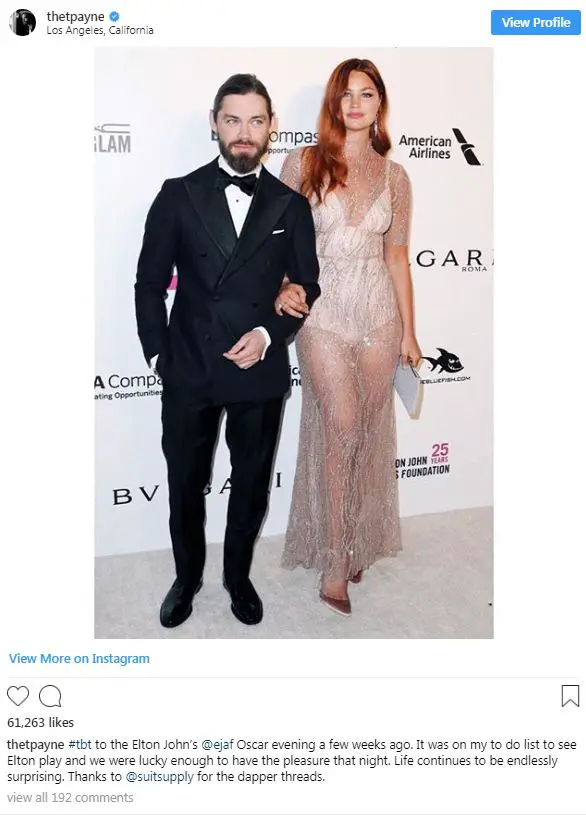 Tom & his girlfriend Jennifer attend Elton John's Oscar Evening (Photo:- Tom Payne's Instagram)
On the other side, the relationship has gone a long way. Both of them have been dating since 2013 and has a healthy relationship since then. But what about getting married? Is the pair planning to get married anytime sooner?
Well! as of now, the duo is not married yet, but hopefully, they will make us familiar with their plans shortly.
All in all, Payne has been in a relationship with a girl. Hopefully, they will come out quite openly about their relationship soon.
Tom Payne Leaves The Walking Dead; Rumored Gay Character Dies
After Rick Grimes' kidnapping, who knew - the writers and creators of the AMC hit series would deliver another plot twist?
The mid-season finale of The Walking Dead, currently in its ninth season, saw one of the show's beloved characters, Jesus(played by Tom), get killed by the hands of AMC zombie universe's newest antagonists.
Don't Miss:- Wolfgang Van Halen & Girlfriend Ready To Get Married, Become Family?
While the fans mourn the death of Jesus, Tom, on the other hand, couldn't be happier. Following the airing of the stated episode, he sat down for an interview with the Hollywood Reporter to discuss Jesus' death, among other things.
On Jesus death, he reflected:-
"I know people will be disappointed and shocked, but I'm happy."
He then added:-
"I know a lot of people are going to be bummed about it, but I've been bummed for the last two years, that the character hasn't gotten as much cool stuff [on the show] as he has in the comic books. They gave me a really cool ending, and I'm happy with that."
Additionally, Tom also explained how his dissatisfaction with his character role in the series had led the writers to kill off his character. He revealed:-
"They were aware I wouldn't be unhappy if they got rid of me. I expressed unhappiness last season. I was very frustrated with what the character had been doing."
He also dropped two cents on Jesus' gay orientation by criticizing the writers and creators for never explicitly mentioning it.