Entertainment
Fox News' Tomi Lahren: Fired From The Blaze, Where Is She Now?
American conservative political commentator, Tomi Lahren, went through a hard time back in 2017 as she was fired from her job. However, as of now, she perhaps got a job probably better than thats of the previous one.
Let us dive into a Tomi Lahren professional life to know where she is now and what she is doing.
Dating Or Engaged?
While there have been a few here and there professionally for Tomi, she is cruising her way along with a beautiful relationship with her NFL advisor, boyfriend Brandon Fricke.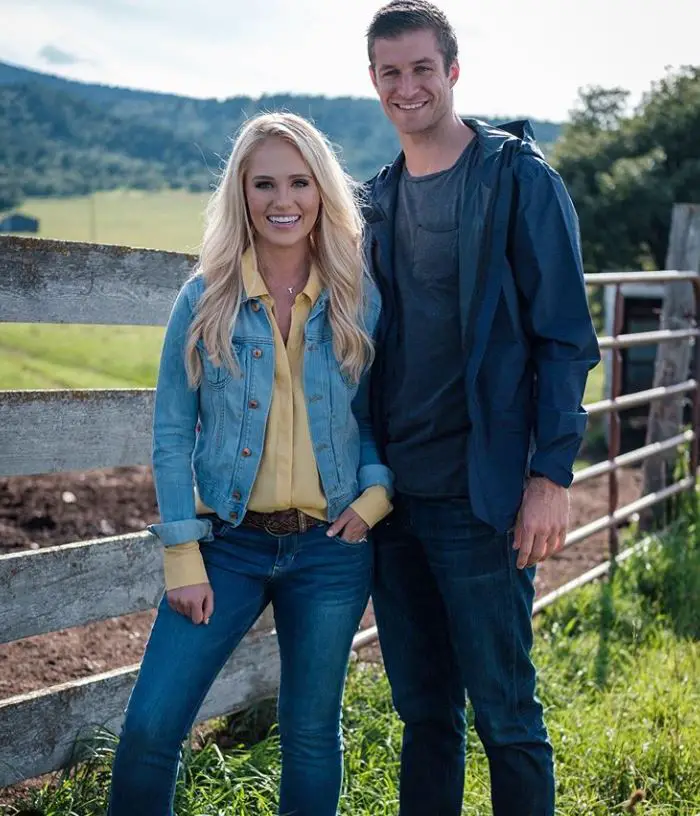 Tomi Lahren with fiance Brendon Fricke in August 2019 (Photo: Tomi Lahren's Instagram)
The loving couple has been dating each other since 2018 and has come a long way together already. They announced their engagement on 29 June 2019 via Instagram with Tomi sending out a lovely message for her soon to be husband. Adding to the same, the host shared three cute pictures with her fiance showing off the ring in her finger.
TV Legend:- Holland Taylor Girlfriend, Lesbian, Family
The two share similar interests and political ideologies, as well. Looking at their growing love for each other, the couple might soon call each other husband and wife and start a family of their own.
Tomi Lahren Fired From The Previous Job, New Job?
Tomi Lahren - age 27 - was best known as a host when she used to work in American conservative news and entertainment network, 'TheBlaze.' Tomi was suspended for pro-choice comments she made on 17th March 2017 in the American daytime talk show, 'The View.' In the show 'The View,' she affirmed, 
"I'm pro-choice and here's why. I'm a constitutional — you know, someone that loves the Constitution. I am someone that's for limited government. And so I can't sit here and be a hypocrite and say I'm for limited government but I think that the government should decide what women do with their bodies.
Moreover, she added,
"I can sit here and say that, as a Republican, and I can say, you know what, I'm for limited government, so stay out of my guns, and you can stay out of my body as well."
Tomi's comment on the show became the reason for her being suspended from the play 'The View' while the video went viral throughout social media. She was highly criticized on Twitter, and she tried to defend her comments on the show via Twitter
While all the public were criticizing Tomi, 'The Blaze' chief Glenn Beck raised a question on Tomi's comment through his radio show. Beck proclaimed,
"I would disagree that you're a hypocrite if you want limited government and yet you want the government to protect life of the unborn. It's very, very clear. But it takes intellectual honesty, and it takes a willingness to actually think these things through and to do more than just read Twitter or Facebook to get your news and your political opinions."
Soon after uttering her notion towards access to abortion, Tomi was fired from 'TheBlaze' in March 2017. Then, in May 2017, Tomi started working part in a communication role at Great America Alliance (GAA), a super PAC supporting President Donald Trump.
Singing Talent:- Brandon Arreaga Girlfriend, Gay, Parents, Net Worth
Tomi, who carved her career and gained immense popularity through her 'Final Thoughts' videos, was recruited in Fox News on August 2017. Tomi debuted on, Fox News as a contributor in the show 'Hannity.'
Tomi's new show 'Hannity' puts a focal point on political analysis. Furthermore, Fox News Channel reported that Lahren has the responsibility of FNC digital products currently in development.
Tomi Lahren's Short Life:
Tomi Lahren was born in South Dakota on 11th August 1992. She was born into a military family. Tomi joined the University of Nevada, Las Vegas, where she graduated in Journalism and Political Science.
Tomi served as an intern for South Dakota Republican Congresswoman, Kristi Noem, before going to college. After she finished her post-secondary education, Tomi resided in San Diego, California, to carve her career in political commentary. In 2014, she was offered to host the show named "On Point with Tomi Lahren" by a  One America News Network (OAN).
Although her salary remains veiled with her hard work and dedication towards her craft, she has successfully accumulated a net worth  $3 million.