Gaining fame from the TV show Private Practice, Holland Taylor has also worked on TV series; Two and a Half Men and movies like Legally Blonde and Spy Kids 2.
But the actress isn't making news just because of her fantastic career. Her relationship with actress Sarah Paulson, who is 32 years younger than her, is also talk of the town.
Lesbian Girlfriend
Holland Talyor's relationship with Sarah Paulson is not a secret to anyone, especially since the duo went public in 2015.
Though the pair started dating in 2015 as well, they met more than a decade ago at Martha Plimpton's house. After brushing into each other the first time, the two started following each other on Twitter.
Gay Celeb Couple:- Fredrik Eklund & Husband, Perfect Gay Couple! First Vacation For Twins
However, the beautiful couple's love life faced wraths from people. Soon after going public, the couple received controversial comments about how Sarah has 'mommy issues' which resulted in her dating relationship with Holland Taylor.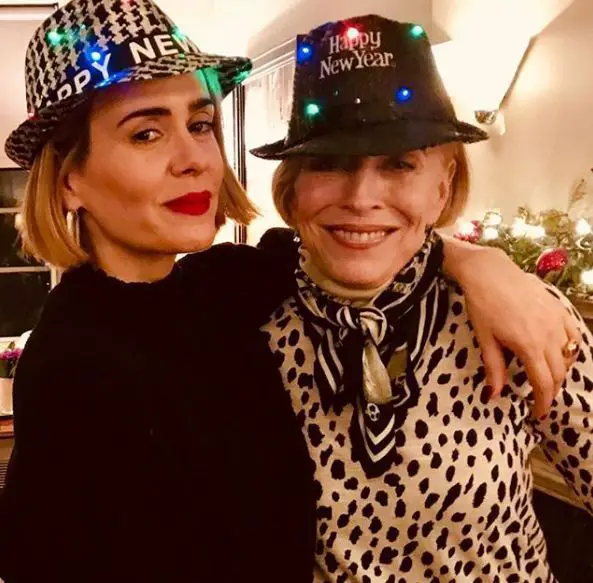 Holland Taylor with girlfriend Sarah Paulson on January 2019 (Photo: Holland Taylor's Instagram)
Holland's partner Sarah defended the comments in 2018. She revealed that they both parent each other equally, and there were no such issues behind their relationship.
Despite all the ups and downs, Holland and her girlfriend still are over the stars about each other. However, the pair are yet to get married.
According to Holland, if the pair decides to get married, the wedding will be private and low key.
Family & Career
The actress Holland Taylor, who age 76, is the native of Philadelphia, PA. She is the daughter of parents Charles Tracy Taylor and Virginia Davis Taylor and was born on 14 January. Growing up with two older sisters, Patricia Taylor and Pamela Taylor, Holland attended a boarding school, Westtown School, in her home state.
You Might Be Interested In:- Tierna Davidson Girlfriend, Lesbian, Parents
As she always had a thirst to shine in performing arts, she went to Bennington College after high school and graduated in drama. Holland then moved to New York and started working on Broadway and Off-Broadway projects throughout the 1960s, 1970s, and 1980s.
It took the actress a long time before getting significant roles in the TV series or movies. Though her debut in the film industry happened in 1969 in the film The Next Man, she kept getting small parts that went unnoticed until 1980.
That year, Holland's 'big break' finally occurred when she earned a significant role in the sitcom Bosom Buddies with Tom Hanks in the lead role.
Since then, Holland has played different major award-winning roles in projects such as Me and Mom, Harry, The Powers That Be, The Truman Show, and The Naked Truth.