When Toni Basil released her rendition of pop group Racey's track Mickey, her dance grooves and voice immediately became a hit. Till today, her song remains one of the go-to dance tracks and a nostalgia trip for those seeking the 80s vibe.
An accomplished dancer, the songstress also worked as a choreographer for the hit film American Graffiti.
Moreover, her talent was recognized through her nomination in the Primetime Emmy and MTV Video Music Awards in the category of choreography. The former was in 1988 and later in 1984.
Where Is Toni Basil Now?
The dancer isn't leaving the spotlight any sooner. In July 2019, when she attended the premiere of Quentin Tarantino's highly anticipated movie Once Upon A Time In Hollywood, many wondered about her involvement in the film.
A few days later, she disclosed that she had done choreography for the movie and even shared the experience as something closer to an acid trip.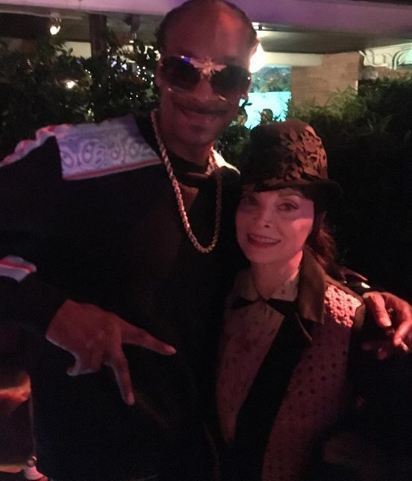 Toni Basil shares a picture with rapper Snopp Dogg during the premiere of the movie Once Upon A Time In Hollywood on July 2019 (Photo: Toni Basil's Instagram)
So, it is evident that the actress is still contributing her signature moves on the bigger screen and is active where she always belonged: Hollywood.
Is She Married? Past Relations
When it comes to sharing information on darting life, the American dancer has remained very implicit.
2019 Breakout Artist:- Lil Nas X Net Worth, Gay, Girlfriend, Family
Until today, there aren't any facts or information that confirm that she is married or has a partner, Thankfully, over the years, she publicly let out names of personalities she dated in the past.
On 26th October 2017, the Mickey hitmaker slipped a piece of vital information when asked if she and dancer Pop N Taco worked together. In reply, she revealed that she had dated the celebrity dancer in her prime years.
Likewise, her list of ex-boyfriends includes celebrity hairstylist Jay Sebring and actor Dean Stockwell, whom she dated in the 60s.
Net Worth & Royalty Fees
Many might assume that Toni received a vast number of royalty fees from her track, Mickey. But, the assumption is not true as she had no publishing rights to the song and received only about $1500 in share.
In 2012, the artist fought legal battles demanding the profits made from the song to be shared to her. But as of now, it's unknown, if she got financially credited for the hit song.
However, thanks to her diverse talent working as an actress, filmmaker, and dancer, she has accumulated a net worth of $5 million.
Her Age Plus Family
The 75-year-old celebrity was born on 22nd September 1943 in Philadelphia, city of Pennsylvania. Her father Louis Basil worked in theatre whereas mother Jacqueline Basil was a professional dancer.
Recommended Professional Dancer:- Alan Bersten Net Worth,Girlfriend, Gay, Husband,Now
As a result, their upbringing played a significant part in grooming Toni as a performing artist. In terms of her ethnicity, the actress possesses a mix of Italian and Scottish ancestry.