Entertainment
Tony McGill Bio: Everything About the Man Married to Caitriona Balfe
Tony McGill Bio: Everything About the Man Engaged to Caitriona Balfe New Year may be gone, but it seems like New Year's gifts are opening now. And it's none other than the well-known actress of Outlander, Caitriona Balfe with the gift this time, the gift of her engagement news.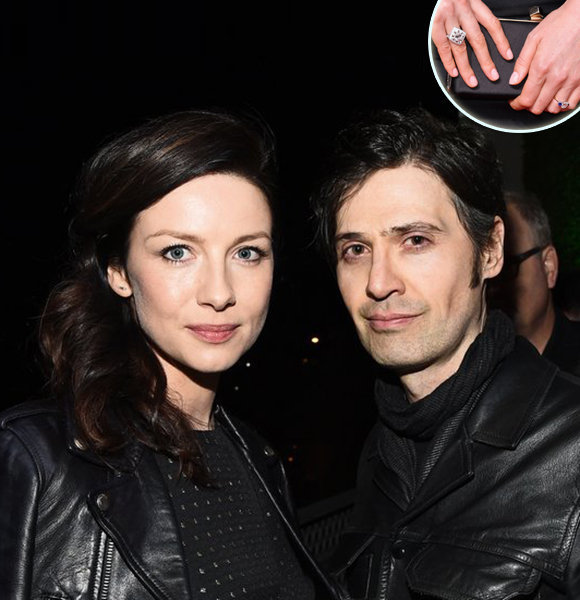 Caitriona Balfe, whose low-key dating life was hard to penetrate for media, is now a married woman with Tony McGill. The spouse, Tony McGill is a much-speculated name yet less of him are out there to know.
Well, worry not, for this time we will gift you the complete bio of the Tony McGill, the man Balfe is adding on her family. It's your curiosity and our sentences that will completely unwrap the gift!
Who is Tony McGill? Wiki-Like-Bio
You may need no introduction to Caitriona Balfe, but we know you are empty-handed when it comes to Caitriona Balfe's man, Tony McGill. You might have heard his names a few times but might not know who he is. Well, let us introduce you to the name perfectly.
Tony McGill is a manager of the Scottish band, Fratellis, by profession. McGill seems to be in the profession for quite a time even though the exact date is still in the shades. He is also a composer, who is popular for his composition in "Amazing Grace," "Day is coming" and "Fill Me."
And, that's not all of the works McGill do!
The tall and handsome guy is also the co-owner of a London bar, The Library Pub, located at 235 Upper St, Islington, N1 1RU. Looks like, McGill has a knack for the management job for the one who managed to conquer the heart of the actress like Balfe.
Tony McGill's Dating to Engagement! How It All Started?
Before Caitriona Balfe came with her engagement news, there were nearly two years of dating period which led to McGill and Balfe's engagement. The dating was mostly low-key throughout the period far from the reach of media.
However, some speculation of McGill's dating affairs was already there on Tumblr that the duo was dating before they went to Edinburgh Film Festival together.
Speculations first started when the duo was seen together in 2015 on a video on Instagram shared by a friend. The video captures the moment of Balfe sitting on McGill's lap and playing the tin whistle, which was quite a show for the romance lookers.
Later in 2016, Tom McGill made an appearance together with Balfe on Jodie Foster's Hollywood Star ceremony which hinted their possible affair. Though the couple was discreet mostly, the series of appearing together continued again, and the pair were then spotted at the Oscar Wilde Awards in 2017.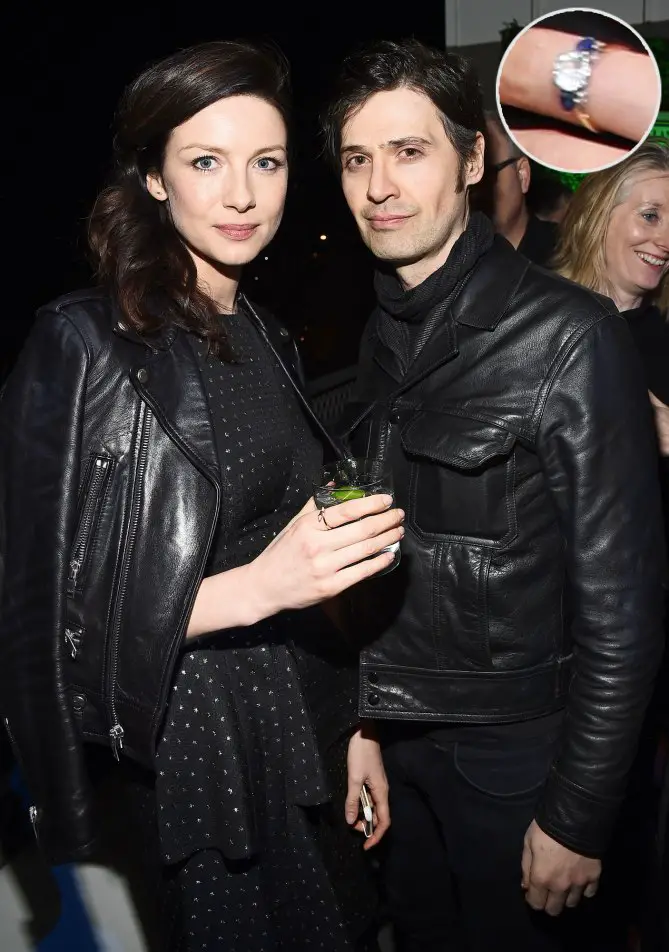 Caption - Tony McGill and Caitriona Balfe at the 2017's Oscar Wilde Awards (Photo:- Pinterest)
Finally, in 2018, Balfe revealed her engagement on the 2018's Golden Globe Awards by flaunting her beautiful diamond engagement ring given by Tom McGill.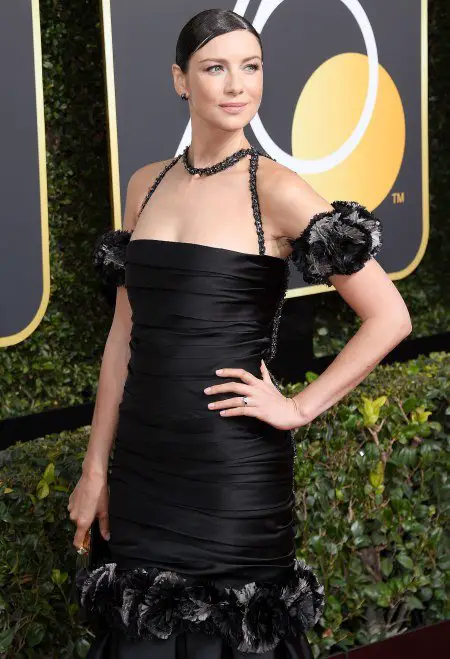 Caitriona Balfe showing her engagement ring at the 2018's Golden Globes Awards (Photo:- people.com)
Talking about the engagement to PEOPLE, Balfe confirmed,
 "It happened over the break. I'm very happy"
It was double the celebration for McGill's girl, Balfe as she was also nominated for the Best Actress in a TV series, Drama category at the Golden Globes for Outlander. However, Tony McGill was not present with Balfe at night for the celebration.
Finally Hitched; Tony Is Married!
After being engaged for a year, the Irish lovebirds finally rung the wedding bells. Tony McGill exchanged the vows with his longtime girlfriend, Caitriona on the 10th of August 2019. 
Maintaining their level of secrecy, the ceremony was a close-knit one with only family and friends. However, it is known that Rev. Louis Beasley-Suffolk officiated the wedding and it was held at St. Mary's Church in Bruton, Somerset, in England.
More On His Wife:- Caitriona Balfe Engaged, Wedding, Husband, Family
But, it might be a while till fans of the duo get to see photos of the ceremony. Tony does not have any social media accounts and Caitriona keeps the details of her personal life off the buzz of Instagram and Twitter.
However, Tony and Caitriona will have to put a hold on their honeymoon for a while.
Caitriona is busy with the filming of season five of Starz's hit TV drama series, Outlander. The new season is set to premiere sometime in early 2020.