Caitriona Balfe is...began modeling at the age of...is committed to her long-time beau...her fiance had proposed her on...dated for a few years before...While the two kept their personal life as...pair share chemistry...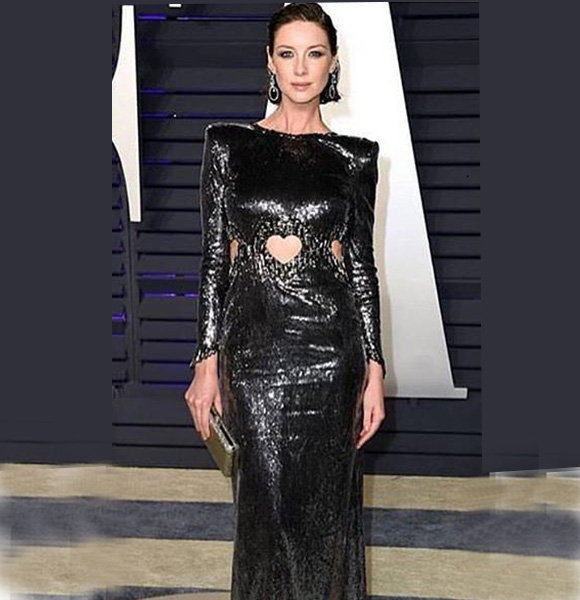 Model-turned-actress Caitriona Balfe portrays the role of Claire Randall in the TV series Outlander.
She initially entered the entertainment realm through modeling, starting at the age of 19 while studying Acting at the Dublin Institute of Technology. At the meantime, she was scouted by an agent volunteering for a charity.
Her 10-year modeling career helped her feature on various fashion brands including Dolce & Gabbana, Burberry, Dior, Louis Vuitton, Hugo Boss, Armani, Calvin Klein, and Chanel.
Eventually, she moved into acting and dabbled into roles of hits like Outlander, The Price of Desire, Money Monster, and Now You See Me. 
Now, she has amassed a net worth of $4 million through her endeavors.
Details On Caitriona's Relationship
Interestingly, Caitriona got engaged to her long-time boyfriend,  Irish music producer Tony McGill.
The news of her engagement first hit the shelves during Caitriona's Golden Globes appearance in 2018. She gushed about the proposal by mentioning her fiance's proposition on the holidays. Supporting her engagement news was a giant diamond ring on her finger.
Engaged And Married:- Elle King Engaged, Boyfriend, Wedding
Before getting engaged, the couple dated for a few years. Though the two met in early 2015, it is not clear if they started dating immediately.
However, the speculation regarding their relationship came the same year. Seen sitting on Tony's lap in an Instagram video, Caitriona's budding relationship with him was quite evident from then.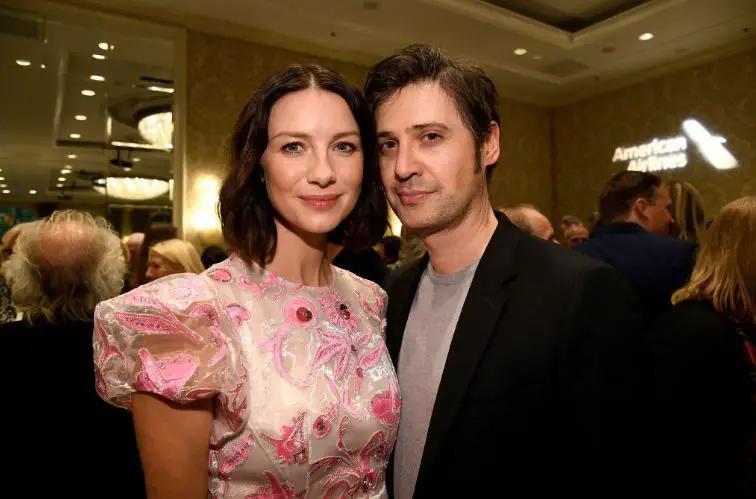 Caitriona Balfe with husband prospect Tony McGill during an event (Photo: cheatsheet.com)
Following the event, the two graced Jodie Foster's Hollywood Star ceremony together in 2016.
While the two kept their personal life as discreet as possible, the constant appearance on award ceremonies all around the year of 2017 & 2018 made it clear the two were indeed an item.
Secretly Married, Details 
After dating for 3 years and being engaged for one, the duo finally rung the wedding bells.
On the 10th August 2019, the actress got hitched with her long-time boyfriend Tony at St. Mary's Church in Bruton, Somerset, in England. It could be a while till fans get to see the photos of the event as Caitriona is not big on sharing personal events on social media and Tony doesn't have any.
Another Beauty Of The Market:- Elle Evans Married, Husband, Net Worth
Maintaining their level of secrecy, the ceremony was a small one with only close-knit family and friends. The wedding was officiated by Rev. Louis Beasley-Suffolk. 
However, the newlyweds will have to wait a while for their honeymoon. On the 15th of Aug 2019, Caitriona shared a photo of herself on set for the TV series Outlander. The highly acclaimed TV show is set to premiere in early 2020.
Pregnant Rumors & Scandals
Though Caitriona and Tony are not married yet, the news about the possibility of Caitriona being pregnant begun in 2019. A little bloatedness in her appearance made fans and followers go wild on social media. But, she replied as,
To all those who think it's appropriate to ask. No, I'm not pregnant, just having my period and was bloated....so yeah...thanks for asking!
Her statement on Instagram made it quite clear she was not pregnant. Nevertheless, it was not the first time she got into harsh judgments.
More From Liverampup:- Karrueche Tran Boyfriend, Parents, Siblings, Height
She was rumored to be dating co-star Sam Heughan from Outlander. Though the pair shared some chemistry on screen, the romance lived only in the series and not anywhere else.
To support the fact, Caitriona herself shut down rumors during the premiere of season 2 of the series in 2016.
Family Info
Born on 4 October 1979, Caitriona is a native of Dublin, Ireland.
Raised by a tough garda sergeant father (a member of the national police force of Ireland), she is the fourth of five kids. Alongside her four biological siblings, she had two adopted siblings.
The beauty keeps contact with all her brothers and sisters.