Entertainment
Tony Reali Talks On Wife & Child Threat, Loss Of Family | Personal Details
Tony Reali is married to his wife...they exchanged the wedding vows back in...years later they gave birth to their baby daughter...on...Adding to it, their family was blessed with another addition, their son,...who was born on...however, they lost their other son...during birth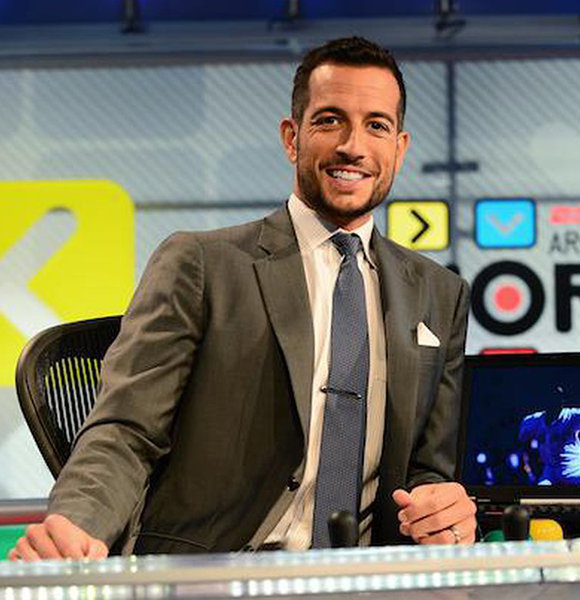 American TV host Tony Reali, who is a sports personality known for hosting ESPN's Around the Horn, has made his mark in the world of journalism. While he reaches heights of success in his career, he shares a family of his own away from the camera.
He has been married to his girlfriend-turned-wife and shares a family of four with her. On their journey to living a delightful family life, Tony and his wife faced a loss of a kid. Adding to it, Tony also had his heart on slevee when his family was threatened by a terror attack.
Despite the loss and tragedy, he shares a blissful family life with his wife and kids. 
Loss Of Child; Family Of Four With Wife
Tony Reali, who also played the role of "Stat Boy" on ESPN's Pardon the Interruption, shared a happy family life once. Tony tied the marital bond with his wife Samiya Edwards, who is an African policy consultant.
You May Also Like: Will Alicia Witt Walk Down The Aisle For Husband Anytime Soon? Looking For A Boyfriend Or Satisfied With Career
The pair exchanged the wedding vows back on 3 July 2008 at a Catholic church ceremony in Virgin Gorda, British Virgin Islands. After the ceremony, the reception was held on the bead surrounded by their close friends and family.
During the wedding, Tony sang along with the wedding band that performed for the bride and the groom. The unexpected performance show's sign of dismay in the bride's face.
However, they had memorable wedding moments. After the wedding, the couple wanted to start a family of their own. Later in 2014, they were blessed with their firstborn baby.
Samiya gave birth to their baby girl Francesca Zahra Reali as the pair welcomed parenthood with open arms. Years later, they were expecting a new addition to their family. 
Tony's wife was pregnant with twin boys which doubled their happiness. But as the delivery date neared, the pair had to face the loss. They lost one of their sons, Amadeo in the lead up to childbirth.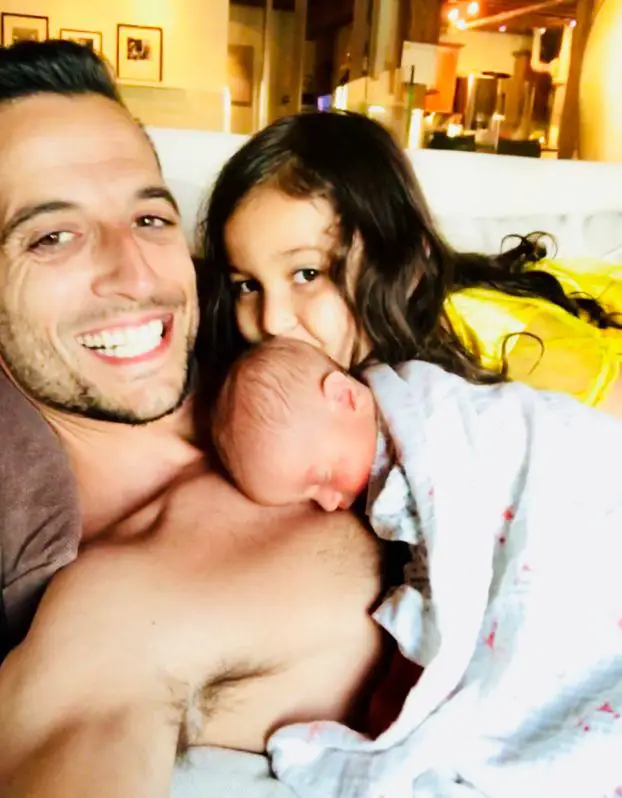 Tony Reali with his daughter Francesca and son Enzo. (Photo: Tony Reali's Twitter)
Their other child Enzo was born early via an emergency delivery. Weeks later Enzo was home and healthy. Tony, whose estimated salary is $51,000, revealed the news of both joy and anguishment via FaceTime. He talked about the reality of losing a child near childbirth while delivering another healthy one.
See Also: Pete Nelson From Treehouse Master Wiki: Age, Net Worth, Family, & Facts
However, the pair focused on welcoming their baby while they grieved the loss of their son.
Terror Attack Threatened Family
While the loss of his child was tragic enough, Tony, age 40, also became the victim of a terror attack that threatened his family. Back in November 2017, he revealed how close he came to a tragic family accident.
Back then, while he was doing a Halloween show, he received an alert of a terror attack on his phone. The attack happened in downtown Manhattan where a suspected terrorist drove down a path that was filled with pedestrians with his truck. The attack resulted in killing eight people while injuring 11 others.
Turns out the attack had happened at a walking distance from Tony's apartment and only a few blocks away from his daughter's school. During that time, Tony was on his sets while they were in the middle of their first segment of the show.
Tony, who has a net worth of, $2 million, was attempting to follow the day's sports debate while his wife ringing him to inform that their daughter was in lockdown at the school. Tony later called back jetted off the set back to his family.
Don't Miss: Tej Lalvani Net Worth Justifies Lavish Wedding With Wife; From Aisle To Business Boom
Later when he found out that his family was safe he ran back to work to complete his duty. Well, Tony sure is a lucky one to find his family safe.