On 2nd April, 2016, the couple had a beautiful wedding surrounded by their closet family and friends in a lavish vineyard just outside of Santa Barbara. Alyssa remembered the day vividly and she was really excited to lead new life as a married couple. Miss Californi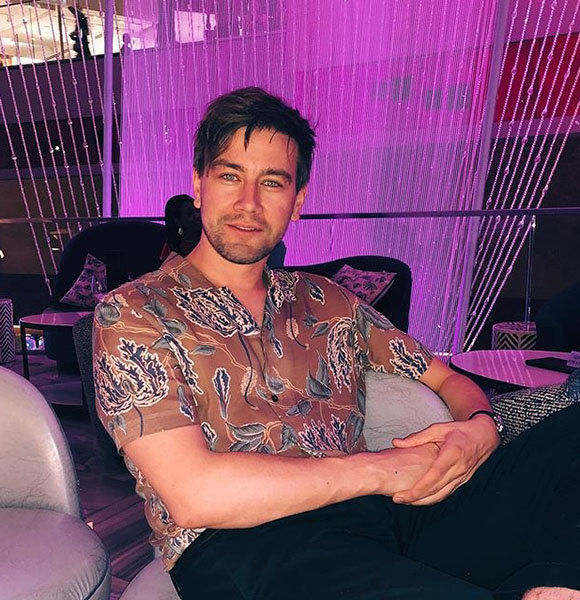 Torrance Coombs is one of the most popular Canadian TV actor. On the long list of his acting contribution to the TV industry, Till the Day I Die and What, Will, I, Have, Left are some of the examples of the episodes of The Originals aired in 2018.
Besides The Originals, he is also well known for TV series such as Heartland, Endgame, and Reign. Torrance also starred as Callum Blue in the Showtime series, The Tudors.
In addition to the TV shows, Torrance has also done movies, including short films like Judy's Comeuppance and The Familiar, for which he was nominated at the Leo Awards for Best Performance by a Male in a Short Drama.
In the 2016 American action thriller The Last Heist, he starred as Paul alongside Henry Rollins and Victoria Pratt.
Who Is Torrance's Wife?
Torrance is one hell of a lucky guy as he started dating Alyssa Campanella, a.k.a. Miss California, before she was Miss USA 2011. The good thing for the icy blue-eyed actor was he caught Alyssa's attention from his show The Tudors, and she became her fan way before the duo hooked up. Alyssa calls Torrance "T" for short.  
The Bachelorette Canada:- Kevin Wendt Engaged, Girlfriend, Family, Net Worth
At the time, Alyssa won the beauty pageant, she was 21 years old, and Torrance was a hunky Hollywood beau at the age of 28. After Alyssa was crowned Miss USA 2011, Torrance tweeted:
'Pardon my French, but HOLY F***! SHE WON! Congrats to @AlyssCampanella, Miss USA 2011. I am a puddle.'
After dating for four more years, the couple got engaged in June 2015. They shared a sweet photo, where Alyssa showed off her sapphire ring. The actor playfully posted on his Instagram for the occasion:
'I showed @alysscampanella a shiny thing and she put it on her finger. @krissygimenez.'
On 2nd April 2016, the couple had a beautiful wedding surrounded by their closest family and friends in a lavish vineyard just outside of Santa Barbara.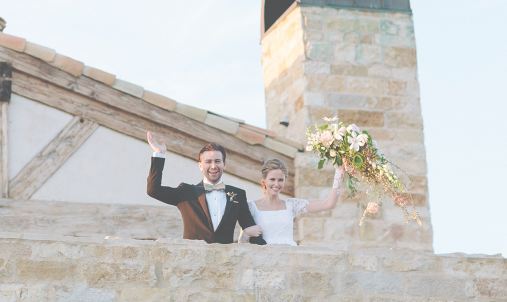 Torrance Coombs and  Alyssa Campanella on their wedding day on 2nd April 2016 (Photo: thealist.me)
Alyssa remembered the day vividly and was excited to lead a new life as a married couple. The former Miss California claims that she was glad to hear about their royal California wedding.
However, the married couple did not have a healthy relationship as they both had to travel all over the world separately for their careers, and had to deal with the long-distance relationship at times.
Even though it was a difficult time in their marriage, the beauty queen did take the long-distance positively as she wrote on The A-List on 8th March 2018,
"The best part about being separated for a time? That same exact butterfly feeling I had on the night we met nearly 8 years ago comes fluttering back every moment I see him again. I won't see Tor again until March 26, but I am looking forward to that giddy butterfly feeling on that day."
Regardless, heartbreaking and shockingly, Torrance and his wife made a personal announcement via their Twitter on 19th April 2019:
"With sadness, Torrance and I are announcing that we have separated. We've shared an incredible life together over the last 9 years…..we still love and respect each other very much…but the time has come to pursue new paths."
After the amicable split, the duo has focused its attention on their respective careers.
Is Torrance Dating? Gay?
36-year-old Torrance is possibly single after the break up with his long-time sweetheart Alyssa. Even during their relationship, many fans were trying to find out Torrance's sexual orientation. Torrance has made it clear that he is straight.
On his Twitter, Torrance wrote on 2014 replying to one of his fans,
@lannywinchester: Are you gay? Just curiosity" No, but I am fabulousssssss!
So, ladies, don't kill your hope yet. The charming actor with a towering height of 6 feet (1.83 m) is available and yours to grab.
Family And Net Worth
Torrance was born in Vancouver, Canada, to a lovely mother named Charlotte Coombs and a Professor father.
Another Canadian Actor You Should Know:- Jared Keeso Dating? Canada's Hottest Actor Must Have A Girlfriend, Right?
Torrance is close to his family, as he often mentions his dad and mom in his social media. Interestingly, he posted a picture with his family at the same location almost the same pose 15 years apart with these lines:
When I was 6 years old, my parents took me to Solvang. This weekend, we gathered there again and recreated this photo.
On 17th October 2016, Torrance also tweeted:
You guys my parents came to visit me in Spain and my mom just made me Nanaimo bars. I am a happy fat Canadian.
Interesting enough, more than Torrance's past and family, his fans want to find out his fortune. The actor has kept his wealth information a secret and has left a tiny clue about how much he has earned as a professional TV actor.
Although his exact worth is still under review, People with Money reported that Torrance is one of the highest-paid celebs in the world, and has picked up more than $50 million between September 2018 and September 2019.
Although the break up was rough on him, the dollar bills could ease some of his pain away.