Entertainment
Gay Supporter Trevor Noah & Girlfriend, Dating One? Parents Talks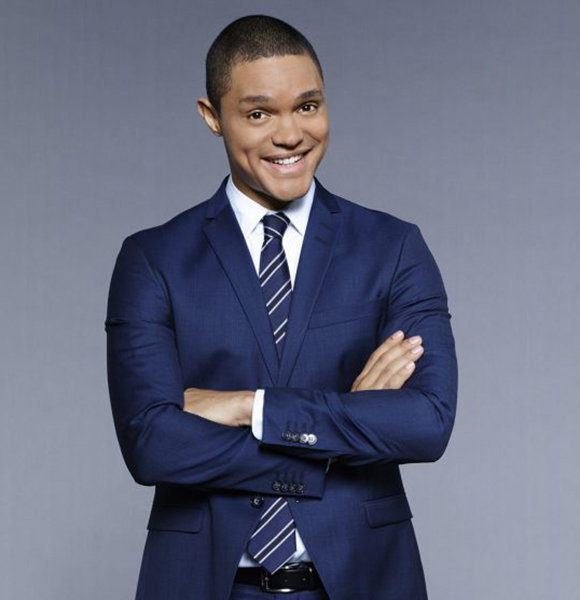 Gay Supporter Trevor Noah & Girlfriend, Dating One? Parents Talks
Entertainment
Nobody wishes to leave behind his/her significant other to pursue their lifelong dream. That said, in the event of such occurrences, the dreamer finds himself in a precarious situation -- having to choose between the love of his/her life and his true calling all the while hoping that he/she can find love again.
Late night talk show host Trevor Noah - who is a staunch supporter of gay rights movement - was faced with a similar predicament when The Daily Show named him Jon Stewart's successor in 2018. For Trevor, the decision to either move to New York or to stay in South Africa with his then-girlfriend wasn't as severe as many romantics would like to believe.
Fast forward three years into the future and a lingering question has begun to pop up surrounding his past life in South Africa: does Trevor regret ever leaving his girlfriend behind? Or why else he would date a girl who's the spitting image of his ex-girlfriend?
From outside looking in, Trevor could have easily inherited the Noah family curse - one which plagued both of his parents' relationship - from his father and mom.
Complicated Relationship With Parents; Abusive Step-Father & Protective Step-Mom
Contrary to popular belief, there is such a thing as the generational curse. The 34-year-old South African is the living proof.
Discover:- Boy George, 'The Voice' Judge Married In Secrecy? A Different Kind Of Gay
Born and raised in Johannesburg, South Africa on 20th February 1984, Trevor was a product of his parents' bi-racial relationship. His father, Noah is of Swish/German descent whereas his mom, Patricia Nombuyiselo is of the Xhosa people -- an ethnic group of South Africa.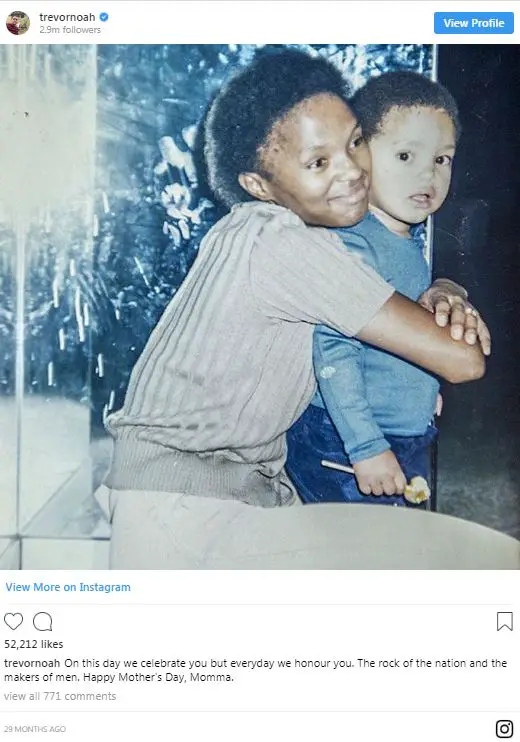 Trevor wishes her mother a happy Mother's Day on Instagram (Photo:- Trevor Noah's Instagram)
The circumstances on which he was born would shape his parent's relationship. Considering how then-apartheid South African community had shunned the inter-racial relationships, it's no wonder his parents couldn't engage in holy matrimony.
Trevor's mom, for her part, did all she could to protect him from the discrimination he was likely to face because of his bi-racial identity. In his book, Born A Crime, which signifies how he was born illegally, he discusses the extremes measures his mother had taken to protect the integrity of his father. He writes:
"My father isn't on my birth certificate. Officially' he's never been my father."
But nothing typifies his father's fear of being judged for fathering a bi-racial child than the following excerpt from the said book:
"My mother tells me that once' when I was a toddler' my dad tried to go with us. We were in the park' he was walking a good bit away from us' and I ran after him' screaming' "Daddy! Daddy! Daddy!" People started looking. He panicked and ran away."
Over time, the father-son duo has somewhat buried the hatchet. Despite never watching him perform live, Trevor claims that his father has always followed his career meticulously.
Between tracking down his father and eventually reconciling with him, The Daily Show host felt the absence of a father figure from his life to be an excruciating experience. It didn't help his cause when his mother married an abusive man.
Interesting:- John Goodman Crushed Weight Loss; Dead Or Alive Questions, Bizzare Theory
When their relationship eventually ran its course, his step-father and mother divorced each other. Such is the lineage that, more or less, molded the kind of lover Trevor is today.
Look-Alike Girlfriends: Does Noah Have A Type When It Comes To Dating?
An apple doesn't fall that far from its tree, does it?
Both Trevor and his mother had to leave behind their respective loved ones, albeit for different reasons. While his mom got shunned by the apartheid society, he faced a similar hurdle when he had to decide between either staying with his then-girlfriend or fulfill his calling by moving to New York.
Like his mom, he too didn't second guess about what he deemed fit and left for the U.S. to take over the helm of The Daily Show - where time and again, he is seen spewing his progressive ideologies including legalization of gay marriage - as its new host. None seemed to be delighted with Trevor's decision than his ex-girlfriend, Dani Gabriel.
When questioned about Trevor's newfound worldwide fame and the support he might need from his motherland, the Cape Town-based physiotherapist was blunt with her opinion. She told Daily Mail:
"Yes, he's going through this huge transition, but at the end of the day he's not a celebrity to me, and he's never treated himself like that, and I don't treat him like that." 
Trevor - who stands 5 foot and 11 inches(181 cm) in height - and Dani dated for about a year before his career-defining move to the United States in 2015.
See Also:- Does Melyssa Ford Have Boyfriend? Dating Status Of Bombshell Canadian Model
Today, the 34-year-old is dating a woman by the name of Jordyn Taylor, who had met him at one of his shows. Interestingly enough, Jordyn and his ex-girlfriend, Dani share an uncanny resemblance.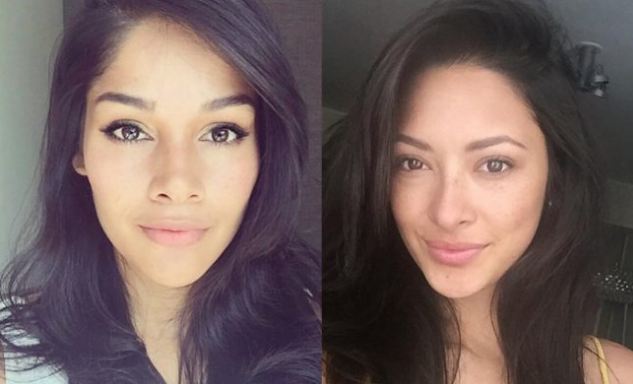 Trevor ex-girlfriend Dani(right) and current girlfriend Jordyn's still side by side (Photo:- all4women.co.za)
Physical features asides, both women seemed to be equally interested in the arts and fashions. Both Jordyn and Trevor are passionate about singing and modeling.
All evidence point towards the fact that Trevor has, over the years, developed an affinity towards a type of woman with specific features. He could very well be using his ex-girlfriend, Dani as a reference!