Entertainment
Tyler Blevins Wedding Almost Cancelled; But Ninja's Wife Said Yes, How?
Tyler Blevins is married to...they first met during...however their relationship did not spark right after, instead...After almost...years...they met again through...and marked the beginning of their relationship. Later they got married on...and now are happily married for...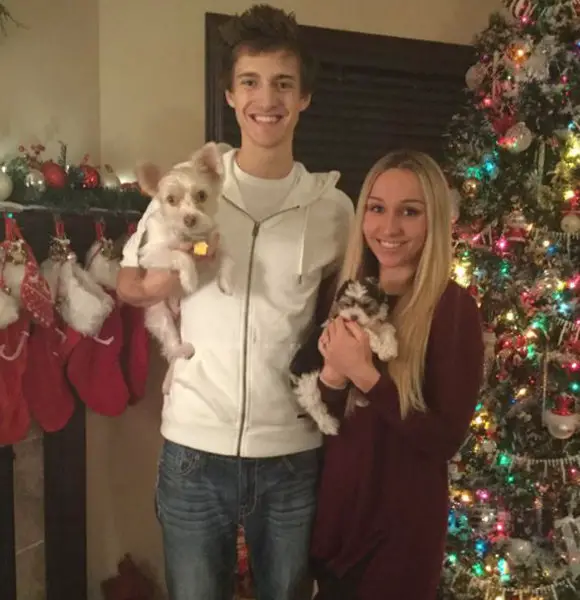 While life shows you its different phases, at times, you find your best people during the most troublesome times. 
Twitch streamer, Tyler Blevins almost did not meet the woman whom he now calls his wife. With much obstacles in the way, Tyler finally met the woman of his dreams, but they did not start dating right away.
Despite many barriers, the couple made it back to each other, and over the time, the girl he met at tournament turned from his girlfriend to wife to full-on manager.
Almost Did Not Happen; From Girlfriend To Wife To Full-Time Manager
Tyler Blevins, who is known in the Twitch community as Ninja, almost did not meet his current wife, Jessica.
Back in 2010, Jessica, who was a freshman at the University of Wisconsin-Whitewater, was invited by her boyfriend at that time to a "Halo" tournament called Focus Fire which was in Lacrosse.
See Also: Why Did Greg Davies Split With His Longtime Girlfriend Before She Could Be His Wife?
As she had just broken up a week earlier, she almost did not go. However, after much urging, Jessica decided to drive 3-1/2-hour from Whitewater to Lacrosse during a terrible snowstorm.
Even Tyler, who now has a net worth of $6 million, had to drive an extra hour to reach to the tournament. However, the couple finally met, but they did not get together just yet. During that time, Tyler was in a relationship with some other girl, and he and Jessica would just stay in touch.
After three years of knowing each other Tyler and Jessica reconnected over Twitter which marked the beginning of their wonderful relationship. Jessica and tweeted him and Tyler had an immediate response through a direct message. 
Soon the couple exchanged numbers and started texting. They even planned to met and had a bet over who would come to visit the other. As Jessica won the bet, Tyler drove to her college to meet. They started dating right away. 
You May Also Like: How Paige VanZant Escalated Dating Affair! Boyfriend Asks To Be Husband, On One Knee
Well, that how their love story began after three years of knowing each other.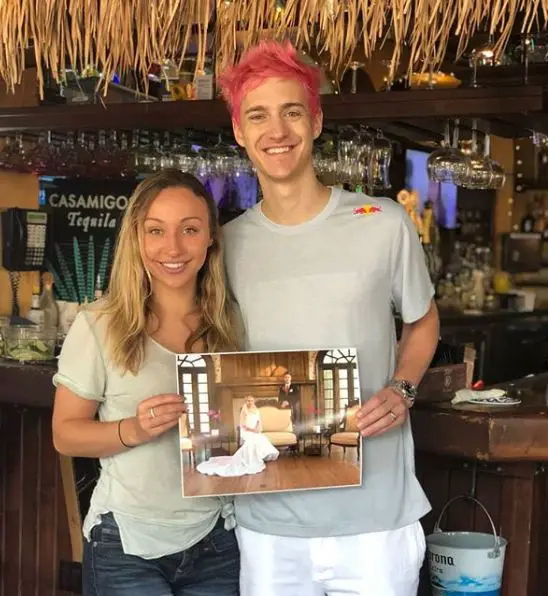 Tyler Blevins celebrating one year wedding anniversary with wife Jessica. (Photo: Tyler Blevins's Instagram)
As of now, they have been married for a year, dates for almost six years and have known each other for more than eight years. Well, they sure do share quite an exciting love story, and over the course of the romance, Jessica turned from being a girlfriend to wife and as well as Tyler's full-time manager.  
It turns out she is the one making it all happen from making the phone calls early morning from the house to answering emails and coordinating with Tyler's entire enterprise. Well, for Tyler's partner the process started naturally out of the desire to see her husband success.
Wife Changes Name After Wedding; Celebrates One Year Anniversary
Well, even after a set of circumstances pointing against them, the couple fell back to each other. They found their way to each other and are also going strong with their relationship.
They have been married for a year which took place on 13 August 2017. After the wedding, Jessica changed her last name from Goch to Blevins proudly calling herself Tyler's wife. 
Don't Miss: Wedding Insight! Paul Khoury & Wife Ashley Greene Get Married To Melt Your Heart
Adding to it, the couple celebrated their first anniversary only a week earlier. Tyler and Jessica both made sure to mark their first anniversary though posts in their social media. 
Well, Tyler's wife does appreciate him for all the hard work that he puts into for his family. Instead of taking as her husband playing video games, she takes it as her husband working which earns him a reported salary of $500 thousand per month.