Entertainment
Who Is Vanessa Ferlito's Son's Father? Keeping Husband a Secret?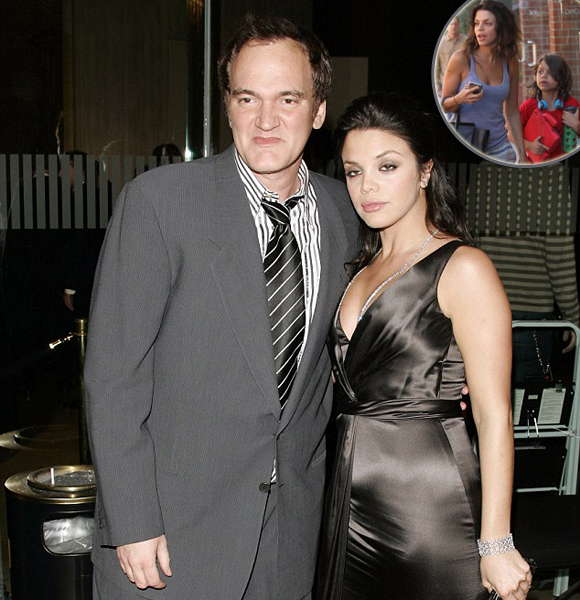 Appearing as the love attraction of several male leads in the movies and TV series, Vanessa Ferlito is still single in her real life.
But, the singularity of the actress is not in the correct sense, as she is a single mother to her son.
Well, this makes us crave the answers to the questions like; Who is her baby father? Does the actress have a boyfriend? Or even better, is she married to a husband? Well, let's dig in to find out!
Who Is Vanessa Ferlito's Son's Father? 
Venessa Ferlito hasn't been lucky from the very beginning of her life, as she passed through a loss when she was just two years old.
Her father died of a heroin overdose, and her mother married another man when she felt difficulty living as a single mother. After that, Venessa started living with her mother and stepfather in Brooklyn.
See Also:- Rosario Dawson Has A Daughter But Not Husband Amid Gay Rumors! 'Luke Cage' Actress Wiki Reveals
When Venessa became a young lady, she found her career as a Wilhelmina model. She later started acting in TV series at the age of 21 and entered Hollywood one year after her first TV show.
In April 2007, the media spotted the actress in a different appearance at Tribeca Film Festival. She was then seen with a big belly and was expecting a baby by September.
However, when questioned about her baby father, she tried to change the topic.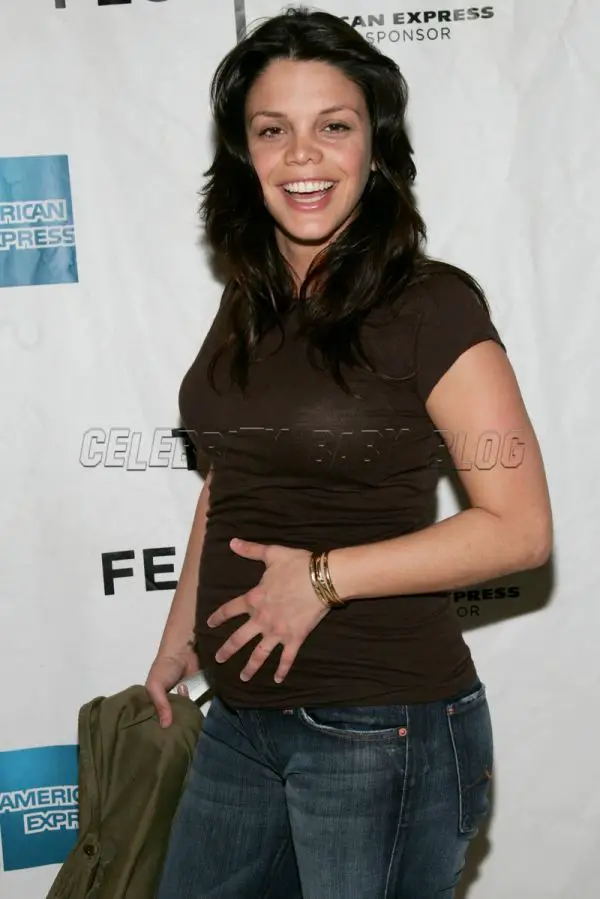 Venessa Ferlito hinted at being pregnant in April 2007 (Photo: gettyimages.com)
However, the actress was blessed with a baby boy later in September. Her baby is a grown boy of 15 years now, and his name is Venice Ferlito. 
Instead of hiring a nanny, Vanessa prefers to care for her baby independently.
When he was only 7 years old, her son Venice had already transferred seven times to different schools due to her acting profession.
She received a lot of criticism for being a bad parent, but she ignored the public opinions she said,
"It's always people without kids who say, 'It must be hard on him to move around so much.' You know what I say? 'No, it's hard living in parts of Africa where there is no water.' Yes, it's tough for him to wrap his head around it, but he's with me."
Venessa and her son, Venice, often visit several places together. Vanessa was spotted with her son in Los Angeles on August 31, 2015, while they were strolling in Beverly Hills.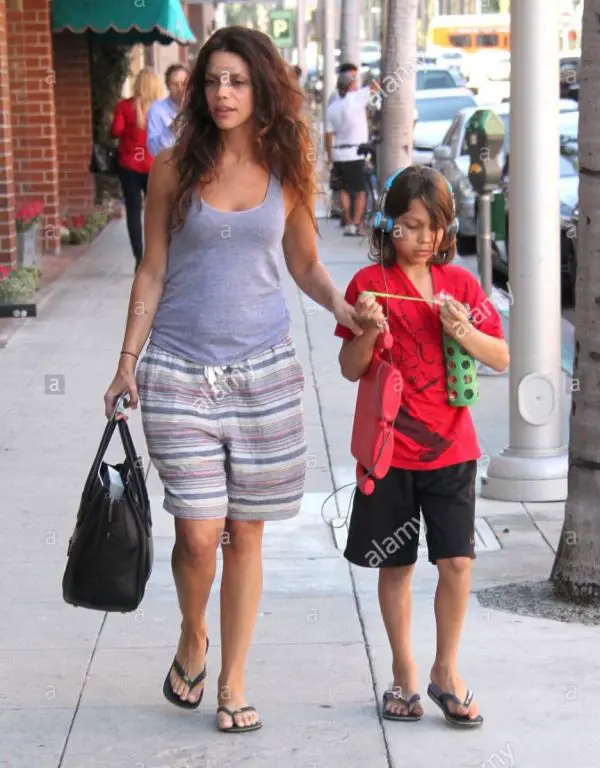 Venessa and her son Venice strolling down the streets of  Beverly Hills (Photo: alamy.com)
But who is supposed to be Venice's father?
As of now, the secured mom hasn't made many public appearances with her boy.
Seemingly, she might have kept her son on the shelves along with her possible husband and married life.
Since she has not uttered anything about her baby father, news of her relationship with a renowned director has still not faded.
In 2007, the actress started working under the directorship of Quentin Tarantino in a film called 'Grindhouse.
Read Also:- Brooklyn Rae Silzer Bio: From Ethnicity to Parents - Everything There is To Know
The two duos established a relationship in between and dated each other. While they have been in touch for a long time, they were spotted enjoying dinner in September 2014.
The dinner was special and intimate, as they kissed and hugged each other. Since their passionate kissing pictures hit the internet, Quentin was considered her possible boyfriend.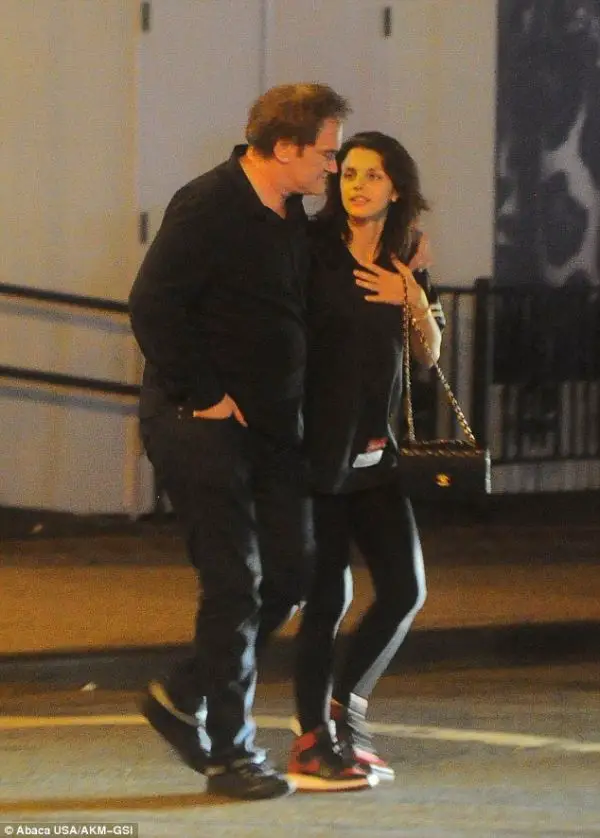 Vanessa and Quentin chatted happily around her neighborhood after they had eaten dinner together (2014) (Photo: DailyMail)
The relationship between Quentin and Vanessa is such that the director doesn't speak about it.
Neither did the actress divulge nor disclose the information related to him. These days, she is spending her life as a single mother of her only son Venice.
The proud single mother has not uttered anything about getting married or uncovered any facts about her baby father, but it seems she has not met the perfect man she could call her husband.
More on Vanessa Ferlito
Actress Vanessa Ferlito started her career earlier in 2001, and since then, she has been acting in different TV series and films and is still active in the entertainment industry.
She has worked in many hit TV shows like '24,' 'CSI: NY,' and 'CSI: Miami.' She appeared in an interview with Arise Entertainment 360, promoting a series called 'Graceland,' along with a brief discussion about her role in the project.
You May Also Like:- C. C. H. Pounder Ended Her Married Life With Husband But Was It A Divorce?
With her many flops and hits in TV series and films, she has always justified the role she is assigned to. In the 'NCIS: New Orleans' series, she appeared as a lesbian FBI agent with harsh past experiences.
She hasn't been seen publicly with any men who can be suspected of her boyfriend. The absence of her dating life has made many people question her sexuality and have assumed her to be gay. 
But the actress has not responded to her gay rumors.
However, looking at her projects, we can safely assume that her net worth is in the millions.