Entertainment
Rosario Dawson Has A Daughter But Not Husband Amid Gay Rumors! 'Luke Cage' Actress Wiki Reveals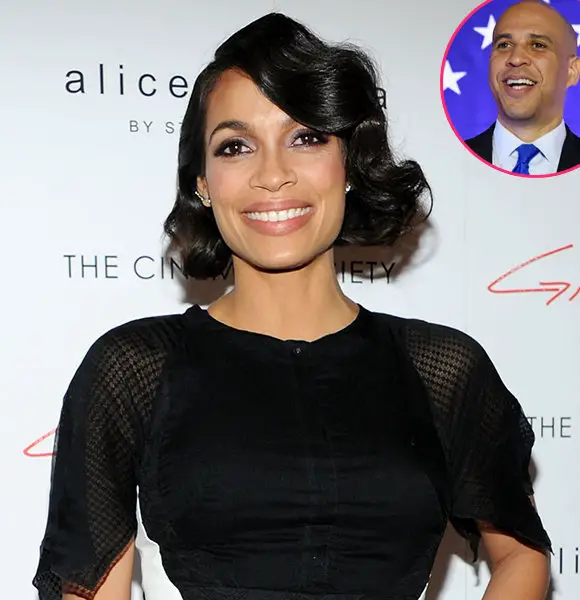 Rosario Dawson Has A Daughter But Not Husband Amid Gay Rumors! 'Luke Cage' Actress Wiki Reveals
Entertainment
American actress Rosario Dawson is famous for her Satellite Award-winning performance in the movie Rent. Further, the actress has acted in several multi-budgeted movies including Men in Black II, Sin City, Percy Jackson & the Olympians: The Lightning Thief, Top Five and much more. 
But, it's not only her movies' list that's long and high-profile; her dating life is too! 
She has dated some celebrities in the past, among which her dating the famous comedian was initially rumored as the prank but later turned out to be true. 
From her romantic life to marital status and the details of her daughter, know all about the wiki-like-details of this famous actress.
"Prank" Dating; Boyfriend Takes Care In Hospital 
When the comedian Eric Andre showed his serious side by announcing his dating with Rosario Dawson on 2017's Valentine's Day, Rosaria's dating life came into limelight. 
Read Also:- Ricky Garcia Spent Valentines Without a Girlfriend! Desolated by Past Affair?
Many fans were reluctant at first as Eric is known for pranking others frequently. However, when he called Rosario as the "undisputed most gorgeous being on the planet" and shared pictures of the two making out in the series of Instagram and Twitter posts, fans were left with no choice but to accept their romance.
He even had to justify that it wasn't a joke to assure his followers. Eric wrote in one of the captions,
"I think we have to touch tongues (because) people think this is a prank."
Rosario, who possesses multiracial ethnicity with Afro-Cuban and Puerto Rican ancestry, also tweeted back calling Eric as her "main man."
The 39-year-old later confirmed the romance while in an interview with Stephen Colbert on The Late Show in April 2017. She mentioned that she was dating him for some months but was pissed off by the kissing pictures which Eric had earlier posted.
However, Rosario expressed that Eric was a responsible partner for taking care of her while she was recovering from surgery for removing a ruptured cyst on her ovary. She told Stephen on the show,
"He took care of me in an adult diaper. That is love."
Rosario, who enjoys the net worth of $16 million, later posted a throwback photo from her days in the hospital while her boyfriend took care of her on 5 September 2017.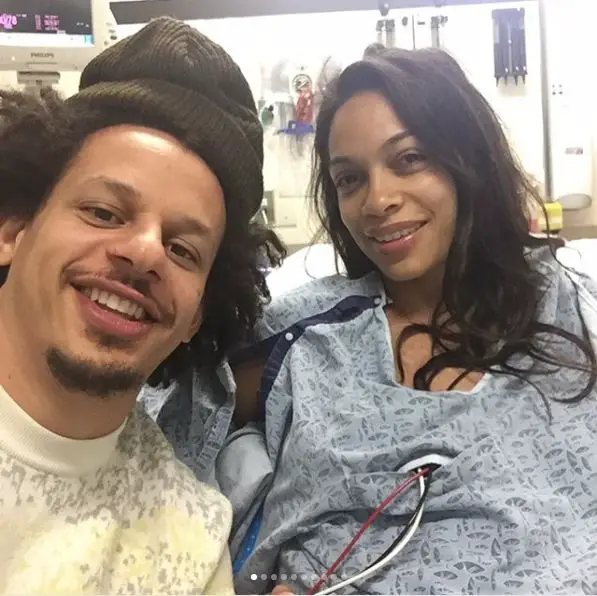 Rosario Dawson undergoes emergency surgery for the removal of a ruptured cyst and Eric takes care of her (Photo: Rosario Dawson's Instagram)
Unfortunately, Rosario and Eric's were not meant to last forever, and reports spread of the couple's separation in November 2017, after more than a year of dating. An insider had confirmed their split; however, neither of the two came forward to speak on the matter.
You Don't Want To Miss:- Britni Thornton & Boyfriend Brad Fiorenza Split! At Age 27, Reality Star's "Time Issues"
Post the split; the New York City native got spotted attending a concert at The Troubadour in West Hollywood in late November of 2017. She looked cheerful and showed no signs of regrets to break up with her former lover.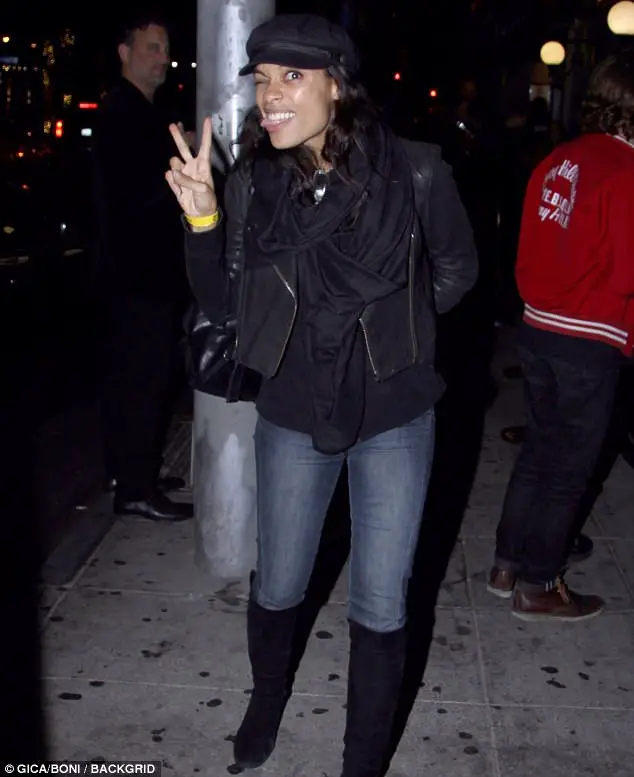 Rosario attends a concert at The Troubadour in late November 2017 (Photo: DailyMail.co.uk)
Her casual approach to the split left many wondering if she was happy to date Eric in the first place or was the relationship an obligation on her part. Some fans even assumed that Rosario was not satisfied with her lover as she was gay in real life. Hence, her lesbian identity gets falsified.
Apart from her relationship to the comedian, Rosario also dated a couple of celebrities in the past including Joshua Jackson, Colin Farrell, Quentin Tarantino, Gerard Butler, Michael Fassbender and more.
Meet Rosario Dawson's New Husband Hopeful
Politician Cory Booker is another name in the long list of men, who have fallen for Rosario Dawson's beauty and charms.
More On Cory:- Is U.S Senator Cory Booker Gay? Married/Girlfriend Detail Amid Scandal
The Seven Pounds actress' romance with the 2020 Presidental hopeful first made headlines towards the backend of 2018, when the duo got spotted watching a film together at the Regal Union Square theater.
In the same month, the unlikely pair fueled dating gossips by attending a Broadway show Dear Evan Hanson as a family. Cory and his niece had accompanied her and her daughter to the event.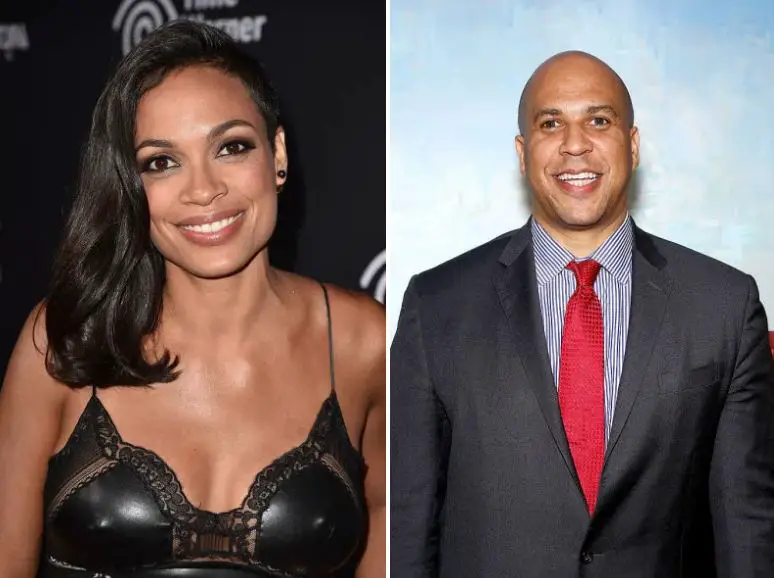 Rosario Dawson and Cory Booker are dating since Dec 2018 (Photo:- buzzfeednews.com)
After remaining mum about their romance for three months, in March 2019, the Sin City actress finally confirmed her budding romance with her politician boyfriend in a walk-in interview with TMZ.
When a reporter fielded a question if the pair were dating, she swiftly replied by saying:-
"Yes, very much so... "
Rosario even called her husband hopeful "a wonderful human being."
Husband Non-Existent; Blessed With Daughter
Rosario, who values the importance of family, is blessed with a daughter without the presence of a husband. Rosario, herself an adopted child, adopted a 12-year-old girl in 2014. An insider talked about the adoption,
"She's always been family oriented and knew that she wanted to raise a child. She wants to have a relationship with her daughter like she has with her mother."
Rosario's inspiration as she reveals is her father, who dated her mother while she was eight months pregnant with Rosario. Previously, the 25th Hour actress had even mentioned that she wanted to be like her foster father.
You May Like:- The Bachelor's Erica Rose & Husband Blessed With First Baby 'Daughter', Family Of Four!
The actress, whose body measurements include a size of 35-26-35 in or 89-66-89 cm, considers adopting her daughter Lola as her life-changing moment. Rosario mentioned that her daughter is interest in art and the mother-daughter duo even visit art galleries together. The two were also pictured holding hands at the Refinery 29's 29Rooms, where artists met to share ideas.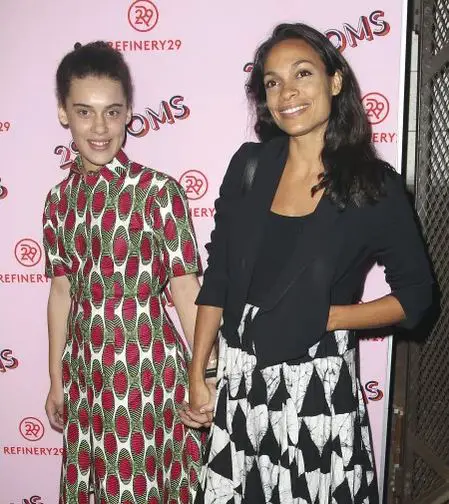 Rosario and daughter Lola hold hands at the Refinery 29's 29Rooms in December 2017 (Photo: Shutterstock.com)
Rosario and her daughter also have many things in common. For instance, the actress mentioned in a recent interview with US Magazine that the mother and daughter both are allergic to pets like cats and dogs, so they have come to the mutual understanding of getting a fish in their household in the future.
Rosario and Lola have planned to travel around the world in the coming years. They have also made plans to publicly speak on various matters such as sexual harassment and more. 
Further, Rosario might have to keep up with a busy schedule; she has professional commitments to fulfill. Rosario appeared in the pilot season of Briarpatch, a project based on the novel of the same name written by Ross Thomas.
She also contributed as a narrator to the upcoming documentary Trust Machine: The Story Of Blockchain which is directed by actor-turned-director Alex Winter.
Moreover, Rosario was also supposed to reprise her role as Claire Temple in the second season of Iron Fist; however, Marvel Television chief Jeph Loeb denied her return for the upcoming season. He mentioned that Rosario and the show had not parted on bad terms and all the cast and crew members still had respect and love towards the actress.