Entertainment
Venus Williams Married Status Now, Details On Boyfriend
Venus Williams is a star tennis player known for winning major titles like Australian Open and French Open (1998).
She is also famous as the elder sister of another tennis superstar, Serena Williams. Keep on reading to find out more about Venus. 
Married Status Now
Venus has never been married, so a husband is out of the picture. However, she has had several serious relationships. Her most recent relationship was with Nicholas Hammond. The pair dated from 2017 and broke up two years later. 
Before their separation, Venus and her boyfriend had an eventful courtship of two years. In November 2017, Nicholas was her date for Serena Williams' high profile wedding with Alexis Ohanian. 
Sister's Big News:- One Up for Love! Tennis Player Serena Williams is Engaged to her Boyfriend Alexis Ohanian! Get a Glimpse of her Engagement Ring
Further, the pair were also seen together watching Australian Open 2018. Their relationship took a major high when the couple's engagement rumors started during the same tournament.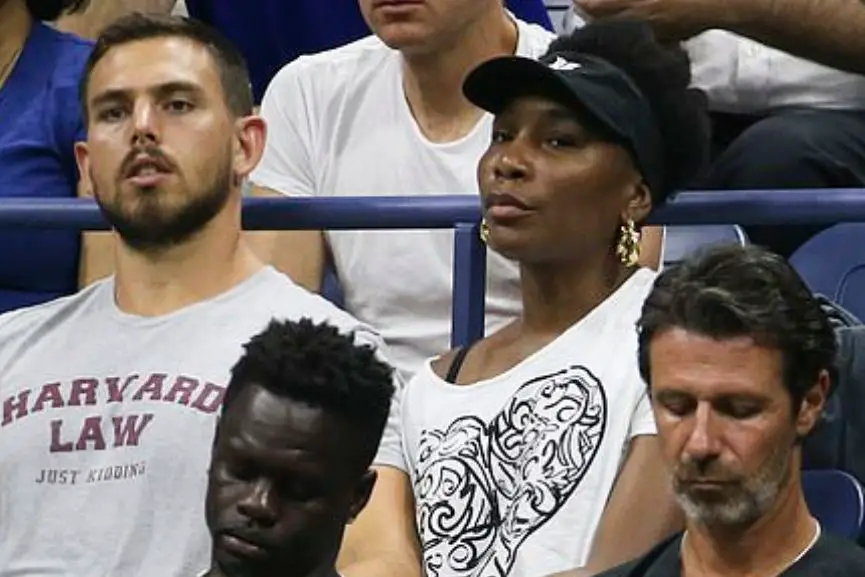 Venus Williams with ex-boyfriend Nicholas Hammond in Australian Open 2018 (Photo: dailymail.co.uk)
It so happened that Venus was wearing a ring from Nicholas. However, the claims died down when the ring was revealed to be a promise ring. 
Fast forward to June 2019; reports started surfacing about the pair's break up. There were rumors about the pair's disagreement on the settling down; Venus wanted to settle while Nicholas didn't. 
Who Is Venus' Ex-boyfriend Nicholas? 
Nicholas Hammond is very private about his personal information. He is rumored to be a private financier for high-end clients.
Interestingly, he also has a great family connection. Nicholas' mom is related to Walter Annenberg (Triangle Publications), which makes him an heir to the company's fortune. 
Another Past Boyfriend 
Before Nicholas, Venus was in a longterm relationship with the Cuban model, Elio Pis.
The pair met after Elio modeled for Venus' clothing line,  EleVen by Venus Williams. The relationship which started in 2012 went on for five years before their eventual break-up.
Broken Engagement
Venus came close to getting married once in 2007. She was dating American golfer Hank Kuehne back then. The former pair, who started dating in 2007, got engaged on 25 December of the same year. 
Related To Venus:- Venus Williams Becomes the Oldest Women to Reach the Australian Open Semifinals!
However, they remained together until 2012 and then parted ways. 
Facts On Venus Williams Including Age 
Venus was born on 17 June 1980; she is a Gemini.

She is a Lynwood, California native. 

Venus Williams became the first African-American athlete to reach the number one status in tennis in 2002. 

She is twelve years older than her ex-boyfriend, Nicholas Hammond. 

Venus' networth is reportedly $95 million.

The athlete, along with her sister Serena, has won three Olympics gold medals: Sydney, Beijing, and London.

Venus' first grand slam was Wimbledon in 2000. 

The tennis pro has reached the finals of all four Grand Slams.

The athlete's parents are Richard Williams and Oracene Price. 

Her niece's (Serena's daughter) name is  Alexis Olympia Ohanian Jr.

Venus owns an interior design company named V Starr Interiors.

She was diagnosed with Sjögren's syndrome - an autoimmune disorder - in 2011.