Walter Mercado is a man of many talents; a psychic since childhood he became one of the most celebrated dancers in Puerto Rico. However, his claim to fame came when he stepped in as a fill-in astrologer on a TV show. The chance gig fetched him an astronomy segment in El Show de las 12.
Well, he also became America's darling when his show aired for 15 years in Univision.
What Is Walter's Net Worth?
Walter boasts a mouth-watering net worth of $5 million. Well, the multifaceted star is a singer, dancer, actor, astrologer and author. His most loved telenovela include A Farewell to the Memory and Long Distance.
The talented star believes in honing one's craft. Thus, it is no wonder Walter opened a dramatic arts school called Walter Actors Studio 64.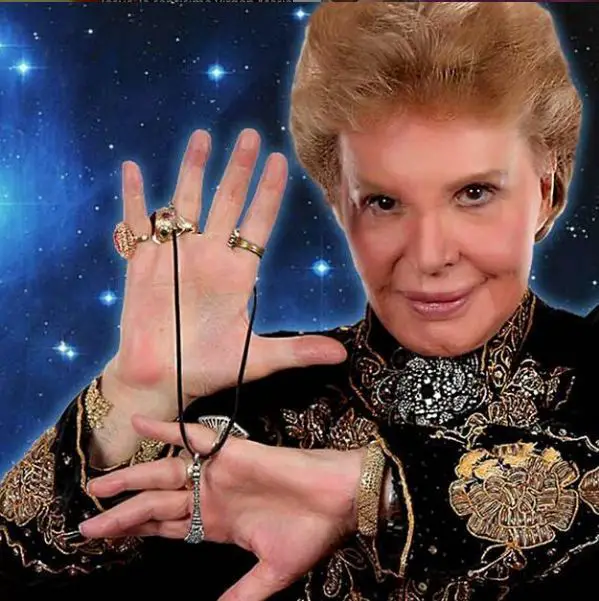 Walter Mercado flaunts his astrology tools on 27th February 2017 (Photo: Walter Mercado's Instagram)
Besides, he also worked as a host on a weekly astrology program in WKAQ-TV. Walter's talent gained height when he got Mr. Television award by the Asociacion de Cronistas del Espectaculo de Nueva York in 1986.
Puerto Rican Beauty Queen:- Ivonne Coll: Is She Married? Or Accepts Profession as Her Metaphorical Husband?
Continuing the winning streak, he won Senor Television at the Festival de Codazos in the Dominican Republic in 1972.
Gay Rumours
Walter's colorful wardrobe and slightly feminine dressing always led rumors about his sexuality. Also, the lack of lawfully married wife in his life fueled the speculation. However, he has vehemently denied all the gay speculation time and again.
Nevertheless, many believe that the reason behind Walter's choice of not coming out point towards the time he broke out as a TV-star. In the 1970s, people did not embrace the LGBTQI community as now. So, revealing oneself as gay would be career suicide at the time.
Bio With Age
The 87-year-old astrologer was born on 9th March 1932. According to his date of birth, he holds the birth sign, Pisces.
Also Read:- Raven Symone Gay, Girlfriend, Husband
A psychic since childhood he was quite famous a kid. People near his family-home in Ponce, Puerto Rico came to his house and touched his feet. He was even given a name, Walter Miracles.
Walter's Spirituality
He is a spiritual person. In the quest of finding his spirituality, he traveled the world. And, in the course of such journies, he met the top leaders of the spiritual world. During his visit to Tibet, he met Dalai Lama and esteemed Osho while on India quest. It was due to his spiritual awakening he changed his name to Shanti Ananda in 2010.
While on a visit to Morocco, he learned along with Sufi Muslims. People of his native Puerto Rico show unwavering faith on him. They consult him for horoscope and predictions about their future.
Besides, Walter also officiates weddings; he earned Minister of the Church of Light via his wedding jobs. He claimed the people he helped get married stay in the relationship.