Entertainment
Whitney Alford Wiki: Age, Birthday, Ethnicity & Essential Details Revealed! K-Dot's Flame
American make-up artist, Whitney Alford rose to fame being the long-time love of rapper Kendrick Lamar. She has been sharing the romance with Kendrick for more than a decade and they seem to be going strong with their romance. With Kendrick's fame, much attention has been drawn to the woman he adores.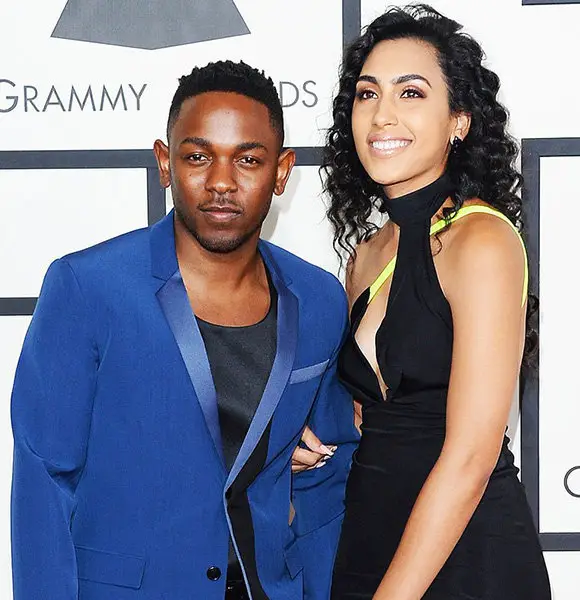 American make-up artist, Whitney Alford rose to fame being the long-time love of rapper Kendrick Lamar. She has been sharing the romance with Kendrick for more than a decade, and they seem to be going energetic with their passion.
With Kendrick's fame, much attention gets drawn to the woman he adores.
It turns out the couple prefers minimum exposer of their love life and have been upholding the details relating to their personal life. However, despite their efforts, an insight of wiki-like-bio of Whitney reveals a few of their relationship secrets.
From High-School Love To Lifetime Romance 
Whitney Alford, who has remained low-key most parts of her life, shares romance with her popular boyfriend Kendrick, who has a net worth of $45 million. They have been together for more than a decade.
The couple first knew each other back when they were in high school. Back then, they both were students at Centennial High School in Compton, their hometown and developed a bond that turned from friendship to romance.
Since then they both have been going strong with their love. However, they hardly spoke of the relationship that they shared. Kendrick and Whitney both preferred the silence, unlike most famed stars.
Read Also:- RZA Reveals Wife, Family Story & Mistakes, Net Worth Covers All But Still Regret
However, Kendrick never misses out a chance to appreciate his lover. Previously in 2014, he opened up with New York Magazine revealing that Whitney has been beside him since the Day 1.
And looking the relationship that they share it seems that they would be there for each other till the end.
Later, in April 2015, Whitney's boyfriend divulged that they got engaged but made sure to keep the details of the engagement a secret. He revealed the good news in an interview with The Breakfast Club on Power 105.1. He also made a statement addressing that he is "loyal to the soil."
After the engagement, there was an uproar among the fan questioning Whitney's "Blackness," which created a racial issue and questioned her actual ethnicity. Well, despite the engagement, there has been no news of the exchanging the wedding vows.
Back in April 2018, Whitney and Kendrick got spotted together in Rome, Italy. The couple was touring the Colosseum. They also visited the Roman Forums and shared lunch in the neighborhood of Trastevere.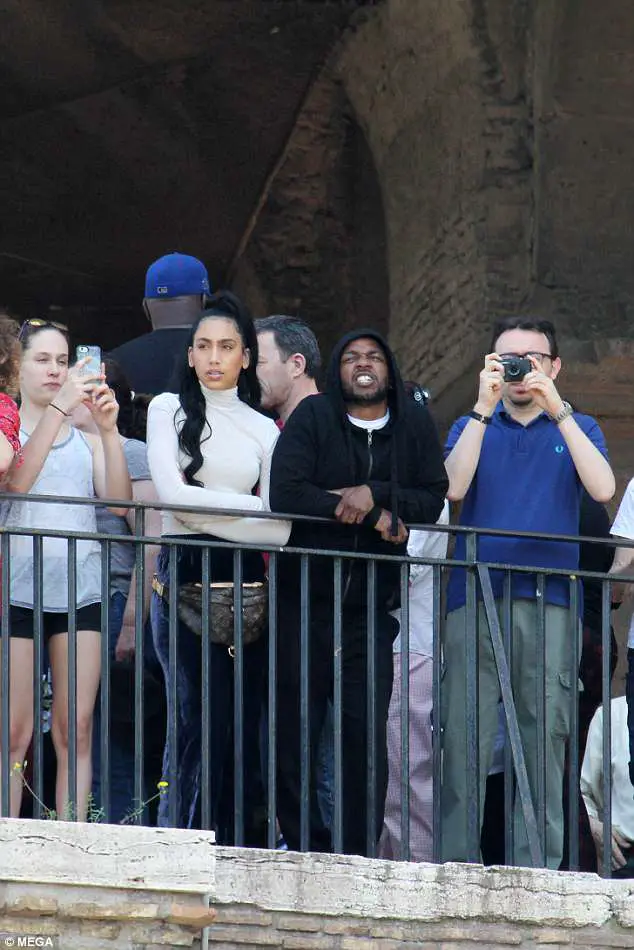 Whitney Alford alongside boyfriend Kendrick Lamar in Rome in April 2018 (Photo: dailymail.co.uk)
Well, they made sure to keep their visit low-key but have fun at the same time. Whitney and Kendrick live together in South Bay near their hometown.
Baby Bliss!
In late-July 2019, a growing rumor suggested that Whitney and her fiance Kendrick entered parenthood. US Weekly was one of the first media outlets to publish the story.
Citing a close source, US Weekly claimed that the licensed aesthetician and the Grammy-winning musician welcomed a baby daughter.
Child With Rapper:- Sophie Brussaux Bio, Age, Nationality, Ethnicity, Net Worth
While the fans sent out congratulatory messages to the engaged duo, they felt taken aback by the news. In part because neither Whitney nor her husband prospect had opened up about the pregnancy before the baby bliss.
Interestingly, back in July 2017, a story circulated that the pair had welcomed their first child. Unsurprisingly though, they didn't deem it fit to entertain the reports.
Wiki - Age & Birthday
The long-time lover of Kendrick, Whitney Alford, is one of a kind. Born in 1986, she celebrates her birthday every year on 12 May. She is a native of California, taken under the wings of her African-American father and a biracial mother, which has raised doubts regarding her ethnicity.
You May Also Like:- 'Bad Things' Singer Machine Gun Kelly & Halsey Dating? Relationship Rumors As Diva Splits
Whitney attended local Centennial High School along with her current fiance Kendrick. Away from the fame of her fiance, Whitney puts into making a name for herself as she is currently building her way into it.
Well, in doing so, Whitney, who is at the age of 33, has a career of her own. She is a licensed aesthetician and make-up artist.