New baby alert!
The Bischoff-Angel household is now a family of three after the reality star Whitney Bischoff and her husband Ricky Angel welcomed their first child - a baby boy named Hayes Singleton Angel - on 4th May 2019.
The fans didn't get wind of the baby news until two days later on the 6th of May 2019. Taking to Instagram, the new mother shared a video from the hospital bed of her husband bringing a birthday cake to the mom-son duo.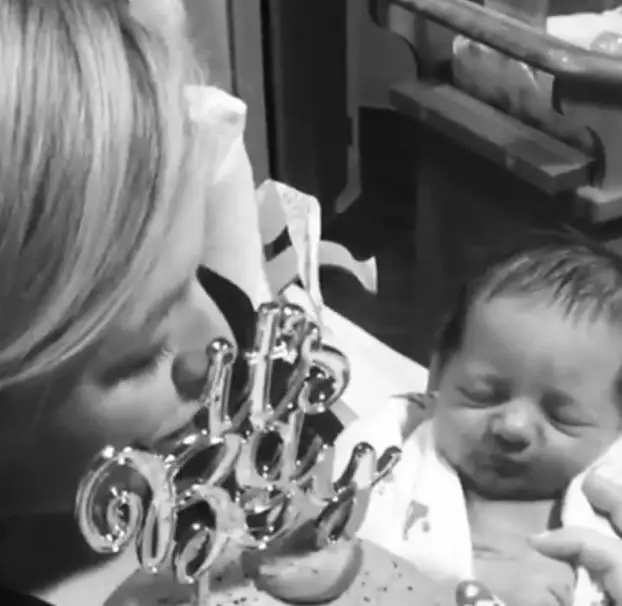 Whitney Bischoff holding her first-born, Hayes Singleton Angel circa May 2019 (Photo:- Whitney Bischoff's Instagram)
She captioned the photo with birthday wishes to her newborn. Per her post, Hayes inherited her Kentucky blood and his father's "great hair and mild temperament."
An angel sent from above, Hayes arrival couldn't have been more timely. His birth marked the anniversary of his grandmother's passing.
Newly parents, Whitney and her hubby have unquestionably come a long way since their first date via Bumble. With the engagement followed by a wedding, parenting a child appears to be a logical next step for the two.
Pregnant With Husband's Baby; Due Date Revealed
Bachelor Alum Whitney Bischoff, age 33, was all set to become a mother for the first time. On 26th February 2019, the former reality star took to Instagram to announce that she was seven months pregnant with her husband Ricky Angel's baby.
In the post, a pregnant-looking Whitney showed off her baby bump while her husband read a children book titled Dada. Reflecting on her prolonged absence from social media, the 33-year-old - in the caption - wrote:-
"Sorry, I've been MIA, I've been busy growing a little angel for the past 7 months... "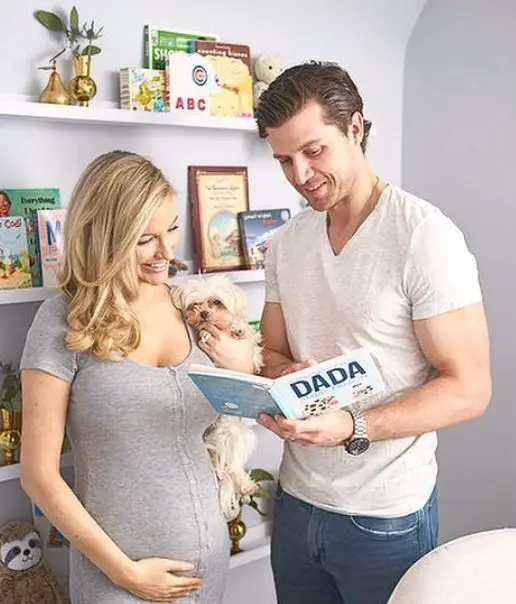 Pregnant Whitney Bischoff shows her seven-month baby bump while posing next to her husband in an Insta share announcement uploaded on 26th Feb 2019 (Photo:- Whitney Bischoff's Instagram)
Per the post, the married duo's baby was due for a grand entry in May 2019. Whitney also claimed that Lillie the dog - who receives children-like treatment from the expecting couple - remained excited with the prospect of becoming a big sister.
Believe it or not, the pregnancy announcement marked the fertility nurse-turned-reality star's first Instagram post since October of 2018.
Info About Wedding; Engaged In 2016
The news of Whitney being pregnant came almost a year and a half after she and her husband Ricky tied the knot in a romantic wedding ceremony.
Married in October of 2017 at the Wequassett Resort and Golf Club in Cape Cod, Massachusetts, the lovebirds shared the wedding vows in front of fellow Bachelor stars including Kaitlyn Bristowe, Shawn Booth, Evan Bass, and Carly Waddell.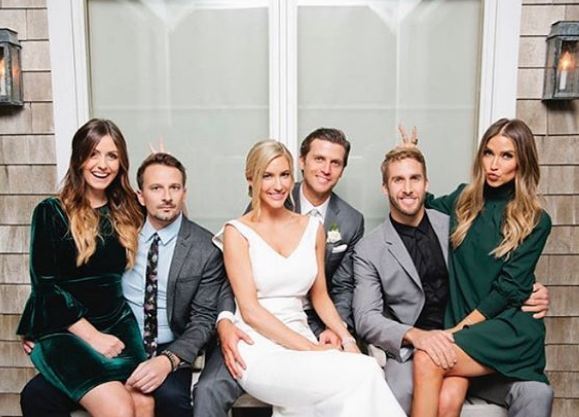 Whitney Bischoff, donning a beautiful wedding gown, poses with her husband and fellow Bachelor Alums on the big day in October 2017 (Photo:- Kaitlyn Bristowe's Instagram)
Whitney and her then-boyfriend of less than a year, Ricky got engaged a year earlier in July of 2016. The University of Kentucky Alum broke the news of their engagement by sharing a cheeky post on Instagram, whose caption read:-
"Whitney Angel has a nice ring to it, Y'all!"
Before Ricky, the Louisville Kentucky native had accepted the proposal of Chris Soules during her stint at the season 19 of The Bachelor. Two months after their engagement aired, in May of 2015, the pair parted ways.
Barely four months after calling off the engagement, Whitney's bio suggests that she found her now-husband Rickey on Bumble and as they say, the rest is history!