Entertainment
Who is Dating the Hottest Actress Joanne Nosuchinsky? Boyfriend Unveiled!
Regarded as one of those celebrity who has risen to fame and popularity on the basis of possessing beauty along with brains is Joanne Nosuchinsky .Permanent panelist on the Fox News Channel's late-night show Red Eye w/ Tom Shillue ,Nosuchinsky is an American actress, beauty pageant titleholder, and television personality.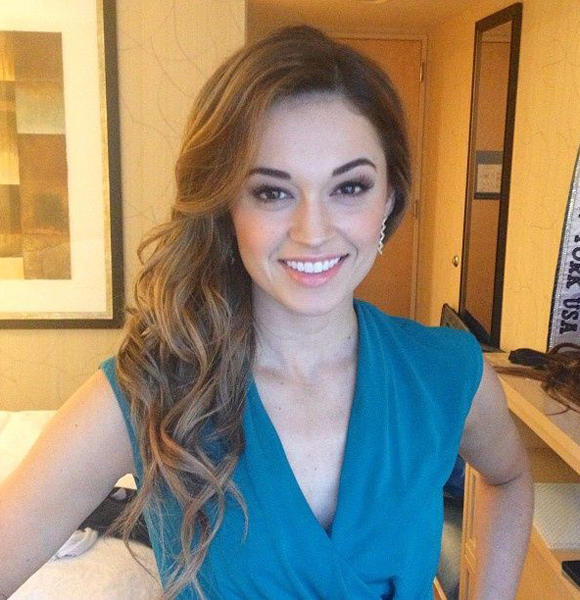 Joanne Nosuchinsky is one of those rare celebrities, who possess both beauty and brains. Her 'why not' attitude and self-confidence led her to the 2013 Miss New York title. 
The title earned her a tremendous media exposure and an opportunity to co-host Fox News Channel's late night satirical show, Red Eye, where the audience adored her work.
Is there any guy in her life who is lucky enough to call her "my girl"? Is Joanne married? And, is she still on Fox? Let's find out!
Married With Husband Or Dating Still?
Joanne is active on social networking sites such as Twitter and Instagram, where she shares her personal life experiences with her admirers.
"Most people know that I represented New York in the 2013 Miss USA pageant, but I didn't grow up doing pageants. The Miss NY USA pageant was my first beauty pageant. I had no real coaching or sponsors. Even my family didn't think I would win. I paid for everything out of pocket, reasoning that I was investing in myself. Thankfully, it paid off."
Talking about her romantic life, she is dating the frontman of the soul band Douglas and the Goodharts, Douglas Goodhart.
Dating A Musician:- Ben McKee Married, Wife, Parents, Net Worth
Joanne and her musician boyfriend began dating in May of 2015. Despite showering each other with affection on social media, the lovebirds are yet to divulge information of their early courtship phase.
Almost dating for four years now, the former beauty queen and Douglas are an ever-present face on Instagram. From wishing one another on birthdays to celebrating an anniversary, the handsome pair typify modern-day Insta love.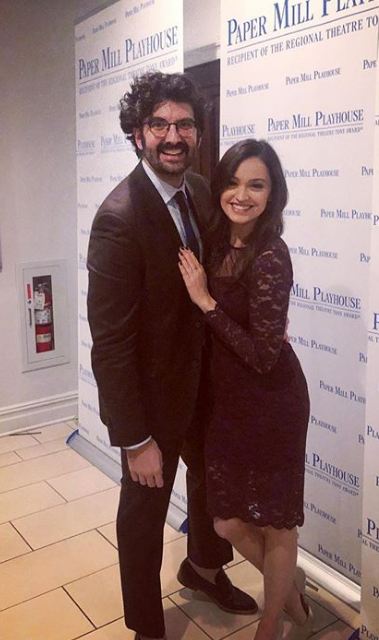 Joanne and boyfriend Douglas Goodhart attend the Paper Mill Playhouse event in February 2019 (Photo:- Joanne Nosuchinsky's Instagram)
The trajectory of Joanne and Douglas' romance, however, has yet to see them tie the knot after getting engaged. Things could get "popped" anytime though.
Safe to assume that if a couple of almost four years decide to get married, it will be a lavish wedding ceremony.
Ex-Boyfriend Talks
Joanne once mentioned her ex-boyfriend in one of the posts on her Twitter account. Back in December 2013, she recounted her date night with her former muse with a tweet,
"Had dinner with an ex-boyfriend tonight. (since he doesn't have twitter, I can say this) Nice to reconnect with someone who knew you when... "
Should Joanne's dating life with her musician boyfriend Douglas come to a halt in the future, will the fans see a similar cordial tweet from her? Well, only time will tell!
Talking Ex:- Rita Ora, Relationship With Ex-Boyfriend Again? She Just Split With One
By contrast, Douglas - going by his Instagram feed - is already a father to a girl. Since there is no official confirmation about it, the stated girl could very well be his niece or the daughter of a friend.
Bids Goodbye To Fox News
The television personality Joanne Nosuchinsky bid farewell to her Fox News's late-night show Red Eye, as well as Outnumbered, and The Greg Gutfeld Show. The former contributor to the Fox News's late night show revealed the news back in 2016 and further added:
"I'm going to be like most millennials, fun-employed. I need to close this chapter before I start the next one, and that is to pursue my acting career... "
Joanne permanently joined the show "Bye Bye Greg Gutfelfd@RedEye" in 2015. Her appointment helped the show pick much-needed ratings from the Fox News Channel's viewership. 
It is no doubt that the beautiful actress has a massive fan following but one fan, in particular, turned out to be eerie.
Stalker Gets Arrested
The former Miss New York had a stalker, a Kansas resident named Douglas Yoxall. He was arrested back in 2017 by the police for stalking Joanne. He followed her to her apartment and even sent flowers & messages through email and social media.
Stalker Problems:- Why BBC's Emily Maitlis Hide About Stalker? Has that Affected her Married life? Husband and Children
In January 2016, she confronted other Fox personalities involved in accusing President Obama of faking tears for kids who died in gun violence. But, she did blame the President's "gun free zone" policy. She said:
"Gun violence is down except in areas where the mass shooting occurred, and that's because they are gun-free zones."  
In 2015, Joanne played the character Adriana - The Bachelorette in the off-broadway production, The Bachelorette, alongside Vinny Guadagnino, Andy Peake, Russell Daniels, Pedro de Leon, James Royce, and others.
Joanna's Short Bio
Former panelist on the Fox News Channel's late-night show Red Eye, Nosuchinsky is an American actress, beauty pageant titleholder, and television personality. Dancing since an early age, Nosuchinsky was adored by her Fox New Channel fans, especially millennials.
Her association with Fox News Channel and her astonishing on-screen presence will surely earn her a significant movie role in the future. She has acquired lots of positive reviews for her performance in The Greg Gutfeld show. She is known as an open-minded and straightforward personality.
Beauty Peagent Queen In Our Vault:- Miss World 2013, Megan Young Dating With Boyfriend Mikael Daez in Japan
Howell High School Performing Arts pass-out and Riders University's BA in Arts graduate, Joanne belongs to Italian and Ukranian ancestry. She is Roman-Catholic by religion.
Her improv background has added more value to her present on-screen career. She is also a wine lover.