Wilson Chandler is in his 11th season in the NBA...is 32 years of age...does not have a wife, and is not married...however, has a fiancee...has two children with his fiancee whose name is Arika...his family was small...was most influenced by his grandmother...went to college at...has a height of...is a fashionable guy and has great hair and many tattoos...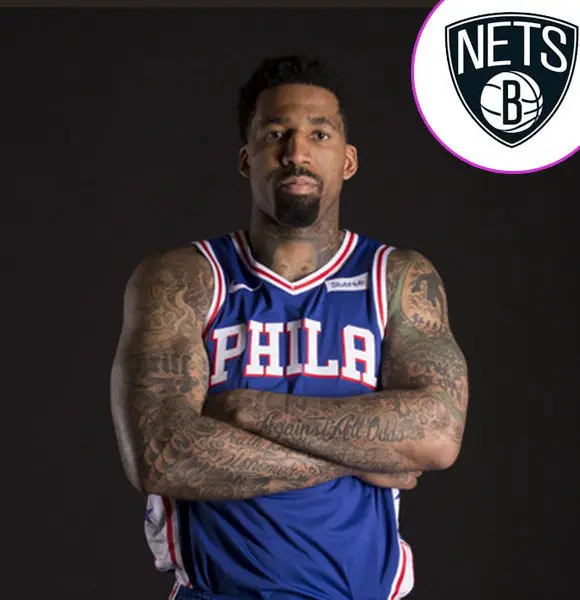 Now playing for the Brooklyn Nets, Wilson Chandler is in his 11th season as a professional NBA player. The athlete has succeeded with every team that he stepped foot on the court.
Despite his career longevity and recognition by almost everyone that follows the NBA, not everything about Wilson is out there. The athlete has always kept his love life a secret and out of the reach of media.
Is Wilson Dating?
Wilson Chandler is very secretive when it comes to his dating life. Despite being at the top of the basketball world and living the lavish life of a high-earning player, Wilson has never really let the world know about his girlfriend.
But, it doesn't imply that he is single. Yes, Wilson is dating his significant other. Even though the player has never mentioned her name, some other sources confirm her identity.
Wilson's girlfriend's name is Arika Hall, and she has been confirmed by authentic sources such as the Twitter account of Rocky Mountain Hospital for Children. The hospital posted a thank you note to Arika when she visited them and even made some donations in December 2016
However, other than her name, not much else is known about Arika or her state of relationship with Wilson. Unless Wilson publicly acknowledges his involvement with his fiancee, it is hard to speculate his plans on getting married and turning Erika to his "wife."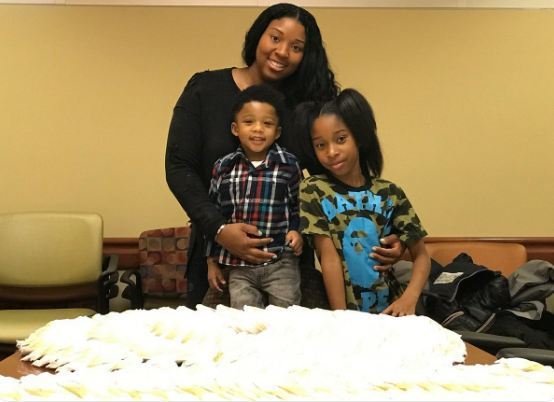 Wilson Chandler's girlfriend Arika Hall and their children at Rocky Mountain Hospital for Children in December 2016 (Photo: Rocky Mountain Hospital for Children's Twitter)
Despite his uncertain future with Arika, it is known that Wilson has two children with her. He has a daughter and a son named Jaya and Will, respectively. But, their dates of birth are not disclosed yet.
Wilson's Family
Wilson, a Benton Harbor-native, was born to parents Wilson Chandler Senior and Marie Thomas. The NBA star also has a half-brother, but his identity is not yet disclosed.
The most influential person in Wilson's life was his grandmother. Olivia Chandler was the person behind Wilson's success and hard-working mentality. She raised him in the right way, despite the bad surroundings in Benton Harbor, and taught him to be a good, respectful person.
With her support, Wilson was successful in becoming a world-class basketball player, and get respect from everyone around him.
Tattoos For Many Reasons
Wilson is somewhat of a tattoo junkie. He has many (which is kind of an understatement) tattoos on his body, each made for different reasons.
Let's start with a tattoo dedicated to his grandmother. Wilson has a tattoo on the right side of his neck, which reads "Olivia," his grandmother's name.
Also Read About:- Justise Winslow Girlfriend, Gay, Family, Hair
Similarly, his tattoos range from serious to plain dumb. He has several words scripted on his hands. Some of them are "Against all odds" on the left forearm, "Death before dishonor" on his right forearm, and "No worse luck" in his hand.
Talking about his "dumb" tattoos, Wilson has a picture of his favorite cartoon characters Beavis & Butt-Head, on his left leg. He also might be the only guy in the NBA to have a tattoo of Peter Griffin from Family Guy.
Bio, Age, And Interesting Facts
Wilson Chandler was born on 10th May 1987 in Benton Harbor, Michigan, as Wilson Chandler Jr. The star, with a height of 6 feet 8 inches (2.03 meters) and weight of around 106 kgs, plays for the Brooklyn Nets for the 2019-20 season.
However, going back to his childhood, he went to Benton Harbor High School and later attended DePaul University, where he played college basketball for two seasons.
Completing college, he was drafted by the New York Knicks in the 2007 NBA Draft. Wilson also played for the Zhejiang Guangsha Lions of the Chinese Basketball Association in 2011-12.
With loads of experience and playing time, Wilson has managed to gather quite a net worth. Despite the unavailability of his exact net worth figures, his salary stats confirm the speculations. He earned a massive $2,564,753 a year with the Brooklyn Nets for the 2019-20 season.
Another Basketball Player:- Spencer Dinwiddie Dating, Married, Family, College
However, he has not always been clean when it comes to his professional game. Wilson was suspended for 25 games in August 2019 for the use of Performance Enhancing Drugs (PED). 
Wilson has always been a fashionable guy and takes care of his looks, especially his hair. His simple hairstyle is a prominent feature of his appearance, and his haircut earned a whole article in Mashoid during his time with the Denver Nuggets.