Yeonmi Park is a North Korean defector, primarily known for advocating against human trafficking. Not wanting other people to suffer what she had to, she started working as a Human Rights Officer.
For her praise-worthy work, Park has been interviewed by The Guardian and The Washington Post. She has also had the opportunity to present herself and her message on the massive stage of TEDx.
Yeonmi Park Family; Husband Plus Children
While fighting for the voice of the oppressed people, Yeonmi did find some time for herself.
She got married to her husband, Ezekiel on 1 January 2017. On 18 March 2018, the couple was blessed with a son. Yeonmi named the new addition to her family as James. Her son inherits half North Korean and half American ethnicity from his parents.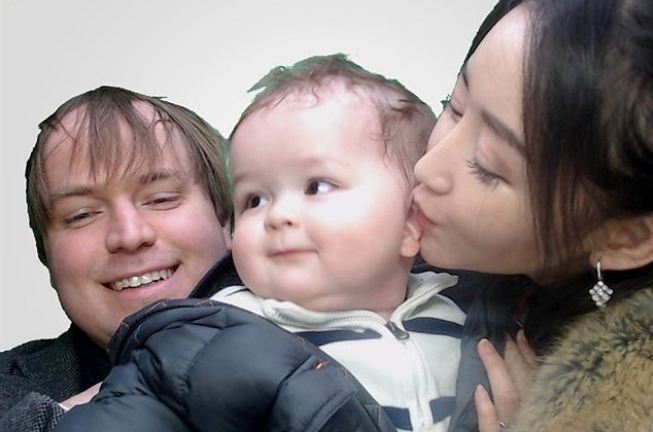 Yeonmi Park with her husband Ezekiel and son, James (Photo: Yeonmi Park Instagram)
Currently, Yeonmi lives with her family in New York.
Yeonmi Park's Parents, Age And Hurdles
Yeonmi, age 25, was born in Hyesan, North Korea on 4 October 1993. Her father was a civil servant while her mother was a nurse for the North Korean Army. For siblings, she has a sister named Eunmi.
In 2002, when Yeonmi was just nine years old, her father was imprisoned by the government for smuggling metals on the black market. The government also interrogated her mother time and again.
Without both their parents, the girls were left all alone to fend for themselves. In Yeonmi's words, she and her sister had to, "grow up very fast."
American Held Prisoner At North Korea:- Otto Warmbier Dies At 22! A Week After North Korea Ended His Detention
Wanting to escape the harsh environment, Eunmi escaped to China in 2007.
Shortly after, the rest of her family followed. But, as their father died of colon cancer, only Yeonmi and her mother could escape to China. Meanwhile, Yeonmi and her mother were raped and sold into servitude by human traffickers while traveling across the frozen Yalu River to China.
Only after two years of torture, they got the chance to escape to Mongolia and finally made it safely to South Korea in 2009. Yeonmi and her mother were granted South Korean citizenship as refugees of North Korea.
Making A Change: Social Activist
Yeonmi's fame rose to a new height in 2014 after her speech at the One Young World summit in Dublin, Ireland. Her address detailed her escape from North Korea, the exploitation of traffickers, and her adjustment to new life.
She published a book, In Order To Live: A North Korean Girl's Journey to Freedom, in September 2015.
Another Activist:- Ruby Bridges Now: Still Alive & Thriving
Yeonmi also played a role in the movie While They Watched (2015). The film portrays a future where North Korea's regime crumbles.
It is clear that the change Yeonmi Park is bringing with her work and the weight on her shoulders is already more than what most 25 years old have been through in life.
Working as a human rights officer now, Yeonmi is certainly not a person that is concerned about building up her net worth; she is clearly about helping people.