Entertainment
Yris Palmer and Troy Danlies' relationship will make you feel awwww - as Palmer's enjoys her life after getting divorce with ex-husband
Yris Palmer seems to be an amazing girlfriend to her perfect boyfriend Troy Daniels, and their impeccable chemistry has enchanted most of us.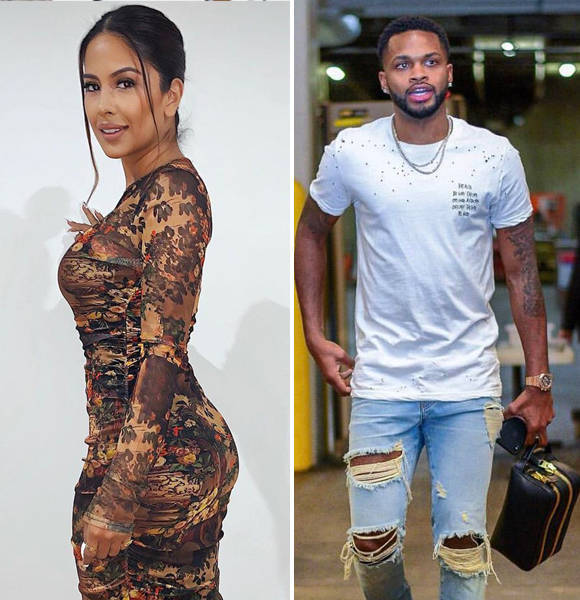 Star Lash Extensions founder and owner Yris Palmer has been making all of us jealous with her romantic relationship with basketball star Troy Daniels.
The duo has shared pictures featuring romantic poses and love-filled emojis and written cheesy status for one another on social media. If that wasn't enough, their intimate snuggles, kisses, hugs, and romantic moments together have filled their respective social media.
Yris cherishes her man, and it shows. Marking Valentine's Day 2021, Yris uploaded an adorable photograph of the two where she wore sexy red lingerie topped with a long black outer, and Troy donned nothing more than a red cap and black knickers. Wording the Insta post, she went, "You and me. I love you baby."
Troy, keeping up with his lover Yris, shared 4 sizzling pictures with her on the same day, and the internet had no option but to go frenzy. Wishing his lady love a happy valentine's day, Troy reciprocated Yris's feelings saying, "Happy Valentine's Day to the love of my life. I love you my love.!!"
Troy and Yris appear on each other's Instagram frequently. Two days after Valentine's Day 2021, Yris posted an image with her lover Troy—who stole the thunder from every boyfriend in the world and commented, " Let's make treating your girl like a queen cool again."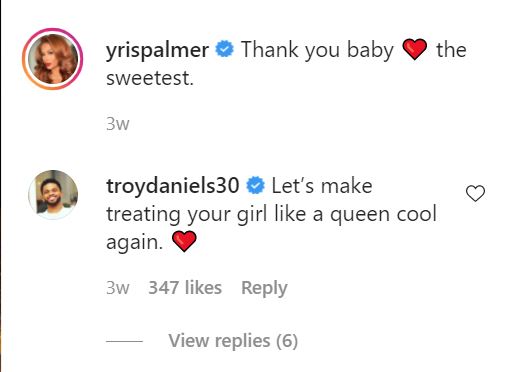 Photo: Denver Nugget's Troy Daniels and Yris Palmer romantic reply (Photo: Instagram)
The pair met at a party through mutual friends such as pal Anastasia Karanikalaou—who is also a best friend to Kylie Jenner—along with some others such as Troy's friend Kyle Kuzma. It was Palmer's "sorted" persona that impressed Daniels the most.
Dating each-other since 2019, the couple spent their 2020 quarantine together. We speculate that the period helped the duo to comprehend and grow as lovers.
Not only that, the fact that the pair are of similar age might have helped them to understand each other better. In fact, Palmer is 30-year-old, and Daniels is 29-year old, as of March 2021.
Yris and Troy both have a daughter from their previous relationships. The daughters, not being trouble, seem to be gluing the couple even closer and stronger. Troy shared the photograph of the two baby girls Amian Daniels and Ayla Palmer on his Twitter, calling both "My baby" in June 2020. He already had a son before meeting Yris.
In the not-so-distant past, Yris was married to Staforde Palmer. The couple got married in 2016 and had a daughter together the following year. Her ex-husband is a soccer player.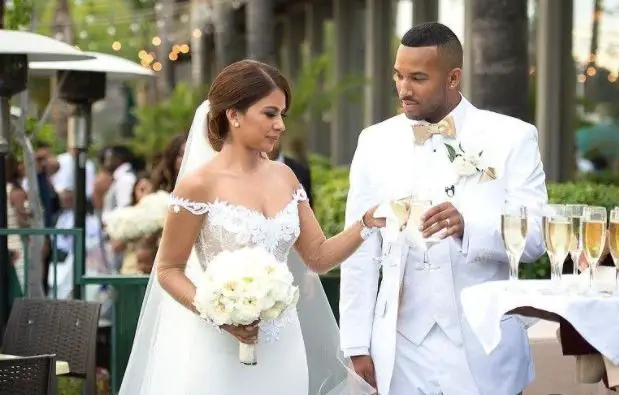 Photo: Yris Palmer with Staforde Palmer on their wedding day in 2016 (Photo Source: Instagram)
Unfortunately, the union didn't last, and eventually, the distance came in between.