Entertainment
Who Is Zion Williamson's Girlfriend? Dating Life, Parents & More
Zion Williamson is an exciting NBA prospect...was drafted in the 2019 NBA Draft by the New Orleans Pelicans...was rumored to have a girlfriend...said to be dating her since high school...born to father and mother who are both athletic people...has a half-brother from his mother's side...bio, age, height are given below...went to Spartanburg Day School for high school education...went to college at Duke University...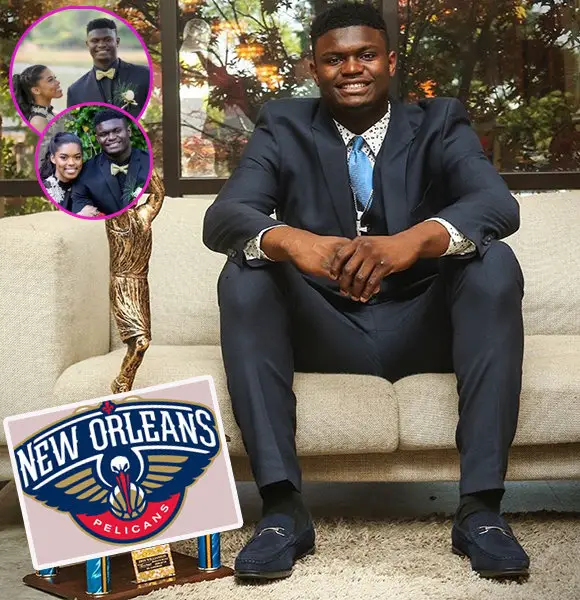 2019 was a fantastic year for Zion Williamson.
An NBA rookie, Zion, was ranked number two by Scout.com in their list of best basketball players in the high school class of 2018.
And, the rankings matched his draft result as he was picked first overall by the New Orleans Pelicans in the 2019 NBA Draft. The rise of this ambidextrous player has been steady, but is there something to know about Zion other than his basketball career?
Who Is Zion Williamson's Girlfriend?
Zion, along with his basketball game, has also done well in the dating game. He was said to be going out with a girl in his high school days.
Zion's possible girlfriend is his high school classmate and cheerleader, Tiana White. The love birds were speculated to be going out since their days at Spartanburg Day School.
Interestingly, they met for the first time when he was a senior at school, and Tiana was a junior. When Zion was in the high school basketball team, Tiana was the cheerleader for the team.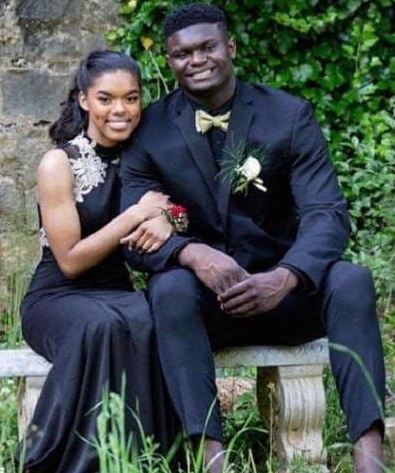 Zion Williamson with date Tiana White during Zion's high school prom in 2018 (Photo: Twitter)
Further, Zion even went to his high school prom with Tiana.
Dating Status With Alleged Girlfriend!
But, things seem to have gone south for the alleged couple after Zion's high school days were over.
Upon completion of high school, Zion went to Duke University in Durham for a year to forward his basketball career, whereas Tiana stayed back in Spartanburg to attend Wofford College. The choice of different colleges created a distance between the rumored couple.
You Might Be Interested In:- Wilson Chandler Married, Wife, Family, College
And the distance were meant to get larger as Zion got drafted by the New Orleans Pelicans in the 2019 NBA Draft- Spartanburg to New Orleans is a 10-hour drive. The distance, combined with the fact that Tiara is missing from Zion's social media, points to two conclusions; either they are still a couple and are preferring to keep their long-distance relationship private, or that they are no longer a pair.
With the complete silence from both Zion and Tiana, speculations will continue to pop up about their connection or the lack of it. Until one of them is spotted with either each other or someone else, speculations will continue.
Zion's Parents And Family
Zion has always been close to his parents Sharonda Sampson and Lateef Anderson, and also to his step-father Lee Anderson. Despite his biological parents getting divorced when he was five, all three of them have been in Zion's side from the very beginning of his life.
Zion's interest in sports and athletics seems to be a hereditary thing. All of his parents are athletic; his mother, Sharonda, ran track during her days at Livingstone College, and his father Lateef played football during his college days. Also, his step-father was a basketball player, and Zion even worked with him to develop his game.
Another NBA Player:- Seth Curry Wife, Girlfriend, Baby, Family
Zion has a half-brother from his mother's side, with whom the small forward is very close. Noah Anderson, his step-brother, once made headlines when he fell asleep in Lee's arms while he was coaching an AAU game from the sidelines.
Interesting Facts: Bio, Age, Height
Zion was born on 6th July 2000 in Salisbury, North Carolina. But his family moved to Florence, South Carolina, when he was two years old.
The player stands at 6 feet 6 inches (1.98 meters) and weighs around 128 kgs.
Zion is one of the third heaviest player in the NBA in 2019.
Zion was named after the biblical location of Mount Zion near Jerusalem.
His full name is Zion Lateef Williamson.