Entertainment
Zuri Hall Calls Her Boyfriend Partner and Homie! Now All That's Left Is A Husband Tag
Zuri Hall Calls Her Boyfriend Partner and Homie! Now All That's Left Is A Husband Tag. Zuri is a talented Emmy Award-winning TV personality and currently an On-Air Correspondent for E! News. Along with that, she also runs her popular YouTube Channel called 'Hey Zuri Hall' where she interacts with her fans and shares details about her personal life. As much as one would be envious of her successful career, her personal life is equally amazing.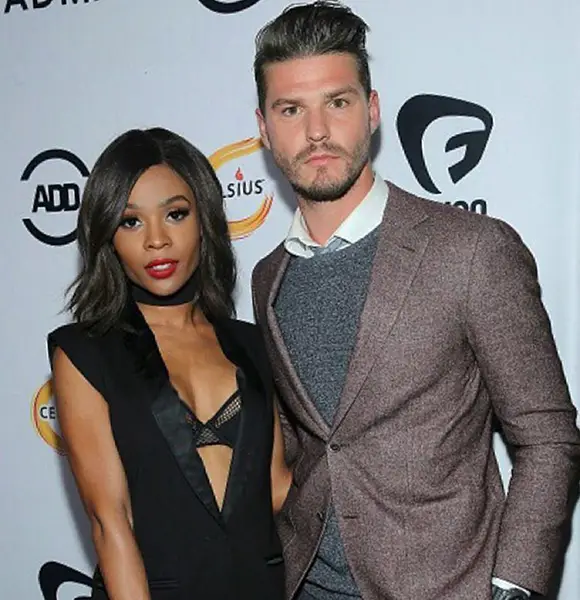 'Beauty with Brains' would serve to describe Zuri Hall at its best capacity. Zuri is a talented Emmy Award-winning TV personality and currently an On-Air Correspondent for E! News.
Along with that, she also runs her famous YouTube Channel called 'Hey Zuri Hall,' where she interacts with her fans and shares details about her personal life. 
As much as one would be envious of her successful career, her personal life is equally amazing.
However, brakes were put on her happening personal life in recent times. After being in a beautiful long-term relationship with her boyfriend, it seems the romance between the duo has come to an end. Is it just mere speculations or is there truth behind it?
Partner Talks: Split With Boyfriend Before Turning Husband
Zuri shared an incredible romantic relationship with her boyfriend Mettin Copier, a Dutch-born Austrian model-footballer. Love soon escalated between the duo after they first met each other in July 2012.
You May Also Like: Jason Kennedy Luckiest Married Man | Wife, Supporter & A Defender
Besides Zuri's YouTube channel, the adorable couple also created a separate portal called 'Zuri and Mettin,' in May 2013 to post their vlogs and romantic moments together.
The sweet couple also shared a beautiful bond, and they were not hesitant to flaunt their romance with their fans through social media.   
On 5 January 2017, Zuri posted a picture with Mettin wishing him "Happy Birthday."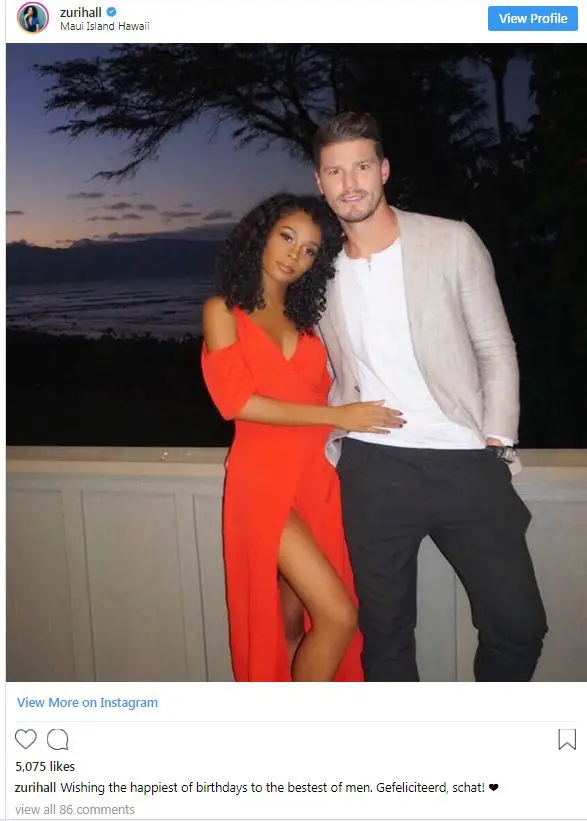 Zuri Hall wishes Mettin on his birthday. (Photo: Zuri Hall's Instagram)
The couple, who were adored by many fans, also grabbed the attention for being in an interracial relationship, as Zuri is African-American and her partner, Mettin is Dutch-Austrian. Although they both have a big difference in their cultural background, they seemed to have a happy and healthy relationship.
It had been four years of their relationship, but it was not always easy for them. The couple was also involved in a long-distance relationship for 2 and a half years. However, their love still stayed strong throughout the test of time.
Read Also: Hilary Duff & Boyfriend Welcomes Their First Baby, Daughter Banks Is Love!
Zuri already seemed to believe Mettin to be more than just a boyfriend! On 2 January 2017, Zuri shared a romantic picture with her boyfriend, Mettin with a caption that assured they were also homies, lovers, and friends.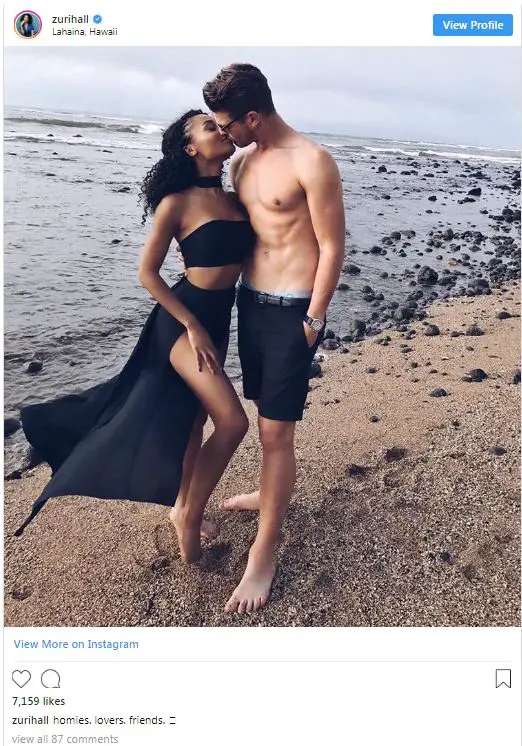 Zuri Hall referring to her then-boyfriend as 'homie' (Photo: Zuri Hall's Instagram)
However, things have taken a significant turn since then. In a Youtube video posted by Zuri in her channel dated 16 April 2018, the former host shocked the world announcing the news that she and her boyfriend were no longer together.
Though Zuri didn't reveal the exact 'when and how' of their breakup, she enlightened her viewers with details of her relationship with Mettin.
In a 24-minute-long video posted by Zuri, she talked in length about the rumors that were circulating about her breakup with Mettin and suggested them to be partly right. Mentioning she needed 'time and space apart' to 'grow up and figure things out,' Zuri took a slight dig at her former boyfriend in the video.
"It's too much to carry hate in your heart or be angry…whilst you're angry, they're off doing their own thing…why give them that control over you.."
Though the exact details of her break up have not yet been revealed, Zuri and all her fans around the world have been left heartbroken post the shocking announcement.
Sometimes people get into a relationship with someone and realize later that the person is not worth the romance. Being single for over a year now, Zuri is not looking to jump into a relationship with anyone at the moment. 
Honesty and integrity are the most sought after personality traits that people look for in others, and that's precisely what Zuri wants in her next man. He may not have much but ambition and enthusiasm to do better, thats what Zuri expects from her man. Who will be the man that fills all the blanks and checks all the boxes in Zuri's life? Only time will tell.
Zuri Hall's Short Wiki-Bio 
The gorgeous Zuri Hall was born on 2 June 1988, in Toledo, Ohio and stands tall with a height of 5 feet 7 inch. Her birth sign is Gemini.
Before being an E! news correspondent and having a Youtube Channel with over 7 million views and more than 100k subscribers, Zuri had humble beginnings. She worked as a babysitter while in Indianapolis. She is also the CEO/ Founder of the online social movement #AlphaBabe. 
Before Zuri inclined her career stepping into E! News, she was a TV host at MTV for its reality game series, 'The Challenge,'  '21 Century Fox's 'Million Dollar,' and 'Maze Runner.'
She has been a guest host for VH1's live show, 'Big Morning Buzz,' BET's '106 & Park' and on the popular show 'Fashion Police' with Joan Rivers on E!. Meanwhile, her recent guest appearances have been on CNN, MTV2's 'Uncommon Sense with Charlamagne' and HLN's 'The Daily Share.' 
Don't Miss: Kim Porter Dies At Age 47; Diddy Kids' Mother, What Is Cause Of Death?
Zuri has also gone on to host the red carpet event of the 2018 Oscar Awards. Furthermore, among her duties at the E! Network, she had also signed for the ICM partners in November 2018. Her latest endeavor is with American Ninja Warrior, NBC's primetime show. She will be a sideline reporter, interview contestant after they complete the course or have a wipeout. American Ninja Warrior will be premiering on 29 May 2019. 
After just one year of her graduation, Zuri won a Regional Emmy in the category of 'Outstanding Host.' As of today, she has been able to earn her name as the newest TV personality at the international pop culture powerhouse. 
Having such a successful career, Zuri must have garnered an impressive amount of net worth backed up by an excellent salary figure. With the average salary of an E! anchor estimated to be around $50k, Zuri with additional income from her YouTube channel, is expected to earn significantly more. However, the exact figures have not yet been revealed.