With the approaching spring season, it's high time for girls to shred few kilos to wear body hugging dress, flaunt beautiful sandals, wear cool shades, get a trending haircut and above all get sexy nail designs as a spring bonus. Previously, people used to only take care of their dress and appearances, but now the interests have diverted towards fresh, funky nail paints with stylish designs.
Today, we are bringing top ten nail design to embrace the 2017 spring.
1) Streaky Street Art:
With the blooming flower and the green scenario around you, you definitely would want to blend with nature and accordingly, pick your outfits and profoundly get a matching yet fresh nail paints.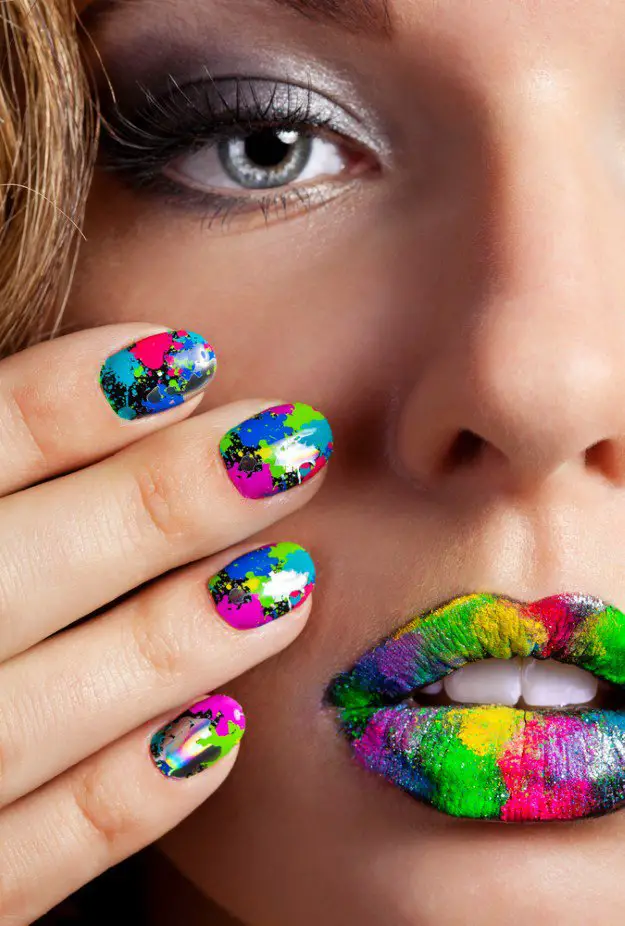 Photo Credit:pininterest.com
Streaky street art paint is just hot to handle your fingernails. Though the paint looks a tuff one to apply on your finger nails but getting it rightly done would give you a bold, brave and inquisitive color which would make your friend jealous of your idea while outstanding you from the crowd.
2) Classic Carriage Design:
You might get amused by the name "Classic Carriage Design, " but when you see the nail design, every intrusive will rest in peace. With the combination of black and red color engraved by the silver, the line gives you an elegant, classy look to your fingernails.
Photo Credit:pininterest.com
The pattern was well practiced and embroidered in the Victorian beauties gown which allowed them to get a simple yet seductive appearance. Thus, the old yet enchanting design allows you to flaunt hot side of you and at the same time make you a center of attraction.
3) Nude Glittery Design:
It's the most attractive design which makes everyone turn and admire your fingernails. Applying a nude nail paint accompanied by transparent glittery nail paint gives you a simple yet elegant color.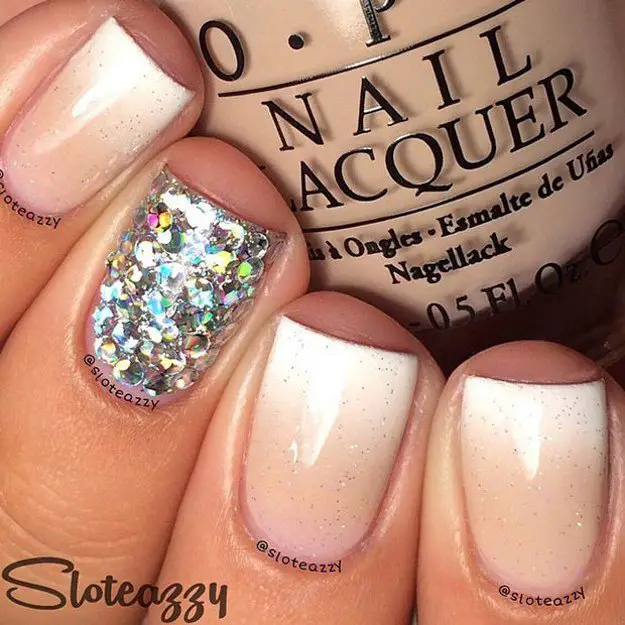 Photo Credit:pininterest.com
You can future extend the glamor by including small stones on your paint. The sparkling stones are superb for your night outs and clubbing occasion which would reflect your personality to be shiny and spark.
4) Metallic Color:
Without much effort, you can get a wispy yet elegant nail color by using the metallic nail paint. You can choose your version of color and apply it depending on the occasion you are preparing.
Photo Credit:wheretoget.com
However, metallic colors like blue, gold and silver can go for any events and clothes you wear. Gypsy blue color is simply best that can be applied irrespective of the occurrence of any season. Thus, for the most convenient and cheeky nail design metallic color is the best and hassle free design.
5) Rainbow Design:
Applying different color in every fingernail is an inviting color for the spring season. It is the bother free technique to get the color look for your hand. You can apply rainbow color in your fingernails in any form of a strip, patterns, block, or you can experiment by spraying the color into the white background of your nail paint.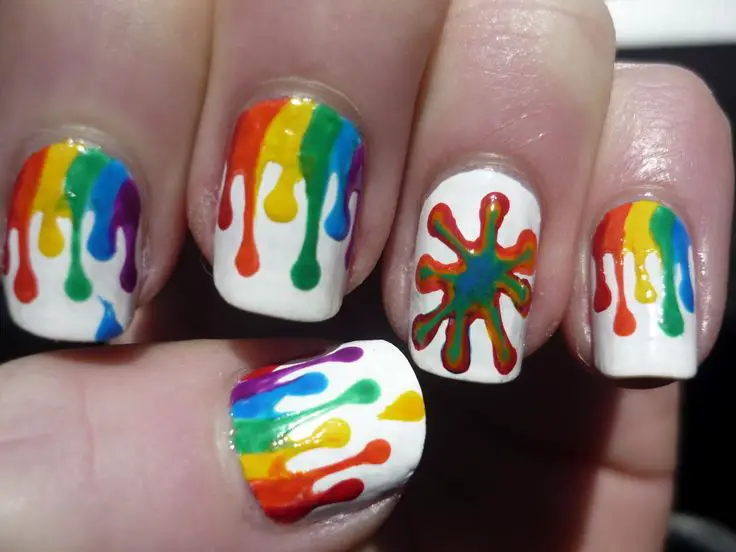 Photo Credit:pininterest.com
The rainbow design is an attractive design for the spring season. The color showcases your personality to be bubbly and vibrant. Hence, the design is pocket-friendly as you can make the design with the available nail paint in your closet.
6) Blood Red Design:
Blood Red color is the indigenous color which is preferred and loved in every season or occasion. The color reflects your personality to be bold and hot while at the same time gives you an additional confidence to stand out the mass.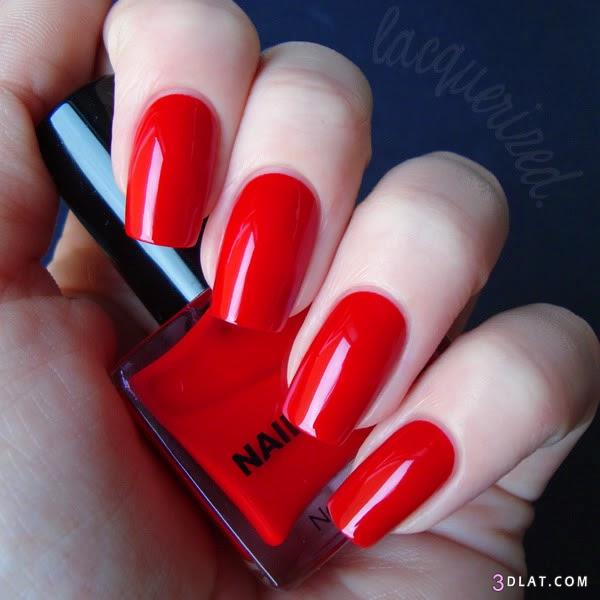 Photo Credit:3DLAT.com
While picking the red color strictly avoid the cheap brands as it gives a messy appearance to your hand, so go for brands like Elle or Lakme which gives a smooth and sparkling finishing to your fingernails.
7) Sea Green Silver Spark:
Get yourself ready, for the most stylish design of sea green and silver design. Firstly, get a sea-green color and glittery silver nail paint from the mart. Apply the sea color as your base, double coat for additional shine and after it dries apply the silver glitter like fire flames.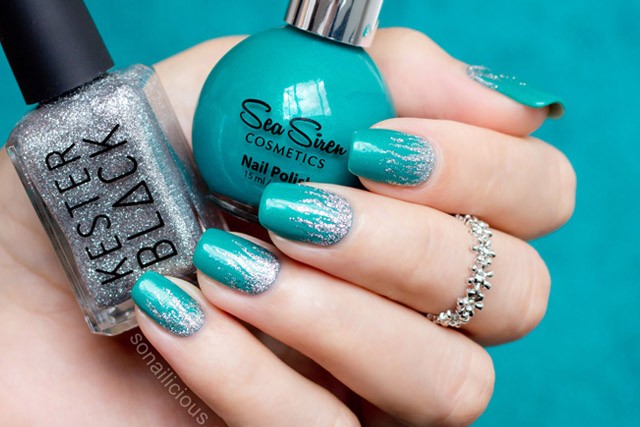 Photo Credit:pininterest.com
Although, the design consume few hours it's worth a try for your nail makeover as the design is okay to work once a while for the spring season.
8) Glittery Gold:
Keeping yourself away from all the disorganized and entirely messed up design you can just opt for the glittery gold nail paint. Without any further do, you can only head to the Mart, pick a good bottle of gold glittery nail paint and apply on your nails.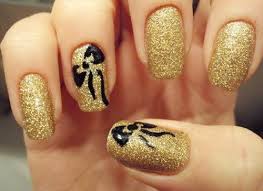 Photo Credit:pininterest.com
For a bonus, you can add black studded stones or silver stones with much ease on your nail color. Further, you can also crave few designs on the paint by using a black polish for the classic look.
9) Glam Black And White:
The Avril style black and white never goes out from the fashion. The rock paint on your fingernails though won't be welcoming for the formal occasion, but the combination looks superb when worn in a while hanging out for a clubbing night or heading for a cocktail party.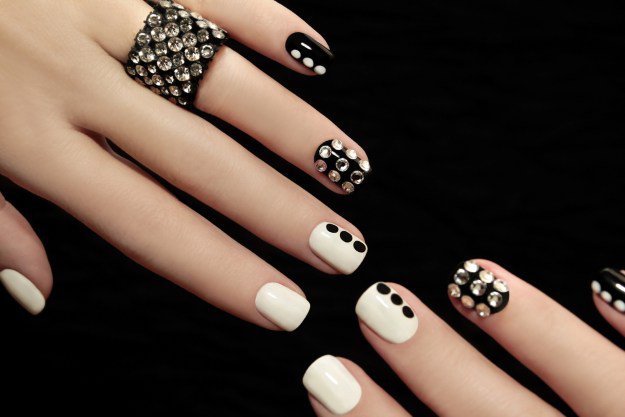 Photo Credit:pininterest.com
The black and white get further enhance by including white stones or stickers to your nails. With proper French manicure and well smooth real nail polish, you can go for numerous black and white styles.
10) Girly Flower Girl:
If you are a person who resembles the character of "Blossom" in the Power Puff girl, then you should head for the concept of the girly flowery girl while picking the best concept for nail designing. Choose your favorite colors as a base color and use the elegant pattern to make a blooming flower.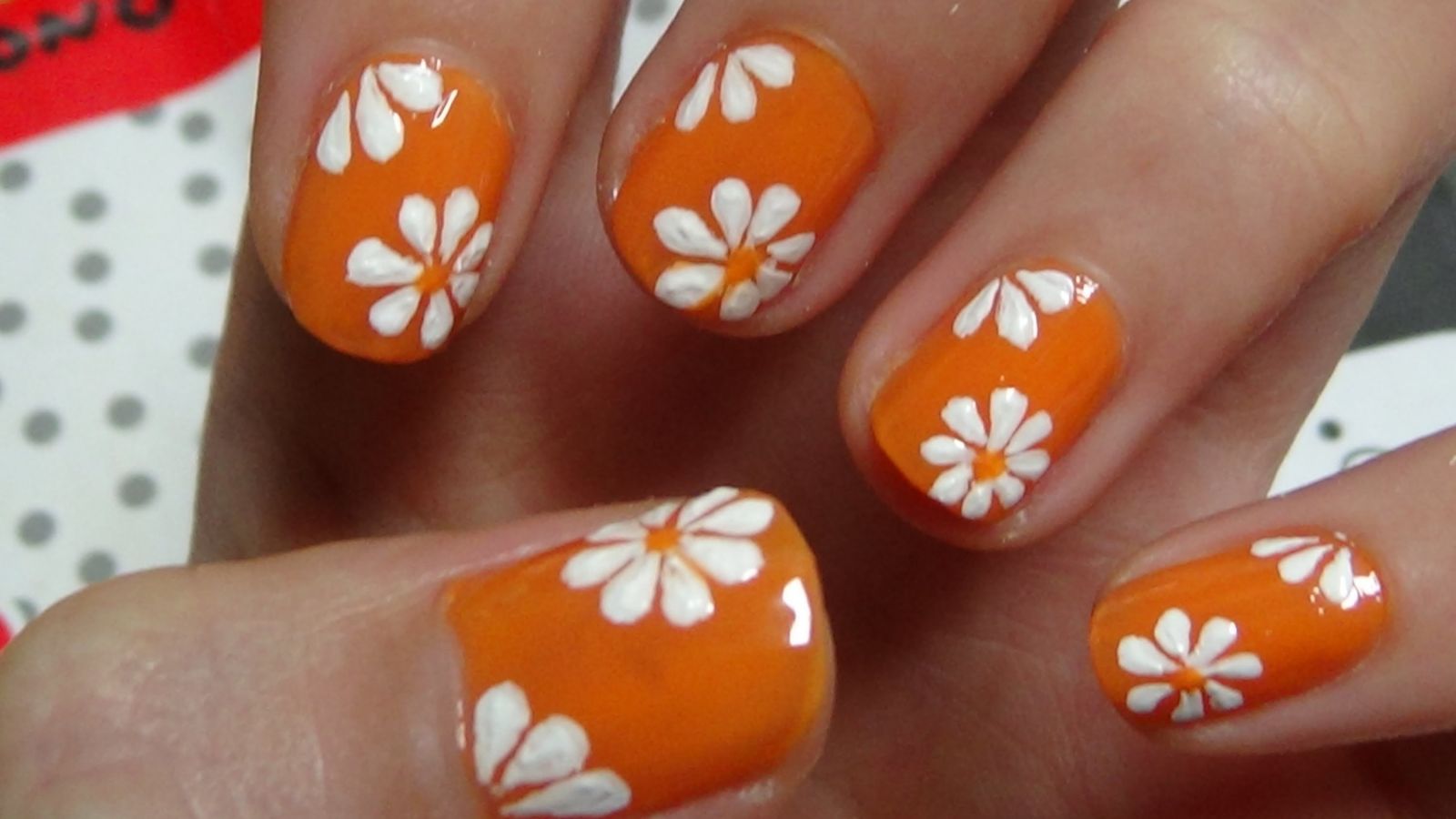 Photo Credit: Liverampup
While for the upcoming spring you can opt for orange color printed with white color to make the stylish design on your nails. Picking orange color reflects your personality as bubbly and girly.
To have an eye-catching nail design for the spring season, first and foremost you must take care of your fingernails. Accordingly, go for bright colors or choose colors that you think are most appropriate for your clothes and events. So, girls don't allow this spring just to slide instead play with the colors and go ahead for your win innovations.