LifeStyle
Bikram Yoga Wiki, Benefits, Poses | All You Need to Know
In today's age, yoga is a rising interest in all the people around the world. Practicing yoga is not uncommon in the people whose desire is to stay fit physically and mentally.
People practice different kinds of yoga, each with their own sets of benefits and procedures. One of the practices is Bikram Yoga. 
While popular, some may not know what this practice is. Not to worry, sit back and enjoy reading and knowing more about this amazing yoga practice. 
What Is Bikram Yoga? Wiki-Like Introduction
Before understanding what Bikram Yoga is, let's take a tour through history during the 1960s. It was the time when traditional yoga was born.
One of its early practitioners was sent to Japan in the 1970s to share his knowledge about Ghosh lineage yoga. He shortly moved to the United States. And through the 1970s-1990s, he refined his expertise towards a more fruitful practice. He is none other than Bikram Chaudhary.
Different Type Of Yoga:- Kundalini Yoga: Definition, Poses and Benefits
He chose a set 26 of poses that are designed to consistently move fresh, oxygenated blood to 100 percent of one's body, to each organ and fiber. The poses are usually carried out in a circle for a 90-minute session often practiced in a heated room of about 105 degrees Fahrenheit (41 degrees Celsius).
Bikram Yoga also falls under the category of 'Hot Yoga' which is practiced in a heated room. It also follows two difficult (but not impossible) breathing methods as well. And although it is difficult, one can learn to perform it as they practice successfully. 
Poses Of Bikram Yoga
As mentioned earlier, there are 26 poses of this yoga practice.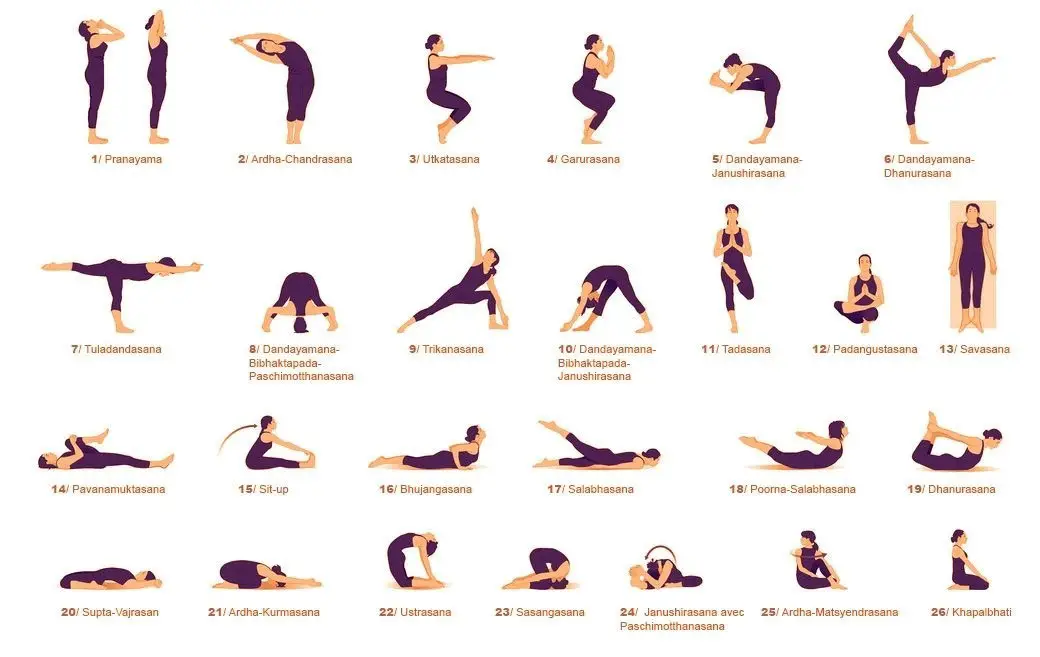 Poses of the Bikram Yoga (Photo: Pinterest)
The poses were chosen from the classic "Hatha" poses each created in a way to help your body get the maximum benefits. Some of the poses used in Bikram Yoga are triangle pose, tree pose, eagle pose, cobra pose, and half tortoise pose.
Benefits Of Bikram Yoga
When done right, this yoga practice does a miracle to the body.
The yoga, when practiced in a heated room, lets the body to detoxify, tone, relieve stress, and stretches the body. It is also said to heal chronic pain such as arthritis, joint aches, back and knee problems.
Furthermore, this hot yoga is an excellent choice if one wants to improve their glucose tolerance, blood lipid profile, and bone density.
As Bikram Yoga has a unique breathing exercise, it also advances the person's lung capacity. At the same time, it is a fantastic cardiovascular workout and is best for better circulation. 
You Might Consider Reading:- 10 New Effective Tips To Lose Belly Fat Easily At Home
The benefits of this yoga do not end here as it has a few too many to be counted. But, another significant benefit that everyone wants is weight loss. And the reason is apparent; a lot of sweating.
With such benefits, there might be little to none other yoga practices that address the overall health of a body in such a way Bikram yoga does.