LifeStyle
List of Healthy Summer Fruits & Vegetables Salad Recipes
Add yogurt to the bowl and sugar, if you like your salad sweet. Summer is around the corner, and amid the exhausting heat, you must be prepared to travel great lengths to keep your body healthy. In that case, fruits are one of the best gifts of nature; they not only taste fantastic but, also protect the body from dehydration, starvation, and more.
Vegetables, on the other hand, may not be delicious when eaten raw but, they come with multiple health benefits too. So, preparing salads are a fun way to experiment with food and explore appetite while being refreshed.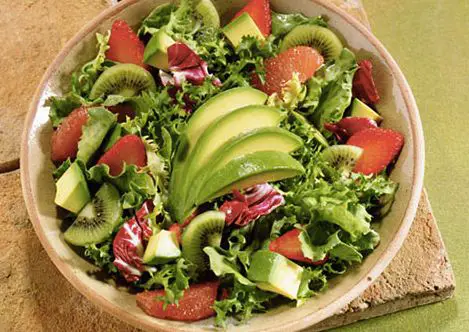 If prepared with perfection, these can be nourishing and can also work as a substitute for processed foods. While initially enjoyed by vegans and vegetarians, salads are now appreciated by foodies all over the world. 
Looking For Weight Loss Remedy:- What Is OMAD Diet? Benefits & Results Of Following It
Here is a list containing a few such salad recipes, which can make this summer filled with joy and delicacy!
Fruits & Vegetables Salad Recipes
These salad recipes are easy to prepare and will not cost you much time & money. Enjoy the dishes with your friends, family, & loved ones, and they can't resist having some more.
Avocado-Mango Salad:
This dish requires less than 20-minute preparation.
First, ready a vinaigrette by mixing olive oil with lime juice, chili powder, diced avocado, and cumin. Then, take a few mango slices, cilantro, red onion & lettuce leaves and mix it with the vinaigrette.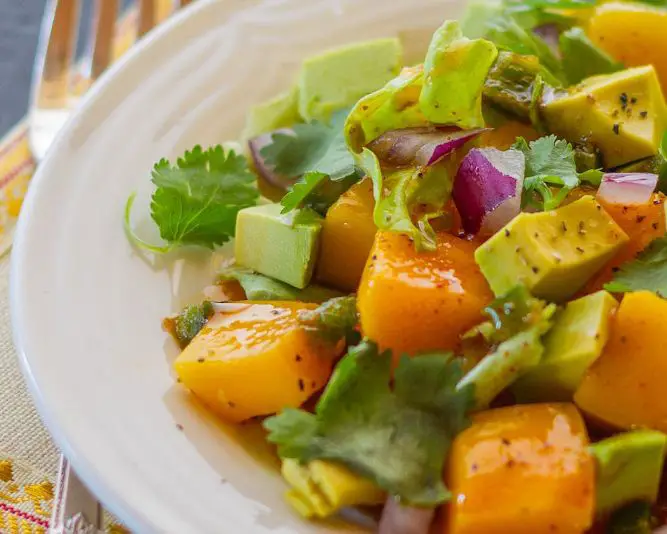 A freshly formulated avocado-mango salad (Photo: Pinterest.com)
Sprinkle pepper and salt in the newly made mixture. With three mangoes, you can easily serve eight people.
Plum-Basil-Spinach Salad
Place the basil, plum, and spinach in a bowl. Ready a mixture of olive oil, lemon juice, orange squeeze, and vinegar. Take the mixture and pour it in the bowl combining the two separately prepared items.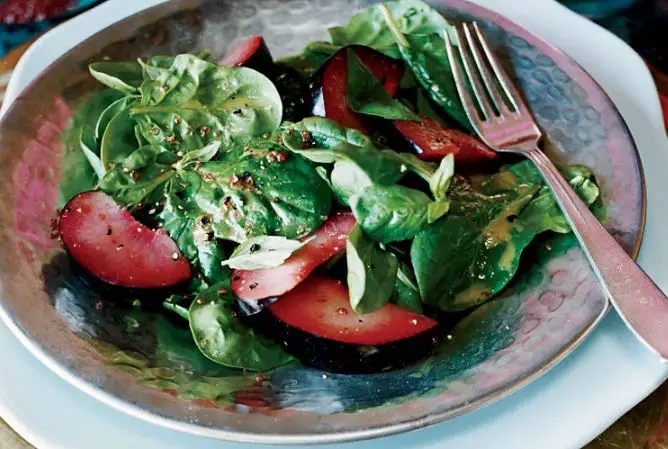 Homemade plum-basil-spinach salad (Photo: Pinterest.com)
Season the dish with black pepper and sea salt. And, your plum-basil-spinach salad is ready for consumption.
Watermelon, Berry, And Cucumber Salad
This salad contains the delicacy of both fruits and vegetables. Praised for both its taste and health factors, this item can be readily prepared using a few varieties of foods.
Fruit Great For Health:- Tamarind Fruit Health Benefits, Taste, Facts
First, chop off the watermelon, berries, and cucumber into little pieces, and mix them together.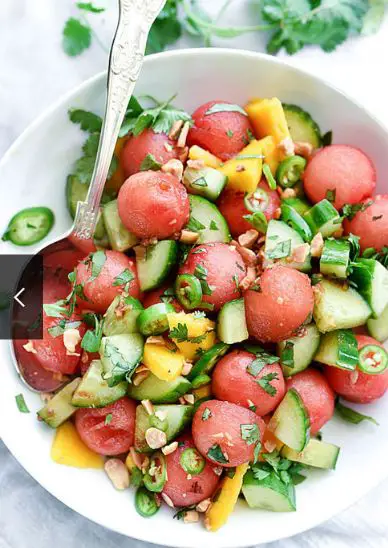 A watermelon-berry-cucumber salad at its finest (Photo: Pinterest.com)
If you want, you can add taste-enhancing products like mango slices, peanuts, lime, ginger, cilantro, and others according to your wish. And after you mix them properly, your freshly prepared salad good to serve.
Broccoli Salad
Ever been a fan of broccoli? This will make you one.
First, take the broccoli and cut it into the sizes of your choice. Add fried bacon, raisins, onion slices, tomatoes, and other ingredients as per your taste.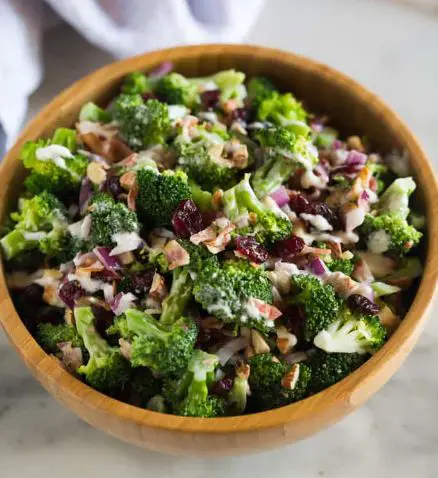 Broccoli salad gives a new definition to healthy & delicious food (Photo: Tastesbetterfromscratch.com)
A tablespoon of olive oil can be handy to the mixture. Sprinkle the salad with salt and pepper. Then, you can enjoy your meal!
More For Food Enthusiasts:- What Is Pad Thai? The Food People Going Crazy For & Its Recipe
Mixed Fruit Salad
This one's the best in the list. While there are a variety of salad recipes for this dish, let's go with the soundest. First, take different fruits including mango, apple, strawberry, raspberry, grapes, banana, and mix them in a bowl.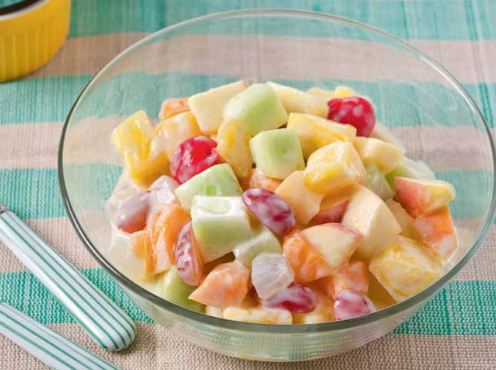 Mixed fruit salad is the king of all salads (Photo: Yummy.com)
You can add yogurt to the bowl and sugar if you like your salad sweet. Once the salad is ready, be prepared to get lost in its heavenly flavor.