News
Addison Timlin Age 27 & Partner Jeremy First Baby, Girl Named 'Ezer Billie White'
Little Sister Star, Addison Timlin has become a big proud parent with her husband, Jeremy Allen.
American actress Addison Timlin, known for her role as Jami Lerner in The Town That Dreaded Sundown, is blessed with a baby girl whom she shares with her partner Jeremy Allen, who portrays as Lip in the dramedy series Shameless.
The long-time couple welcomed their first baby girl on 20 October 2018 whom they named Ezer Billie White making them a family of three. The arrival of their first baby was announced by Addison through a post on Instagram.
Read Also: Did Justin Chatwin Ever Turn Co-Star Into Girlfriend? Too Busy To Be Thinking About Getting Married At The Moment?
The Fallen star, age 27, posted the two pictures with her baby girl in which both the parents held their bundle of joys in their arms. In the picture, Addison and Jeremy held baby Ezer close to their chest while cherishing her presence.
Through the caption in the picture, Addison revealed the name of their baby along with the date while expressing her excitement on her baby's arrival. She wrote,
"Ezer Billie White 10.20.2018 Welcome to the world baby girl, it just got so much brighter."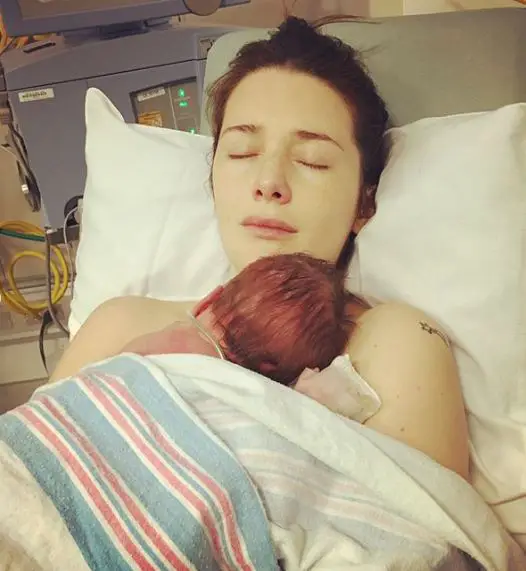 Addison Timlin with her baby girl Ezer Billie White. (Photo: Addison Timlin's Instagram)
On the other hand, Addison's husband-like figure Jeremy has not made any posts relating to their baby just yet.
Don't Miss: Mark Labbett Has Children With 'First Cousin' Wife? The Chase Star's Married Life Insight
Likewise, the news of the pregnancy was also announced through a post on Instagram. The announcement came back in June during Addison's 27th birthday. Addison posted a picture of her with her partner Jeremy in which Jeremy wrapped his arms around Addison's growing baby bump.
Through the caption, Addison announced that they were expecting on her birthday while also divulging that her birthday wish has already come true. She wrote,
"We made a baby and my heart is bursting at the seams. Today is my birthday but my wish already came true. This is 27 and the best is yet to come"
Furthermore, Jeremy also opened up about being a father while talking with PEOPLE in which he expressed that he can not wait to have her in his life and take her home. He divulged saying,
"I just want to meet her. I'm just excited to have her. I'm excited to take her home. We are going to take her home to New York for the holidays and my parents will get to meet her,"
He added,
"It's their first grandchild. Seeing my parents see her will be incredible."
You May Also Like: Chris Cillizza From CNN On Meeting Wife, Admiring Family To Fullest
Well, now having Ezer has surely brightened Addison and Jeremy's life who knew each other since they were 17. Their strong friendship had a hard turn into romance and they dated secretly until they made their relationship Instagram official back in 2016.