News
Allison Stokke Ignites Dating Rumors After Posting Close Up Picture With Alleged Boyfriend Rickie Fowler
Are they an item?
Famous track and field athlete and fitness model Allison Stokke and iconic golfer Rickie Fowler are rumored to be dating. The rumor ignited after Allison posted an image of them hanging out together. This post below has now linked Rickie and Allison as possible boyfriend-girlfriend.
The caption does not say much about the nature of their connection, but the picture surely has lit up some major rumors and has sent the social media on frenzy.
However, this post of Allison is not only the excuse for people and the media to speculate as Rickie too posted a picture of the two being together at the Circuit of the America's race course in Austin, Texas at the Red Bull Grand Prix.
The comfort and the presence of magical and romantic essence between them hint the people towards believing that the two are dating but still, nothing official has come forth from either of the two which is why we might need to wait before we jump to any major conclusions about their connection.
Rickie was previously in a relationship with model Alexis Randock before the two ended things between them last year.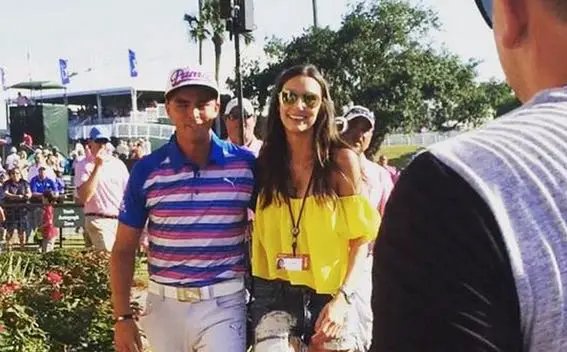 Caption: Rickie Fowler and Alexis Randock at The Players Championship in 2015.
Photo Credit: larrybrownsports.com
Moreover, Allison formerly grabbed the media attention when she was a mere teenager when she went viral with her high school photos over on the internet. The story began in 2007 when there were no major social media sites like Facebook and Twitter. A journalist took a shot of her fixing her hair, and that made her famous without her willing and knew much about it.
Regardless of their pasts, they have come a long way ahead in their lives and are successful in their rights.
Stay with us to follow this discovering news about the possible dating affair between Rickie and Allison!